Ward And Kovalev Weigh In For Rematch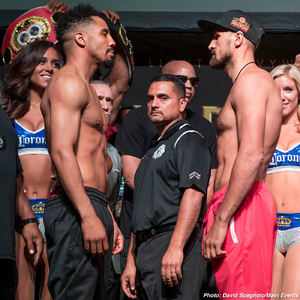 Andre "S.O.G." Ward vs. Sergey "Krusher" Kovalev 2: "The Rematch" Official Weigh-in Results
| | |
| --- | --- |
| Andre "S.O.G." Ward | Sergey "Krusher" Kovalev |
| 31-0, 15 KOs | 30-1-1, 26 KOs |
| Oakland, California | Chelyabinsk, Russia |
| Weight: 175, Trunks: Red/WHT/BLK | Weight: 175, Black/Platinum |
| | |
| Guillermo "El Chacal" Rigondeaux | Moises "Chucky" Flores |
| 17-0, 11 KOs | 25-0, 17 KOs |
| Santiago De Cuba, Cuba | Guadalajara, Mexico |
| Weight: 121.5, Trunks: BLK/Red | Weight: 122, Trunks: WHT/GRN/Red |
| | |
| Dmitry Bivol | Cedric "L.O.W." Agnew |
| 10-0, 8 KOs | 29-2, 15 KOs |
| St. Petersburg, Russia | Chicago, IL |
| Weight: 174.5, Trunks: BLK/Flag | Weight: 175, Trunks: BLK/GLD |
| | |
| Luis "Cuba" Arias | Arif "The Predator" Magomedov |
| 17-0, 8 KOs | 18-1, 11 KOs |
| Milwaukee, Wisconsin | Kizlyar, Russia |
| Weight: 160, Trunks: WHT/BLK | Weight: 159.75, Trunks: Red/GLD |
| | |
| Junior "The Young God" Younan | Zoltan Sera |
| 11-0, 8 KOs | 28-12, 19 KOs |
| Brooklyn, New York | Budapest, Hungary |
| Weight: 170.5, Trunks: BLK/WHT | Weight: 170.5, Trunks: BLK/Blue |
| | |
| Vaughn "The Animal" Alexander | Fabiano Pena |
| 9-0, 6 KOs | 16-7-1, 13 KOs |
| St. Louis, Missouri | Chiapas, Mexico |
| Weight: 161, Trunks: 161 | Weight: 166, WHT/Red |
| | |
| Tramaine "Mighty Midget" Williams | Christopher Martin |
| 10-0, 3 KOs | 30-8-3, 10 KOs |
| New Haven, Connecticut | San Diego, California |
| Weight: 124.5 | Weight: 125.75, Trunks: Black |
| | |
| John Bauza | Brandon "Bam" Sanudo |
| 6-0, 3 KOs | 5-4, 2 KOs |
| North Bergen, New Jersey | San Felipe, Mexico |
| Weight: 143 | Weight: 144, Trunks: WHT/BLK |
| | |
| Bakhram Murtazaliev | Alex Sandro Duarte |
| 8-0, 6 KOs | 6-0, 4 KOs |
| Grozny, Russia | Sao Paulo, Brazil |
| Weight: 159.5, Trunks: Black | Weight:159, Trunks: BLK/GRN |
| | |
| Enriko Gogokhia | Jonathan Steele |
| 4-0, 2 KOs | 7-0, 5 KOs |
| Georgia | Dallas, Texas |
| Weight: 146.5, Trunks: Red/WHT | Weight: 146, Trunks: GLD/BLK/Red |
Ward vs. Kovalev 2: "The Rematch
,
"
a 12-round mega-fight for the WBO/IBF/WBA Light Heavyweight World Championships, is presented by Roc Nation Sports, Main Events, Andre Ward Promotions, Krusher Promotions and Corona Extra, sponsored by Mandalay Bay Resort and Casino, Jetlux, Life10 Electrolyte, Zappos, D'USSÉ Cognac, ProSupps and
Powered by Monster
. The championship event takes place Saturday, June 17 at the Mandalay Bay Events Center in Las Vegas and will be produced and distributed live by HBO Pay-Per-View® beginning at 9:00 p.m. ET/6:00 p.m. PT. Tickets for Ward-Kovalev 2: "The Rematch" are available on
axs.com
and at the Mandalay Bay Events Center Box Office.