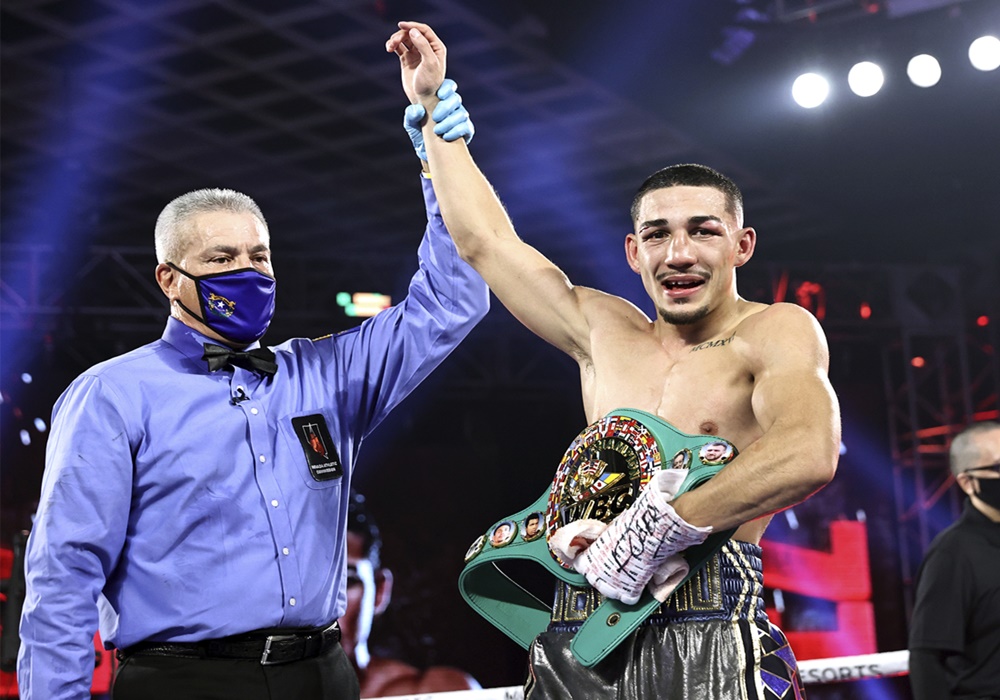 Lopez wins Photo by Mikey Williams
Teofimo Lopez backed up his talk, showing the boxing world that he could box, as well as punch - in outworking Vasiliy Lomachenko to win the biggest fight of 2020 by unanimous decision.
Scores were 116-112, 119-109, and 117-111.
Maxboxing scored the fight 115-113 for Lopez.
In the opening stanza, Lopez, now the unified lightweight champion, jabbed and fired right hands. Nothing really landed. Lomachenko, a southpaw, bounced, moved and studied. Lopez,23, connected with a punch to the body.
The aggressive Lopez (16-0, 12 KOs) connected with another bodyshot in round two. A right hand followed. Lomachenko (14-2, 10 KOs) landed a left hand. He connected with a jab and glancing left later in the round. Lopez continued to jab well. The blow was giving Lomachenko something else to think about. He fought back with a combination. Lopez cracked Lomachenko with more shots.
Lomachenko caught Lopez with his own jab in round four. Lopez was firing combinations. A solid right to the ribs scored. Lomachenko landed a right, but the sustained work of Lopez was solid. In round six, Lopez drove Lomachenko back with a 1-2. Lomachenko finally let his hands go. Two sharp right hands by Lopez connected at the bell.
Through six rounds Lopez had to be way ahead on the scorecards. He was outboxing the man considered one of the best pure boxers in the game. Lomachenko was being too patient. Lopez was confident and punching. Lomachenko connected with a few shots near the end of heat. Was he warming up?
Lomachenko,32, got off first in rounds seven and eight. He landed a left and his head. Lopez cracked him with a right. Lomachenko popped Lopez with a hard left and right. The blows seemed to annoy Lopez.
Lopez fired a hook in round nine. Lomachenko let fly with a five-punch combination, but a return left stopped him in his tracks. Lomachenko landed his own shot to the body. His rally was underway.
Lomachenko stayed aggressive in round 10. He surprised Lopez with a hook, but ate two punches in return. His jab landed. And a left. Both champions traded shots. One was low from Lopez.
With two rounds left in the fight, Lopez was likely ahead, but Lomachenko had rallied in the last few heats. Lopez wasn't going anywhere. Lomachenko got off first in round 11. He landed three shots in a row. A sharp jab stung Lopez. Lopez fought back but the round was Lomachenko's.
Lomachenko needed to win the last round badly, but it was Lopez who fought with more urgency. He got right to work, whipping a right and left off Lomachenko. The talented youngster fired punch after punch. Lomachenko stepped in and connected with a left, but his earlier rally had tuckered him out. A hard Lopez shot seemed to hurt Lomachenko.
"I have to thank God," said Lopez. "I'm thankful, and grateful. It's time for the new generation to take over."
In the end, the combination of strategy, size and speed were enough to take Lomachenko down.
And skill. Lopez showed a ton of it.