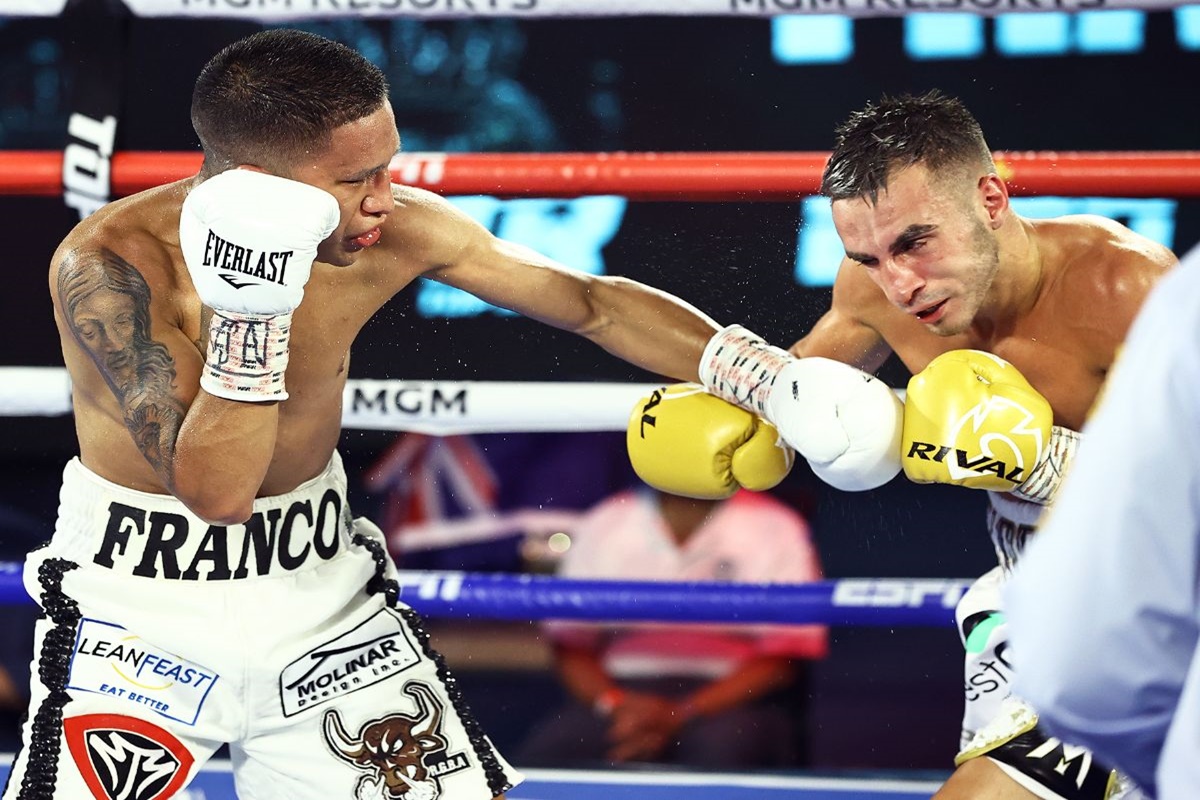 Franco defeats Moloney photo by Mikey Williams
Joshua 'The Professor" Franco 17-1-2 (8) annexed the WBA 'regular' super flyweight title with unanimous decision victory over Andrew "The Barber" Moloney 21-1 (14) at 'The Bubble' at the MGM Grand in Las Vegas, Nevada on Tuesday night.
The 24-year-old from San Antonio, Texas, took over in the middle rounds and had Moloney on the deck in the 11th before winning the contest by scores of 115-112, 114-113 and 114-113.
Moloney started well, outlanding Franco for power punches throughout the first four frames. But the Robert Garcia-trained fighter found his range and timing in the middle rounds and began to walk Moloney down.
Franco had a big round in the sixth, landing punches in bunches and backing up the defending champion.
The seventh saw Franco continue to outwork Moloney, despite the gritty Aussie landing some savage punches to the body. The eighth was a battle between Moloney's body work and Franco's head shots.
By the ninth round Franco has the ascendancy with his pressure and was cutting off the ring effectively. The 10th round saw Moloney cut over the left eye and the challenger had him reeling as he looked to close the show.
Early in the 11th Franco bludgeoned Moloney to the deck in the red corner and the titleholder had to use all of his grit and guile to survive the round.
In the 12th and final round Franco started fast, teeing off on Moloney early on before the Aussie rallied in the middle stages with shots to the body but the American finished the stronger of the two.
According to CompuBox, Franco outlanded Moloney 103-50 over the last four rounds.
"After the fourth round, I gained the momentum and figured him out. I always knew this was possible," Franco said.
"I wasn't nervous when the decision was being read. I knew I'd done enough to win this fight. My coach, Robert Garcia, had me ready. I'm going home with the belt."
The 29-year-old Australian seemingly left his jab in the shed and admitted he wasn't at his best on the night.
"It just wasn't my night tonight. This was not the best version of Andrew Moloney, but full credit to Joshua Franco," Moloney said.
"He deserved to win the title with his effort. He closed the fight strong, like a true champion.
"I'll be back. One loss won't define me."