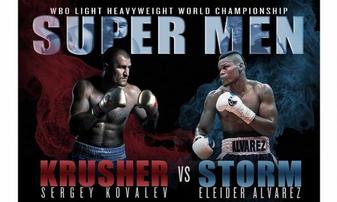 kovalev-vs-alvarez-atlantic-city-boxing-530x317.jpg
He's no kid. At 34, he's been fighting professionally for nine years. He's been waiting for his chance at the brass ring since 2016 when he was initially ranked the mandatory challenger by the WBC.
Normally a title fight would have followed, but nothing has been normal recently for Eleider Alvarez. He was asked to step aside not once, but twice, to allow WBC light heavyweight champion Adonis Stevenson to defend his title against Andrew Fonfara,  and Badou Jack. He was compensated for his trouble and then told he'd be fighting former Luican Bute. He starched Bute in five exciting rounds.
Next would be his title shot right? Wrong. He fought another former champion, shop worn Jean Pascal. Alvarez won the fight by split decision and went back to doing what has become part of his routine, waiting for the most important phone call in his boxing life.
That call finally came last May when the Sergey Kovalev vs. Lucas Browne fight was cancelled by Kovalev's promoter Kathy Duva, after it was learned that Browne had been arrested twice for domestic violence. Duva called Alvarez's promoter to ask if his fighter was available.
The two camps signed the contracts the next day, agreeing to the bout that takes place this Saturday night at the Hard Rock Hotel and Casino in Atlantic City, New Jersey.
Kovalev could undoubtedly feel Alvarez's pain. He's been calling out Stevenson for years.
"Alvarez has earned his title shot, but 'Chickenson' dodged him, just like he dodged me," said Kovalev a few months ago at the press conference announcing his fight against Alvarez. "I want to fight the best in my division. Alvarez took the fight with me without hesitation. I respect that, and I am excited to face him in my return to Atlantic City."
Kovalev, who was born in Russia and fights out of Los Angeles, CA, will be making the second defense of his most recent title reign. His first ended in November 2016, when Andre Ward won by a debatable decision.
The rematch was even more controversial, with Ward winning by eighth round stoppage. Kovalev took a break from boxing after his losses to Ward. He traveled to a monastery in Greece to reflect on his life and career. He returned rejuvenated.
"When you don't win and when you suffer adversity, it makes you stronger," Kovlaev (32-2-1, 28 KOs) said during a media conference call last year. "It also shows you who your real friends are. I feel like I cleaned out my life and now I'm ready to start fresh. I'm very excited to get back in the ring, and fight at Madison Square Garden for the first time, and I'm focused on the future. I'm not looking back."
He returned to the ring wars in late 2017, demolishing Vyacheslav  Shabranskyy in five minutes to capture the WBO belt. He looked like his old powerful self. He was expected to win, but nobody really knows what will happen to fighters after a loss.
He defended his belt a few months ago against boyhood friend Igor Miklakin. Kovalev won by stoppage after seven one-sided rounds, but he said after the bout that he didn't feel that good about his performance. He was right. He looked sluggish and got clipped with some solid punches from the light-hitting Miklakin. Maybe he couldn't get motivated.