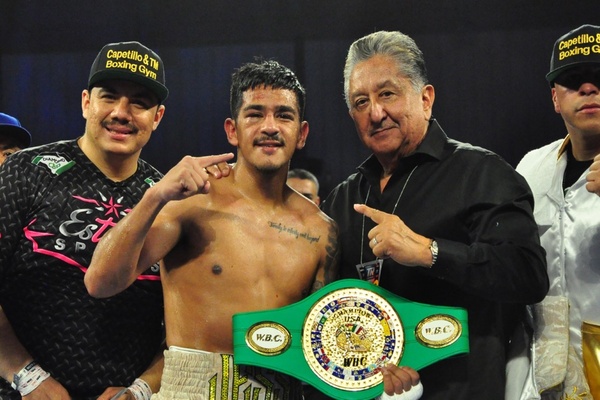 thumbnail_jessie-magdaleno-ramos-bygerman2 photo by German Villasenor
When former world champion Jessie Magdaleno (26-1, 18 KO's) steps into the ring on Saturday, August 17, at the Banc of California Stadium in downtown Los Angeles, he will be looking to pick up a win and then look at moving on to challenge for a title.
Magdaleno will be facing off against former world title challenger Rafael Rivera (27-3-2, 18 KO's) who two fights ago was challenging Leo Santa Cruz for his WBA world featherweight title.
Both fighters know a win puts them into the thick of the mix for another world title shot.
Jessie, the younger brother of world title challenger Diego Magdeleno, was red hot after beating favored Nonito Donaire to capture the WBO super bantamweight title in November of 2016. However, after one successful title defense, 5 months later, Magdaleno was stopped by former champion Isaac Dogboe a year later.
While the (stoppage) loss was a disappointment, his first loss as a pro and a surprise to many, the reality is that making the weight had just become more and more difficult with each fight.
Now campaigning at 126, Magdaleno is feeling stronger and ready to take a run at a world title in the featherweight division.
Maxboxing caught up with longtime Magdaleno manager Frank Espinoza, during fight week in Los Angeles, to get his thoughts on where exactly the Las Vegas-born and raised Magdaleno is at this point in his career.
"I think the weight had become a real problem for Jessie when he was campaigning at 122", said Espinoza, a highly respected boxing manager who has guided the career of numerous world champions. "He is feeling stronger at the higher weight", he said.
Asked if a world title shot will be next if he can impress against Rivera and Espinoza indicated that is certainly the goal.
"I think if we can look good on Saturday, then maybe one more and we'll go for the title", he said.
On how Magdaleno is feeling at the new weight and it sounds like it's a good fit after having trouble making 122 for quite a while.
"He was really down after his first loss, his first loss as a pro and losing his world title", said Espinoza. "But he is feeling good at the new weight, feeling strong and is ready to make another title run", he said. "He is definitely going to be a world champion again and he is looking to take that first step Saturday night".