Will the Real "Memo" Please Stand Up?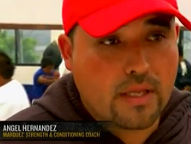 Angel Hernandez 24/7 Video screen shot


On the second installment of "24/7" which aired this past weekend on HBO, Juan Manuel Marquez revealed that he is no longer in the habit of drinking his own urine at the advice of his doctor (which trumps his previous doctor's approval of piss consumption). What was interesting was the revelation that in preparing for his second major bout at welterweight- at a catchweight of 144 pounds- he is now working with a strength-and-conditioning coach named Angel Hernandez.
Hernandez spoke openly to the HBO cameras about his regimen with Marquez. Marquez, who said he felt slow and sluggish versus Floyd Mayweather as a welterweight back in 2009, could be seen working plyometric drills and resistance bands as part of his new workout plan.
But just who is Hernandez?

If you Google "Angel 'Memo' Heredia," you'll find links which go as far back as implicating him with the likes of Marion Jones and BALCO:
There are other stories out there regarding his involvement in the BALCO case and him distributing such substances like EPO and anabolic steroids. By cooperating with the feds, Heredia/Hernandez seems to have walked away relatively unscathed. What is ironic is that before hooking up with Heredia/Hernandez, Marquez's representatives had reached out to the reformed Victor Conte, the founder of BALCO, whose headquarters was raided in

September of 2003

. Conte has now carved out a niche working with world-class prizefighters like Nonito Donaire, Andre Berto and Zab Judah. They even invited him out to

Mexico

in mid-July to see Marquez's tune-up bout versus Likar Ramos but because of scheduling conflicts and the insistence of Conte that his new clients work with him in the

Bay Area

, they never consummated this relationship.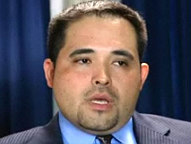 Angel Heredia - German Video screen shot

Now you hope that Marquez - an honorable fighter throughout his storied career- in his zeal to defeat his rival, hasn't gone rogue. Conte has promised that he has gone on the straight and narrow. We don't know about Heredia/Hernandez, who aided select members of the highly successful Jamaican track team which, in the world of track-and-field, is under a heavy cloud of suspicion for its recent success. Perhaps he has changed his ways but it is ironic that with all the rumors and suspicion being fanned in the last couple of years regarding Manny Pacquiao, Marquez has hired this man.
Will the real Angel Heredia/Hernandez please stand up?
OK, I got some more feedback regarding the ticket situation for the

December 10th

bout in

Washington DC

featuring Amir Khan-Lamont Peterson:
"Hi Steve,

I was online 2 hours after they went on sale and could find anything for under $75. I was at the press conference announcing the fight as a fan and one of the administrators of the convention center said capacity could easily be expanded, perhaps even doubled. If the tickets instantly sold out because of so much actual demand from the ticket buying public, one would expect them to expand capacity. Even if it really is demand issue and that were to happen I would then be concerned that it would become oversold and the cheap seats would also be zero view standing room only. I'll be at the fight night of the year: Cotto-Margs 2 at MSG the weekend before so I can certainly live without being at Khan-Peterson. Besides, Gary Russell Jr. should absolutely be on this card, he needs to develop a professional following here at home. The ship has sailed already but fighting in

Cincinnati

against a nobody with highlights on HBO aren't going to raise his Q factor.

Thank you for highlighting the ticket issue so quickly. Hopefully you will be heard and the

DC

market not stillborn. I've been here for 5 years and talk boxing with a handful, but not many people. The sport seems to be getting more buzz lately and this event could be a great way to create a reliable market of knowledgeable, passionate fight fans. DC is a town with great sports fans but not a lot to root for among the franchises. A buddy of mine was at the last big fight here, Tyson-McBride in 2005, and said the tickets were extremely expensive and the fight and experience left the crowd feeling ripped off. I am sure these fights will be better in the ring than that night but my point is the reason it's been so long is a previous con job. Based on the public officials around here I'm sure the sleaze of the boxing world are right at home.

Keep up the great coverage! Hope I get to catch a drink with you at Jimmy's Corner after the fight, love that place!

Jon
DC"
Then there is our old friend, Vito, who emailed me back to tell me:
"Not to

beat a dead horse on this, but I was able to talk to a live Ticketmaster agent over the phone and exchange my $25 tickets for the now available $75 tickets. They said that usually they refuse refunds or exchanges but that they would make an exception given the trouble I had

on Friday

.

So if there's anybody else out there that bought $25 or $50's back when $75's were not available... it appears that Ticketmaster will waive their no exchanges rule. Now...if someone bought $150 tickets, I doubt they'll let folks downgrade but who knows.

Thanks for following up in your article today.

-- Vito"
I saw this late

Sunday night

on YouTube but I really think the bout between Akira Yaegashi and Pornsawan Porpramook just might be the best fight of 2011. In a brutal affair from the very onset, Yaegashi and Pornpramook waged a pitched battle that saw them go back and forth for ten rounds before Yaegashi subdued Pornpramook at the Korakuen Hall in

Tokyo, Japan

for the WBA minimumweight title.
Round eight might be the most heated and violent three-minute stanza of the year.
This was the Asian version of Gatti-Ward.
Ossie Duran is never an easy out, is he?...Artemio Reyes may never become a world champion but he'll always be good TV...I thought Vanes Martirosyan planted his feet a bit more than usual against Richard Gutierrez

on Saturday night

. I wonder if he's willing to do that against a higher grade of opposition…So I guess if you took the under in the Kardashian-Humphries marriage, you won...I still think the Eagles win the NFC East when it's all said and done...So Tony La Russa will never, ever manage again? I have a hard time believing that...Seriously, "Boardwalk Empire" is getting bloodier and gorier ever week...Top Rank is holding

Feb. 11th

for Nonito Donaire's next outing

...

I can be reached at k9kim@yahoo.com and I tweet at www.twitter.com/stevemaxboxing. We also have a Facebook fan page at www.facebook.com/MaxBoxing.