Ward one victory away from meeting Kovalev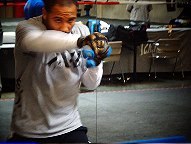 Photo © John J. Raspanti


When Andre Ward returned to the ring in 2015
after a layoff of nearly two years, some boxing insiders said his performance was mediocre.
Seven months later,
Ward was back, tangling with undefeated Sullivan Barrera. Ward knocked down Ba
rrera and won the fight easily. Still, there were whispers that he had lost a step.
Ward (29-0, 15 KOs) fights Alexander Brand, winner of 25 of 26 bouts, with 19 knockouts, this Saturday at the Oracle Arena in Oakland, CA.
A win by Ward secures his next fight--a showdown with the monster of the light heavyweight division, undisputed champion Sergey Kovalev on November 19 in Las Vegas, NV.
Ward won't allow himself to look past Brand.
He's not made that way.

"Whether it's a tune-up fight or contender or a champion, I've always had the mindset to go prepared," Ward said during a media conference call last week. "I know it sounds cliché, but that's just how I'm wired."
The only "name" on the 39-year old Brand's resume is reigning super middleweight champion Badou Jack. The two met in 2012 with Jack winning the bout by split decision. The Bogota, Columbia native is aware that his chances of defeating
Ward are seen as slim to
none. Brand
is determined to make a good showing. He upset undefeated Medzhid Bektemirov last December.
"I'm here to put on the best show possible on television and in the arena," Brand told the media last week. "This is going to be my toughest test to date and what could be better than try to beat Andre in his backyard."
Ward, 32, expects Brand to be aggressive Saturday night.
"Brand was available and Brand is going to bring it," said Ward. "He's the type of guy who puts his head down and swings for the fences. Those are very dangerous guys, and to be honest with you, it's easier fighting the top guys with more form and more technique than it is fighting a guy who has nothing to lose."
Brand is aware that not many see him springing an upset.
"I don't really care what people think," Brand said. "Like all things in boxing, you have to fight first. In order to ride a horse, you have to put on the saddle first."
Ward hasn't looked as elusive in his last two fights. Whether this is by design or strategy is open to interpretation. He fought Barrera in the center of the ring, and beat the former undefeated fighter to the punch consistently.
I expect Ward to be Ward come August 6--pop his jab and take his time.
By Round three,
he'll be giving Brand a licking.
The countdown to the epic clash with Kovalev is about to begin.
Pre-order Intimate Warfare: The True Story of the Arturo Gatti and Micky Ward Boxing Trilogy by Dennis Taylor and John J. Raspanti.