The Soapbox – Dec. 1, 2012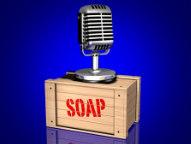 --


OK, it's time for the latest edition of "The Soapbox" and this submission is from a familiar name, Brian Swider, the brother of the original "Soapbox" contributor, Matt. This was actually sent to me back in October and inspired by ESPN's excellent "30 for 30" documentary "9.79*" (http://www.youtube.com/watch?v=sPPfYtFE6og), which took an insightful and revealing look back at the 1988 Summer Olympics and the 100-meter finals won by Ben Johnson, over a star-studded field including the likes of Carl Lewis. As most of you know, Johnson, who set a world-record in that race, was quickly nabbed for steroids in the immediate aftermath of that competition and it became one of the biggest scandals in sports history.

Johnson became a pariah and a symbol for steroids in track-and-field. But as this documentary showed, the Canadian was far from the only sprinter in that race who may have been on the juice that afternoon in Seoul, South Korea. As noted track-and-field coach Charlie Francis (who worked extensively with Johnson) once famously noted, it's a level playing field, just not the one you think it is.

This brings us to boxing, which seems to be at the same stage in dealing with illegal performance-enhancing drugs as baseball was back in the late '90s when Mark McGwire and Sammy Sosa were literally revitalizing the baseball industry on their broad, steroid-enhanced shoulders. There's no doubt it's become a bit of a hot-button issue and only now is boxing beginning to even acknowledge there might be a problem. But let's be honest; the use of these substances probably dates back as far as any other professional sport.

Now the question is, just how do you curb it? (Honestly, you aren't going to completely eradicate its usage.) Perhaps the remedy isn't just about ramping up the testing procedure (which is badly needed) or bringing in independent testing agencies but hurting the offenders where it hurts - their pocketbooks. Swider, who gets up on "The Soapbox" this week, gives us the hows and the whys:

Why Suspension Length for PEDs Would Be the Only Remedy
Disclosure: I think the overwhelming majority of elite boxers (like all elite pro athletes) are using PEDs. Myopic focus on anabolic steroids has clouded the public's perception of what a PED user looks like. For instance, guys that fight in lighter weight classes, just like NBA players, do not look like your typical "'roiders" with huge disproportionate muscles. However, procedures like blood doping to improve endurance would enhance performance for both boxers and basketball players alike. While this may seem strange given the discussion below, this is not a topic I care too much about. However, I really think people covering this element of the sport (i.e. Gabe Montoya), are pushing for the suboptimal solution, improved testing, instead of a more practical deterrent of cheating, increasing suspension length.
People will stop cheating when the expected value of cheating goes to zero or becomes negative. That is, people will not cheat unless they have something to gain. We know the value of the fight for a cheating fighter is his wages. I realize this overlooks things like brand building, sponsorship, etc. but for this exercise, let's assume those external benefits are zero as are the non-fight-related costs of cheating (e.g. medical problems). Thus, the expected value for a cheating fighter is his wages minus the possible costs of cheating weighted by the probability of cheating. And let's assume the fighter would expect to get the same sized wage in each future fight as he did for this one.
E(V) = Wages – Prob(Caught)* [(%Fine*Wages) + #Future Wages Lost*Wages]
Looking at the equation above, it is clear that the only way to reduce the expected value of cheating is to increase the variables to the right of the minus sign. That is, make the costs of cheating higher. Thusly, the three ways to decrease the E(V), or expected value, of cheating are:
1. Increase the probability of getting caught (e.g., improve testing).
2. Increase % of wages fined when caught (e.g., the .2% Antonio Tarver got or the 10% Julio Cesar Chavez Jr. looks to be getting).
3. Increase the number of future wages lost (e.g., suspension time).
So here's an example: A fighter is set to earn $1,000,000 but he is cheating. The probability of getting caught is 20% (admittedly high); the fine is 10% of their wages and the suspension is six months (or one future fight in today's game). Thus the above equation looks like this:
E(V) = 1,000,000 - .20[(.10*1,000,000) + 1*1,000,000]
Solving the equation, we see that a cheating fighter would expect to get wages of $890,000 for the fight or 89% of the contacted wages. But to stop cheaters, we need the expected value to be zero (or less), so let's keep two of the three variables above constant (20% get caught, 10% fine when caught, one future wage lost via suspension) and solve for the third when E(V) equals zero.
Making Probability of getting caught X:
0 = 1,000,000 - X[(.10*1,000,000) + 1*1,000,000]
That is, we would need to catch 90.9% of all cheaters to make cheating valueless.
Making the fine % when caught X :
0 = 1,000,000 - .2[(X*1,000,000) + 1*1,000,000]
That is, we would need to fine fighters 400% of their purses to make cheating valueless.
Making the amount of future wages lost when caught X :
0 = 1,000,000 - .2[(.10*1,000,000) + X*1,000,000]
That is, we would need to suspend fighters for 4.9 future fights to make cheating valueless.
So, if we say the average fighter fights twice a year, the suspension for a positive test would need to be 2.5 years.
Therefore, even if you could improve testing to an impossible level, catching 90.9% of the cheaters, or get fighters to agree to give up 400% of their wages, it would not be as effective at reducing the value of cheating as increasing fighter suspensions from one fight (six months) to five fights (2.5 years) worth of future purses.
Clearly increasing the percentage of cheaters caught, level of fine and suspension length would all reduce the value of cheating. But if you could only change one variable, I would advocate increasing suspension length.
Scheller College of Business
Georgia Institute of Technology


Brian, thanks for your input. Now, I'm not going to even pretend to be able to decipher your mathematical formulas you listed above (hey, there's a reason you're a professor at Georgia Tech and I'm a boxing writer). But I think what you're talking about is a risk-versus-reward ratio and I agree with you in principle. Because right now, when you have situations like Andre Berto's (who was caught with something illegal) and all he really does is serve a few months in limbo, then returns to make well over a million dollars to face Robert Guerrero, well, it doesn't really serve as much of a penalty; does it?

So yeah, I'm with you all the way in this regard. Make the penalties/suspensions so harsh and punitive, that those thinking about cheating will at least think longer and harder about doing so. But again, this is just one solution that should be put in place.

I recently heard Bob Arum say that the standard commission testing is fine. Well, this is an insult to everyone's intelligence. I don't think Arum even believes this. The reality is that the testing currently in place is nothing more than, as Victor Conte has said so often, an "I.Q. test." In other words, you have to suffer from a low level of intelligence or be plain ol' dumb to get nabbed. If you've read any of the stuff from Gabe Montoya (who's done great work on this issue in the past year or so), you know what measures need to be put into place. It's time for the commissions to get into the 21st century.

That said, improvements in testing and its protocols have to come from the regulators themselves, not any individual entities with a vested interest in making sure the events come off. Again, I don't want to beat this issue to death but the snafu that surrounded the October 20th show and the positive test results from Erik Morales (who, despite more than one positive test result for Clenbuterol, fought on) and how USADA is just now taking disciplinary action - after the fight has long past - is another reason why it should be the regulators regulating. USADA in boxing has been a fraud and fraught with conflicts of interest with its relationship with Golden Boy Promotions and Al Haymon. Yeah, I said it (you've had boxers performing despite positive test results, test samples thrown away and sometimes fighters not being tested at all under its auspices. And through it all, no real transparency regarding their contracts and agreements). Promoters simply should not be involved in the process as it relates to how positive test results are dealt with or how and when boxers give samples. The bottom line is that Golden Boy needed that event at the Barclays Center to go on with its main event (where Morales faced Danny Garcia) and Arum is willing to say anything - even claiming he talked to his new BFF, Alex Ariza, in getting assurances about the controversial Angel "Memo" Heredia - to skirt this issue before his big promotion next week in Las Vegas that sees Manny Pacquiao face Juan Manuel Marquez.

(That said, if the leading promoters in the sport want to be part of the process in spurring change and giving their input in terms of setting reasonable testing standards and guidelines of liability and then helping fund the extra cost that might come of all this, I think that would be a very positive step and would help grease the skids.)

Now, for a long time, my mantra has been "Regulators should regulate." However, the manner in which the NYSAC and Melvina "Free Lunch" Lathan (http://www.maxboxing.com/news/max-boxing-news/morales-test-positive-for-clenbuterol-the-fight-tests-boxing-morals) basically rolled over and played dead on the Morales situation (not to mention the lax standards of the NSAC, perhaps the most important commission in boxing based on the fights staged in Las Vegas) is clearly troubling. Make no mistake about it; the commissions themselves have a vested interest in seeing these events through (fact is, they also get a cut of the action). Positive test results which lead to canceled events are bad for business in their jurisdictions. If Pacquiao-Marquez IV (scheduled for next Saturday night) was scratched, that is literally millions of dollars in revenue lost in the city of Las Vegas. So do you really think they were ever going to even pretend to try and implement more stringent testing and play with fire?

OK, moving forward, what can and should be done? Honestly, in addition to the measures outlined by Swider, all you need is to change the standards, first and foremost in the form of more random, out-of-competition testing. In my opinion, this is more vital than ever in an era when most world-class boxers take months off between outings. And then, over time, educate the fighters, managers and promoters about this issue. It's also my opinion - based on what has happened specifically with other sports - that if you improve the standards and tighten the rules, the participants will adapt and adjust. Now I'm a realist. That means either the boxers will get in line and play by the new rules or, unfortunately, some will become even more sophisticated in their illicit actions. Hey, let's be honest; cheating will always exist but look at Major League Baseball. While players are still being busted here and there (i.e. Melky Cabrera), you no longer have the monstrous power numbers that were so prevalent in the late '90s and early-to-mid-2000s. So the changes MLB has made have obviously made a difference.

Again, this is about providing more effective deterrents to cheating and, to me, boxing is about hitting your opponent (some call it legalized, sanctioned assault) harder and more often, not just running faster or turning on a fastball a split-second quicker. This isn't just a competition issue for boxing but really one of health and safety.

Hey, you're not going to ever wipe out burglaries but you lock your doors in your car and your home and put up security systems for a reason. Right now, boxing is leaving the keys in the ignition and windows rolled down and the front door wide open.

Boxing simply needs better deterrents.