The Curious Case of Miguel Vazquez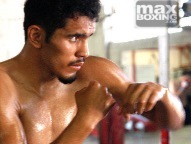 (Photo © German Villasenor, MaxBoxing)


While the feature performer in Macao, China this weekend is two-time Chinese Olympic gold medalist Zou Shiming, the best fight from the Cotai Arena at the Venetian Resort today features IBF lightweight titlist Miguel Vazquez, who takes on the challenge of the hard-charging Russian, Denis Shafikov.
And truth be told, not only has he basically been shipped over to China because of his lack of value in North America, if Top Rank were to be completely honest about it, they want Shafikov coming out victorious. Yeah, they wouldn't mind one bit if the Mexican in this instance lost his belt because while Vazquez is off the preferred ethnicity of this company, the blunt reality is that his style in many respects is decidedly un-Mexican. And it's really Shafikov, part of this new Russian revolution in boxing, who is much more fan-friendly and therefore easier for Top Rank to sell to television executives.

Vazquez is a boxer but the problem is, unlike a Guillermo Rigondeaux, he isn't particularly smooth or graceful in his movements. And he lacks the athleticism of, say, an Andre Ward. There's a reason his nickname is "Titere" (Spanish for "puppet") because of his unorthodox movements that are much more effective than entertaining. And yes, he does move around the ring like Pinocchio during his formative days with Geppetto. Vazquez is as tough to corner and grasp as a greased noodle. He wins but he doesn't necessarily win over his own countrymen, who demand perhaps a bit more gore and violence in their prizefighters.
But that isn't to say Vazquez isn't an accomplished boxer. His current record stands at 33-3 (13) and while he doesn't have any real career-defining victories, he's unusual in that his losses really tell you the validity of this fighter. In his pro debut, Vazquez dropped a four-round split decision to Saul Alvarez in January of 2006. Then after 18 consecutive victories, he lost a clear-cut 10-round decision to Tim Bradley, who was 20-0 at the time (and in seeing "Desert Storm" for the first time on "ShoBox," you came away thinking he was more "suspect" than prospect, perhaps a testament to whom he was facing that night). Four bouts later, he lost to "Canelo" again, this time via unanimous decision over 10 rounds.
So basically it's taken one of the sport's best fighters in Bradley and a highly accomplished junior middleweight to overcome Vazquez.
Looking at his résumé, it has a collection of solid-if-not-spectacular names: Breidis Prescott, Ji-Hoon Kim, Lenny Zappavigna, Marvin Quintero and Mercito Gesta. But you wonder, given Vazquez's spoiling style, if he'll ever get a crack at the likes of marquee names such as Mikey Garcia. Like fellow 135-pound beltholder, Richar Abril, his sole value rests in having a major championship belt around his waist. Those titles carry a certain type of value but even then, it's tough finding consistent work for them. The quandary with Vazquez is that even if you get past him, you'll probably look pretty bad doing so and unlike Rigondeaux (who himself is being shipped to Asia in the summer) and Ward, for some reason, he isn't lauded for being "skilled" or hitting without getting hit. Fair or not, Vazquez gets the "boring" tag, boxing's version of the "Scarlet Letter."

This is why he's boxing in Macao. But as history as shown, he may not excite you (at least not in the way Erik Morales vs. Marco Antonio Barrera did) but it will take a superior fighter to defeat him.
Here's my latest on SportsOnEarth.com in which Sugar Ray Leonard gives some thoughts on Floyd Mayweather and the state of today's boxing business:

WEEKEND FLURRIES

This card in Macao will be broadcast on HBO2 this afternoon at 5 p.m., ET (on a tape delay basis)...The bout between Akifumi Shimoda and Marvin Sonsona will be aired on UniMas' "Solo Boxeo" later in the evening..."The Countdown to Saul Alvarez-Alfredo Angulo" pre-fight show will air Sunday on the various Fox Sports platforms (check your local listings)...So has Bob Costas' pink-eye cleared up, yet?...Can't wait for the NFL Combine (I'll let you decide if you think I'm joking or not)...This just might be the worst Lakers team during my lifetime and that's not necessarily a bad thing. I say tank it for all it's worth

…I

can be reached at k9kim@yahoo.com and I tweet at www.twitter.com/stevemaxboxing. We also have a Facebook fan page at www.facebook.com/MaxBoxing, where you can discuss our content with Maxboxing readers as well as chime in via our fully interactive article comments sections.