The Biggest Battle Ever in Montreal?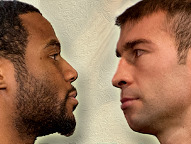 (L-R: Pascal - Bute)


Yvon Michel, whose company, GYM is staging this tomorrow night's contest between Jean Pascal and Lucian Bute, has had a full itinerary the past several weeks and days leading into this promotion, culminating this weekend at the Bell Centre in Montreal, Quebec. But Michel doesn't mind one bit. When you remind him that he's had a busy week, he corrects you by stating it's actually, "a good week."
He has reason to feel this way. A sold-out crowd of approximately 22,000 is expected (which will generate a gate of around $3 million) and this fight kicks off HBO's 2014 campaign. Public workouts to hype this event have drawn thousands of partisans and according to Michel, over 400 bars in Canada have bought the fight.

"I'm sure we're going to sell a lot of pay-per-view too," said Michel, who once envisioned this fight taking place at the Olympic Stadium (the former home of the long-gone Montreal Expos) and perhaps drawing a crowd of around 50,000 before settling at the familiar haunts of the Bell Centre. "We felt that we were better serving our public at the Bell Centre," said Michel, who believed the superior sightlines and other logistical issues made this venue more plausible. "And for the fans not able to attend, they'll be able to see it at the sports bar or at home on pay-per-view."
Back in June of 1980, the legendary rivalry between Sugar Ray Leonard and Roberto Duran kicked off at the Olympic Stadium in front of a huge throng of just over 46,000. Michel believes Pascal-Bute is the biggest fight to take place in Montreal involving local boxers. For years, Bute has been the biggest draw here but Pascal himself has become an attraction.
"I've never been involved in such an event; it's by far [the biggest]. I was with the [Davey] Hilton trilogy [versus Stephane Ouellet] when Arturo Gatti came here; it was great. But what we're doing this weekend surpassed everything that I've been involved with," said Michel, who has been in the promotional business for two decades and helped found GYM a decade ago.
Montreal has clearly become a Mecca for boxing. It's perhaps the premier boxing market in the world.
Michel says it's "difficult to say. Look, in London, they sold-out [Mikkel] Kessler-[Carl] Froch within a day, so it must be a good market. I know in Germany, there are good places too. In the United States, New York is good; Las Vegas is good and Los Angeles too. But look, when we have the right fight with the right fighters, we can match anybody in the world." Both Pascal and Bute have been developed in the local area and have carved out fan-bases throughout the years. Each fighter has consistently fought in Montreal and Quebec City (where the Bell Centre is located).

What's impressive is that other cards, such as those featured on ESPN2's "Friday Night Fights" and those involving boxers who have no affiliation with the local province (such as Tim Bradley and Kendall Holt), have drawn well in the past. According to Michel, there is no secret formula to their success. "It's hard work, dedication, publicity, public relations," said Michel, getting his Floyd Mayweather on. "Look, there will be 23,000 people on Saturday. This is exceptional but I can tell you when we have a show and Adonis Stevenson is fighting and we have 10,000 people in the arena, it's probably because I know personally about 9,000 of them by their first name because we kept doing it and everybody who bought the tickets, sending them information, calling. We are very close to our people and when they come to an event, most of the time, they are very happy with the shows we have done."

Pascal-Bute could be just the start of a series of fights.

Michel explains, "The loser has the opportunity, the right to request a rematch but the winner will have the opportunity of taking an interim fight. But you do a rematch when the public demands it. So if it's a one-sided affair, then it might not be a rematch. Like when there was no rematch - even though we had signed a clause for a rematch between Adonis and Chad Dawson - because of the way it happened, it was not a sellable fight. The network didn't want to buy it and so finally, we said, 'Oh, we don't have to do the rematch.'

"But I'm expecting that these two guys are going to fight at the highest levels. It's going to be intense. It's going to be spectacular and my feeling is that no matter who wins, the public will request a rematch."

SUPERMAN

How does this weekend's bout impact the third franchise in this region, Adonis Stevenson?

"I don't know; Stevenson has his own agenda," said Michel, who also represents the recognized light heavyweight champion of the world. "Look, in both Pascal and Bute, they admit that the number one fighter for now here is Adonis Stevenson and there's no shame about it. But Adonis was really born last June [when he knocked out Dawson] and he hasn't got the popularity yet of Bute or Pascal. But he will be there shortly. Adonis has a goal to become one of the best, pound-for-pound. He wants to make sure that he is the number one guy in the light heavyweight division, so his schedule in 2014 will be set accordingly.

Michel says an announcement will be made on Stevenson's future plans in about two weeks.

"I can tell you that the plan for him is to fight three times in 2014."

FRIDAY FLURRIES


Jose Sulaiman - Image Art © WBC
After a long illness, the head of the WBC, Jose Sulaiman passed away on Thursday. I'll have more to say on this later. Here's Kevin Iole's (Yahoo.com) story on Sulaiman's passing: Jose Sulaiman, president of the WBC dies at 82

Golden Boy Promotions CEO Richard Schaefer says they are now targeting March 15th as the return of Danny "Swift" Garcia...Showtime is saving the date of April 26th for a card (and it could be at the StubHub Center), according to Stephen Espinoza. This just happens to be the same date HBO is going with a Gennady Golovkin fight..."ShoBox" makes its 2014 debut tonight (10 p.m., ET/PT) and it features Ivan Redkach vs. Tony Luis...So is Nick Young the only Laker with any fight left?...OK, I'm with Jim Harbaugh on his choice of khakis but I'm with his wife regarding flat-fronts instead of the pleated ones...Am I nuts for liking both road teams in the Conference Championship games?… Happy Birthday to Muhammad Ali. The legend turned 72 today... Want Keith Kizer's old job as director of the Nevada State Athletic Commission? Then check out the online job posting: Apply Now: Application for Kizer's Job at NSAC... I can be reached at k9kim@yahoo.com and I tweet at www.twitter.com/stevemaxboxing. We also have a Facebook fan page at www.facebook.com/MaxBoxing, where you can discuss our content with Maxboxing readers as well as chime in via our fully interactive article comments sections.