"Stay Busy" – Sergey Kovalev vs. Nadjib Mohammedi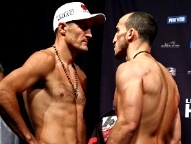 Photo © David Spagnolo, Main Events


It's difficult for your author to believe that this "stay busy" fight needs to happen; that said, it should be a lot of fun as all fights ending in KO/TKO are…and this brawl is virtually certain to end with one boxer unable to continue. Guess which one...

Nadjib Mohammedi stepped up in class against Nathan Cleverly, the once-hyped Welsh fighter with a college degree in mathematics and lost. Cleverly himself took on Sergey Kovalev just under 2 years ago, with many liking the Welshman's chances, only to be brutally stopped by the Russian Krusher with a K. The difference is that Cleverly is a tall, skilled, fast-punching fighter– not the case with Mohammedi, who while decent, has virtually no chance on Saturday and is likely going to sleep within 9.

So why then, is this fight happening? 2 reasons:

1. A fighter, particularly a thoroughbred like Kovalev, has every reason/right to have a Stay Busy fight. Even the great Joe Louis had them – about 20 in fact. Keep the reflexes toned-up, keep the money flowing in, keep the public interest, high. Fair enough.

2. Notwithstanding reason 1. This seems to be the era of meaningless stay busy fights because, as numerous boxing scribes have noted – the need to remain undefeated is extraordinarily important. Years ago boxers fought far more. When boxers fight more, obviously, they lose more including the great ones; Ray Robinson and more recently, Muhammad Ali and Evander Holyfield. Since the 80's however, the 'undefeated' mojo has been incredibly important to networks trying to sell expensive Pay-Per-View extravaganzas. With boxing's splashy return to 'regular' TV, it's predicted boxers will fight more often and then, the Public will become more excited about boxing – and tolerate the occasional loss more readily. WE SHALL SEE…

Fighters Scorecards: Sergei Kovalev: Speed: 3.65

Power: 3.85

Defense: 3.70

Reach: 3.60

Stamina: 3.75

Experience: 3.55

Age: 3.10

Average of all factors: 3.63

Nadjib Mohammedi: Speed: 3.10

Power: 3.20

Defense: 3.25

Reach: 2.90

Stamina: 3.45

Experience: 3.25

Age: 3.25

Average of all factors: 3.2

About the fighters:

Sergei Kovalev: Kovalev is really tough. Looking like the world's fittest, most dangerous KGB agent, Kovalev is a pitiless monster between the ropes and reportedly, a softie outside: a family man who loves his dog Picasso and "motor cars." Kovalev once referred to black people as Negroes, however, perhaps he deserved a pass; he grew up in the Urals in dire poverty including lack of adequate nutrition and perhaps, education. However, he also tweeted a photo of himself pointing at a child wearing a t-shirt of a chimpanzee. The ape was supposedly the likeness of the other Light-Heavyweight Champion, Adonis Stevenson, who, because of boxing politics, Kovalev has yet to face (see "remain undefeated" above). Pilloried by the Press, Kovalev told a press-conference he was sorry and did not know what a picture of an ape represented to black people. It's dangerous to evaluate people one doesn't know, but Kovalev strikes me in interviews as arrogant and yes, ignorant. I did not say stupid- I said ignorant. Time may tell what Kovalev's real views on race are.

Kovalev's kryptonite is his professional resume - as thin as his amateur experience in the "Soviet System" is meaty. However, Kovalev's smashing of Bernard Hopkins and determination to close the show in the 12th (one suspects it was Hopkin's reputation which spared him a TKO) sees me out on a limb: With a caveat, I believe he is the goods. Given his otherwise (than Hopkins) small professional CV, this is a rare leap of faith for this writer and why my 'experience' grade for him is low despite his huge amateur background. Kovalev is tremendously powerful, quick and I love his agility, smoothness and clever defense. Finally, he out-thugged BHop – who, as Philly's most illustrious young con, survived a knife to the lungs and- hard time. Hopkins intimidated 95% of his professional opponents but this nasty MO only energized Kovalev: love or hate him as a person, who can forget that when Bernard seemed to ave a late-round miracle, Kovalev to our amazement, proceeded to beat the Philadelphian down. Oh – the caveat? I know you are growing tired of hearing it: his age, 32.

Mohammedi: The 30-year-old Nadjib Mohammedi certainly realizes he will never again have a better chance to do what he says is most important: Improve the lot of his family. A very unlikely upset would probably do that – unless the 'poli-tricks' of boxing decreed an immediate rematch with Kovalev. Nadjib has learned passable English seemingly between 2 of his recent fights and seems a much nicer, better-rounded guy than Kovalev. Family foremost, this Frenchman of Algerian descent states that he enjoys his second business (a pizza truck) and travel. As a fighter he does have a tremendous trainer in Abel Sanchez. It is claimed that Sanchez arranged that the other Soviet-Era killer, Golovkin, spar with Kovalev and that Kovalev while naturally bigger, got the worst of it. I'd take that with a salt-mine...Beyond a superb trainer and desire, I would characterize Mohammedi's style as basic punch mastery (double jab, over-hand right) designed to get him closer to his opponent for the in-fighting and rough-house tactics which define him. If he gets inside, the longer-armed Kovalev could be vulnerable – but getting inside of Kovalev is a very tall order.

The Fight:

I think the way Mohammedi 'wins,' is by making a spirited challenge ending in a distance fight or if stopped, one in which he makes Kovalev look vulnerable. This would allow him many more fights as a top challenger and ensure a lot of money coming his way. It would, in turn put pressure on Kovalev to put up or shut up and unify vs. Adonis Stevenson and eventually, take on Oakland-loving Andre Ward. I can see Mohammedi having such moments but unless Kovalev has somehow lost it, Krusher should prevail well under the distance in a fight in which Mohammedi looks like just another opponent. Oh, well "stay busy."