Spence sends Algieri packing in round five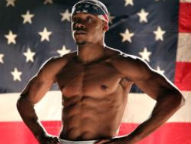 H1_Errol-Spence.jpg


Rising star welterweight Errol Spence (20-0, 17 KOs) passed the toughest test of his young career by stopping former WBO junior welterweight champion Chris Algieri (21-3, 8 KOs) in Round five at the Barclays Center in Brooklyn, New York Saturday night.
Southpaw Spence came out firing in the opening stanza--pumping jabs in Algieri's face. Algieri, 32, used the ring and looked for ways to counter. Spence cracked Algieri with a hard right to the rib cage. A few seconds later a left hand knocked Algieri into the ropes.
In Rounds
two and three, Spence picked up the pace. He forced Algieri into the ropes and ripped a number shots to the head and body. Algieri ducked a few of the blows, but also ate some. A clever right by Algieri temporarily
stopped Spence's onslaught.
Spence's t
hree jabs and an uppercut likely had Algieri wondering if he should make his day job as a nutritionist
his full-time gig.

Algieri tried to change the rhythm of the match in the opening seconds of Round four firing
a combination that had no effect on his 26-year-old opponent. Seconds later, Spence went back to pummeling Algieri on the ropes.
Spence's work rate was consistent, and deadly.
A short left uppercut snapped Algieri's head back. A wicked left hook sent Algieri to the floor on all fours. The former WBO champion was up at the count of eight, but if he was looking for a breather, Spence wasn't about to give it to him. He went to the body with both hands. Algieri tried to dodge the danger in front of him, but Spence stayed composed and worked him over.
Round five was more of the same. A sweeping left hand floored Algieri for the second time. The gutsy Algieri was up at five, but the end of the fight was imminent. Another
brain-rattling
left sent
Algieri
to the canvas. Referee Benny Esteves took one look at Algieri and waved off the contest.
The time was 48 seconds of Round five.
"He (Algieri) kept ducking and looking down at the floor instead of looking up," said Spence in the ring after the fight. "I thought it was going to be late. Algieri is a tough fighter. He tested me a little bit, but I was prepared for what he had."