Rios Tests Positive for DMAA, Suspended Five Months by CPBO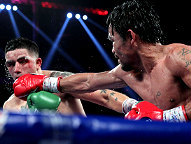 (Photo © Chris Farina / Top Rank)


On Friday morning, respected veteran reporter Tim Smith broke the news that welterweight contender Brandon Rios had tested positive for DMAA (also known as Methylhexaneamine) per the Voluntary Anti-Doping Association, which had conducted strict, random, anti-doping tests for the weeks leading up to Rios' fight with Manny Pacquiao on November 24 (November 23rd in the United States). The fight was held in Macao, China. Rios lost a lopsided decision over 12 rounds. Rios and Pacquiao began VADA testing on October 22. They were each tested approximately four to five times each. The test Rios failed appears to be the post-fight test.
According to President of VADA, Dr. Margaret Goodman, "

Mr Rios did not successfully complete the VADA program. VADA follows its written Results Management Policy and reports all results in writing to the athlete, promoter, ABC [the American Boxing Commission] and the relevant commission(s), who can confirm individual results. VADA also publicly reports when an athlete has successfully completed the program. VADA's role is to administer high-quality testing. It is not our role to determine whether or not disciplinary action is appropriate."

On Friday evening, Maxboxing.com was informed by the Chinese Professional Boxing Organization (CPBO) President Mr. Zhang Tao, who was in charge of overseeing the fight and adjudicating the sentence of Rios' Chinese boxing license being suspended for five months.
According to a letter sent to Rios by Chairman Tao, the CPBO "received the December 2, 2013 report from the VADA Anti-Doping tests from your contest in Macao, China with Manny Pacquiao on November 24, 2013. You have had copies of those results sent to you. The results of the A: Sample test indicate that you had performing enhancing drugs in your system at the time of the contest, to wit: Urine specimen contains Methylhexaneamine (also known as dimethylpentylamine or DMAA), an unauthorized stimulant. The report from VADA states that Methylhexaneamine is a pharmacological substance classified as a stimulant. It is a prohibited substance under category S6 on VADA's Prohibited List, and is also banned by the World Anti-Doping Agency (WADA) as a prohibited stimulant."
It is unclear if the labs used by U.S. commission such as Nevada's, which typically uses either LabCorp or Quest Diagnostics, test for DMAA. VADA's protocols such as testing for drugs like EPO and synthetic testosterone on every sample make them hard to beat. DMAA, a relatively newly-banned substance, is apparently also on its list.
"
This conduct, if confirmed," continued Chairman Tao, "violates your duty as a Licensed Participant in the November 24, 2013 Championship to conduct yourself in accordance with the highest standards of sportsmanship and violates the VADA provisions of your bout agreement. The China Professional Boxing Organization has determined that it will suspend your Boxing License for five (5) months from your contest, that is to April 24, 2014 unless you show cause why this should not be done. Please show cause in writing on or before 5:00 P.M. Eastern Time on Tuesday December 10, 2013 why this suspension should not be ordered."
Chemist Patrick Arnold is credited with bringing DMAA back to use in 2006 after ephedrine, another stimulant, was banned the previous year. He also introduced Androstenedione to the American sports nutrition industry, (Notable use: Mark McGwire in 1998, the year he hit 70 home runs). An anabolic steroid Arnold re-introduced, Norboletone, was developed by Wyeth Labs in the 1960s but it was never brought to market. Arnold came across the chemical structure in medical research and produced it in 1997. It was later refined and dubbed "The Clear" by Victor Conte of BALCO labs. Notable user: former track-and-field star Marion Jones.
According to Victor Conte, DMAA "is a powerful central nervous system stimulant. In my opinion, it's not a coincidence that all the Jamaican athletes that tested positive for it [in 2009] were sprinters. It could be used to enhance reaction time to the gun."
DMAA became popular in 2006 in workout and fat-burning products like Jack3d and OxyElite Pro. Originally designed by the pharmaceutical company Eli Lilly and Company in the 1940s as a nasal decongestant, the substance is the subject of much controversy.
When two soldiers died in December 2011 and were linked to using Jack3d, the Department of Defense banned DMAA from being used or sold on any military base.
On April 12, 2012, the FDA issued a warning stating "that the stimulant did not qualify as a legal dietary supplement ingredient and that it could raise blood pressure, potentially causing heart attacks and other health problems."
According to the FDA website, "As of April 30, 2013, FDA has sent warning letters to a total of 11 companies advising them that DMAA-containing products marketed as dietary supplements are illegal and must be taken off the market."
Further per the FDA, "On July 2, 2013, as a result of follow-up legal action by FDA, the dietary supplement firm USPlabs voluntarily destroyed its DMAA-containing products located at its facility in Dallas, Texas. The products - USPlab's OxyElite Pro and Jack3d - are estimated to have been worth more than $8 million at the retail level. USPlabs has agreed to stop manufacturing dietary supplements containing DMAA."
In sum: DMAA is no longer legally available in any over-the-counter supplement.
If there is a doubt that DMAA is an effective performance-enhancer, consider that in 2009, five Jamaican track team sprinters tested positive for it.
At the London Games in 2012, Syrian runner Ghfran Almouhamad tested positive for it.
The substance was a hit in India too. More from isteroids.com:
"
The drug figured prominently during the 2010 Commonwealth Games in New Delhi wherein swimmers Richa Mishra, Amar Muralidharan and Jyotsna Pansare, wrestlers Rajeev Tomar, Rahul Mann, Sumeet, Joginder, Mausam Khatri and Gursharanpreet Kaur, and athletes Saurabh Vij and Akash Antil tested positive to it just before the 2010 Commonwealth Games in Delhi."
At the games themselves, Nigerian runner Osayomi Oludamola tested positive for DMAA.
Also in 2010, Australia got into the act with nine Aussie athletes testing positive for DMAA.
Despite being banned by WADA in 2010 - outright criminalized by the FDA in the meantime - with raids and millions of dollars of products containing DMAA being destroyed, somehow Brandon Rios had it in his system while fighting Manny Pacquiao in China.
The question is how. If the product is not sold over the counter anymore, where did it come from?
According to Rios, in an interview with Phil D. Jay, editor of WorldBoxingNews.net, Rios said, "I haven't heard much about it yet but I didn't do anything wrong for the Pacquiao fight. It could be an energy drink I used but that was nothing unusual. I don't know until I speak with my team and we get together. But that's all I believe it could be right now and until I hear more on this, I can't explain what went wrong."
When contacted early Friday morning, Rios' trainer Robert Garcia and a Top Rank Promotions official said they had no knowledge of a positive test result or what the banned substance could be.
Rios' strength coach for the Pacquiao fight, Alex Ariza, in San Antonio for his other charge, Marcos Maidana's fight with Adrien Broner Saturday, contended over on boxingscene.com that the sample collectors (likely WADA-trained and certified collectors from the sample collecting company IDTM, who handle overseas collection) had Rios first urinate into a glass for his post-fight sample and then poured it into a plastic cup to be contained.
Ariza's explanation was caught on tape by Luis Sandoval of boxingscene.com.
"
The containers [to urinate in] were not available. So they had Brandon pee into a glass. And then they had some other guys go stand and get these things. There were things we really didn't pay attention to until now. So we will have to see exactly why he had to pee in a glass and then it was transferred to a glass, a regular drinking glass into a thing. So there's a lot of contaminants and things like that but I'm not that they did that. I'm just saying that this seems kind of odd that we went through four testings and we never tested positive for anything. And then all of sudden, we get some sort of dietary supplement that supposedly you can get in energy drinks. I don't think its Red Bull or any of those things but I don't know because I haven't seen the list."
It should be noted that in-competition tests and out-of-competition tests differ. Stimulants are not tested for generally for out-of-competition tests. But stimulants are routinely tested for at competitions.
Opinion...
Jack3d and OxyElite Pro have been off the shelf for some time. They've been on the WADA banned list since 2010. The positive tests for DMAA over the years have been highly-publicized. The WADA banned substances list is available online on the WADA website and accessible via mobile app on iTunes. These are facts. Blaming the sample collector or lack of knowledge or the testing agency all seem, in this writer's opinion, like excuses. Someone in Rios' camp should have known better than this.
Ariza also claimed he had submitted all the products Rios would be using and they were checked off. That seems highly unlikely, considering VADA submits the lists provided by fight camps to a third party, the National Center for Drug Free Sport Resource Exchange Center (
http://www.drugfreesport.com/rec/
)
and they verify if the supplements an athlete is taking are banned or not. It's highly unlikely DMAA got through.
Please visit our Facebook fan page at
www.facebook.com/MaxBoxing
, where you can discuss our content with Maxboxing readers as well as chime in via our fully interactive article comments sections.