Remembering a True Champion: Bennie Briscoe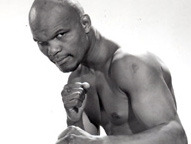 --


Born in Augusta, GA, in 1943, Bennie Briscoe turned pro in 1962 at age 19 after a very good amateur career. The Philadelphia-based middleweight was the quintessential Philly "tough guy" in an era of 160-pounders in which that label was not easily attained. He has often been called "one of the best middleweights to never win a world title." His outstanding career boasts a résumé that includes battles against the cream of the middleweight crop of his era.
"Bad" Bennie first laced 'em up for pay in the fall of 1962 and, in his first 26 fights, picked up 20 wins. He closed out his fourth year as a pro by stopping Philly boxing legend Georgie Benton. Two fights later, he found himself facing future legend Carlos Monzon in the future middleweight legend's home of Argentina. In a hard-fought, 10-round battle, Briscoe earned a draw against the future champion. Monzon was coming into the bout having only dropped three decisions in 50 bouts (it should be noted that Monzon would never again lose in his next 50 bouts). In his next 33 bouts, over five years, Briscoe would continue to face some of boxing's best middleweights. This brought him to the winter of 1972 and a shot at the world middleweight title against old rival Monzon, who was defending the title for the sixth time in his 91st bout as a pro. Again, Briscoe found himself on his way to Argentina to face the champion in his backyard. In perhaps his best outing as a professional, Briscoe would drop a 15-round unanimous decision to Monzon. Briscoe resumed his career just two months after his crack at the middleweight crown and over the next two years, would fight nine times, facing the likes of Billy Douglas and Emile Griffith. He would also travel to Paris, France and stop Tony Mundine in five rounds. During this span, Briscoe would win the North American Boxing Federation (NABF) middleweight title stopping Art Hernandez in three rounds. However, he would lose the belt two fights later against future world champion Rodrigo Valdez. In May of 1974, Bennie would again face Valdez for his second world title try as the two middleweights were battling for the vacant World Boxing Council (WBC) middleweight title. Valdez put in a strong performance, picking up the title by stopping Briscoe in the seventh frame in Monte Carlo, Monaco. Over the next three years, he would fight 14 times facing, among others, future World Light Heavyweight Champion Eddie Mustafa Muhammad and fight a rematch with Griffith. During this span, he also squared off with crosstown Philadelphia rival Eugene "Cyclone" Hart.

Briscoe closed out 1977 with his third trip to the plate for the world middleweight crown, again facing old rival Rodrigo Valdez. Unfortunately, the third time would not be the charm for the Philly fighter as, again, Valdez won, holding on to his title with a unanimous, 15-round decision. Briscoe was back in the ring just three months later in February of 1978 and would tangle in a distance loss with middleweight monster Vito Antuofermo, who would go on to win the world title just four months later. Just three bouts later, Bennie would find himself going the distance with future world champion and middleweight Hall of Fame legend Marvelous Marvin Hagler. The two fighters packed the Philadelphia Spectrum in what was deemed "The Battle of the Bad Baldies" as both 160-pounders sported shaved heads. After the Hagler bout, Briscoe would fight 13 more times going 6-7 to close out his amazing 20-year, 96-fight career.
Before retiring from the ring, Bennie secured a job with the City of Philadelphia Streets Department where he worked until retirement. Bennie received three title shots in an era when only the best contenders received a crack at a coveted world title belt. With his granite chin, aggressive style and punching power, Briscoe was truly one of the most popular fighters in the "City of Brotherly Love." Despite never having won a world title, Bennie was inducted into the Pennsylvania Boxing Hall of Fame in 2007 and the World Boxing Hall of Fame in 2010. At age 67, Bennie Briscoe passed away peacefully on December 28, 2010. Gone but never forgotten.
Please visit our Facebook fan page at www.facebook.com/MaxBoxing, where you can discuss our content with Maxboxing readers as well as chime in via our fully interactive article comments sections.