Perez, a Man with a Plan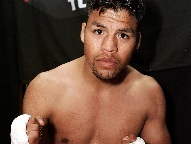 (Photo © Chris Farina / Top Rank)


As he headlines this weekend's "Solo Boxeo" (on UniMas) card from the Texas Station Casino in Las Vegas, featherweight Alejandro Perez isn't working any harder than he usually does. Perez, one of boxing's true blue-collar workers, has always been diligent and professional in his preparation, regardless of his circumstances that had him sidelined for months at a time in the past. To him, working hard is like being pregnant: you either are or you aren't. There's no in-between.
But now that he's under the umbrella of Top Rank Promotions and on the verge of a title shot, he admits he's even more focused than before.
"Yeah, I have to stay on my top game, especially with who my promoter is. I mean, they're known to have top fighters and I think there's a reason why I'm with them - because I'm one of the top fighters and I gotta stay in top shape and show that to the world, show that to boxing fans," said Perez on Tuesday night after an early evening run.

There was a time when Perez was unattached, meaning he was never on the A-side of the equation and was forced to take more than one assignment on short notice. In these situations, Perez is the opponent, brought in to go a few rounds, maybe even give the house fighter a rough go of it...but ultimately lose. And if he didn't agree to these bouts, the other alternative was to sit on the sidelines (which he did for all of 2010).
Perez admits to having thoughts of walking away from boxing. "Of course, I honestly did. There was a time where I had those thoughts but then again, I had to be patient. My trainer, Hector Valladarez told me, 'This sport takes a lot of patience and you just gotta stick with it, always stay in your top shape because you never know; you might get a call for a good opportunity," he explained. Through these droughts, Perez was a mainstay at the Wild Card Boxing Club.
And last year, he was given an opportunity to face the favored Art Hovhannisyan on "ShoBox." Coming in as the underdog, he outfought and outhustled Hovhannisyan to capture the NABO 130-pound title. More so, the victory resuscitated his career.
"That was the fight that I can say turned my career around, a complete 180. After that fight, my last three fights have been won and now I'm ranked number one in the world by the WBA at 130. So that fight was a career-changer," said the 27-year old Perez, who hails from Salinas, California.
It was that fight that opened the eyes of Top Rank, which, long ago, had Perez under contract. Matchmaker Brad Goodman stated to Maxboxing, "I always felt like he had a place here. The first time around when we had him, it just didn't work out for some reason but as time went on and we got to know each other a little better, even though we weren't doing business together, we had a friendship first. Then I think he just felt comfortable and they're back again and this time around, we're going to do it the right way."
Since joining Top Rank, Perez has notched stoppage victories over Edgar Riovalle and Miguel Zamudio. For any young, misguided boxers who believe they don't need a manager or promoter to navigate their way through this treacherous business, Perez has this advice: "I would say to really think about it because they really do. There was a time in my career where I said the same thing, 'Oh, I don't need a manager. I don't need a promoter. I'm pretty good.' But no matter how good you are, with this sport especially, if you don't have a good manager, you don't have a good promoters, it's really, really difficult. Even if people tell you that you're the best out there and you're going to be world champion, if you don't have that somebody behind you with a name, a promoter, a manager, you're pretty much not going anywhere."
And with a win this weekend, Perez could get a featherweight title shot, sooner rather than later.
"It's supposed to happen right after this fight," said Goodman, who matched him against the experienced Juan Carlos Martinez. "He has to get through this fight and then May 31st against Nicholas Walters."
Asked about the possibility of fighting for the WBA belt Walters currently holds, Perez admits, "I heard about it,; there's rumors going around. I've read about it on the different websites. I'm not really too focused on that right now. I have my next fight this Saturday out in Las Vegas, so I'm just focused on that. I'm getting ready for that, completely ready for that and once we win that fight, we'll sit down with our promoter and see what's coming up next."
An April 26th tripleheader is set for the StubHub Center in Carson, California and it will feature Keith Thurman taking on Julio Diaz, Lucas Matthysse making his return against John Molina and Omar Figueroa facing Jerry Belmontes. This card will be televised by Showtime.

Here's the ticket info for that show:
Tickets priced at $150, $75, $50 and $25, plus applicable taxes, fees and services charges, go on sale tomorrow/Thursday, March 27 at 10 a.m. PT and will be available online at AXS.com, by phone at 888-9-AXS-TIX (888-929-7849) and at StubHub Center Box Office (Monday through Friday from 10 a.m. PT to 6 p.m. PT). VIP Suites are available by calling 877-604-8777. For more information on group discounts or VIP packages, please call 877-234-8425.
Also the Floyd Mayweather-Marcos Maidana pay-per-view undercard was announced and it will have Amir Khan making his welterweight debut versus Luis Collazo, Adrien Broner facing Carlos Molina and J'Leon Love against Marco Antonio Periban.

MAY 17TH

They are calling the May 17th battle between Juan Manuel Marquez and Mike Alvarado at the Forum in Inglewood, California the "Inaugural Brawl" as this refurbished venue opens its doors once again for boxing. Here's the ticket info for that event:

Promoted by Top Rank®

in association with Zanfer Promotions, Márquez Boxing and Tecate, tickets to Márquez vs. Alvarado will go on sale

Tuesday, April 1 at 3:00 p.m. ET / Noon PT. Priced at $400, $250, $150, $75 and $35, tickets can be purchased at the Forum box office, all Ticketmaster outlets, Ticketmaster charge by phone (800-745-3000), and online at

www.ticketmaster.com

or

www.fabulousforum.com.

And to celebrate boxing's return to the Forum, any $150 or $75 ticket purchased at the box office or via Ticketmaster on April 1 between Noon and 4:00 p.m. PT,

will include a complimentary companion ticket to the inaugural brawl.

Limit six (6) tickets per order.

(And no, that last part is not an April Fool's joke.)

TNR

Here's the latest episode of "The Next Round" with Gabe Montoya and Yours Truly:

http://www.blogtalkradio.com/leaveitintheringradio/2014/03/24/maxboxing-live-the-next-round-episode-473

To download the iTunes app, please visit:

https://itunes.apple.com/us/app/liitrboxing/id630089339

FORUM FLURRIES

The Marquez-Alvarado presser was inside the Forum Club. Oh, if those walls could talk...Any Lakers fan who grew up listening to Chick Hearn could tell you that the capacity of the Forum was 17-five-oh-five...So just why do the Eagles want to deal Desean Jackson so bad?...Can UCLA spring the upset on the Gators?...HBO's "Real Sports" segment on the sham of NCAA student-athletes is a must-see

…I

can be reached at k9kim@yahoo.com and I tweet at www.twitter.com/stevemaxboxing. We also have a Facebook fan page at www.facebook.com/MaxBoxing, where you can discuss our content with Maxboxing readers as well as chime in via our fully interactive article comments sections.