Monaghan wins 10-round unanimous decision over courageous George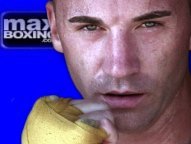 --


Sean Monaghan (26-0, 16 KOs) outworked Don George (25-5, 22 KOs) over 10 rounds to win a unanimous decision Friday night at the Aviator Sports Complex in Brooklyn, New York.
After splitting the first two rounds, George damaged his best weapon--his right hand. Over the next couple of rounds, Monaghan took advantage, nailing George with combinations to the body and head. George fought back bravely, firing his right while grimacing in pain.
Before the start of round five, the ringside physician talked to George about stopping the fight. The proud warrior from Chicago, Ill., pleaded with the doctor to be allowed to go out on his shield. After a pause, the doctor
acquiesced. George swallowed back the pain and slugged toe-to-toe with Monaghan for most of the stanza.
Monaghan, 34, continued over the course of the next few rounds to methodically beat George to the punch, but it wasn't easy. George, 31, hung in like grim death, imploring Monaghan, from Long Island, to bring the fight to him. Monaghan did as he was told, connecting with various blows to George's chin.

The three judges had Monaghan winning the bout by scores of 100-90 (twice) and 99-91.
Monaghan could be in line for a title shot in 2016.