"Mile High" Alvarado Seeks Higher Altitude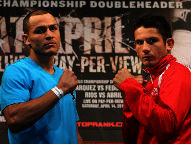 (L-R) Mike Alvarado & Mauricio Herrera (Photo © Chris Farina / Top Rank)


The last time we saw junior welterweight contender Mike Alvarado, he was stealing the show on the Manny Pacquiao-Juan Manuel Marquez III undercard back in November at the MGM Grand in Las Vegas. Bleeding profusely from a cut lip and down on the scorecards versus Breidis Prescott, "Mile High" (who hails from Denver, Colorado) would rally late to stop the veteran in the 10th and final frame.


In all honesty, it wasn't supposed to be this tough of a fight. But it became one once Alvarado- who faces Mauricio Herrera this Saturday night at the Mandalay Bay- had his lip split wide open early on.
"I was just trying to block out the actual cut, the blood. It was a bad cut; it threw me off a little bit," he admitted to Maxboxing. "It really didn't hurt me; it was just the feeling of the actual cut, knowing that it was there. I wasn't hurt in any way other than that. I just knew that I couldn't let it get to me. I tried to block it out as much as I could and just keep fighting my fight."

According to Alvarado, the exact location of the laceration was on "the top right side of my lip" and it occurred in "the fourth round; it was a left hook that just perfectly grazed my lip and it just split my lip open." It was exacerbated by a bloodied nose he suffered a few rounds prior. Alvarado says that without the ability to breathe through his nose and with his mouth wide open, he swallowed his fair share of blood that evening.
For much of this bout, Prescott was boxing well from the outside and beating Alvarado to the punch. As the late rounds began, Alvarado was in jeopardy of losing his undefeated record in his 32nd outing.

"I knew the judges were looking at this fight as if [Prescott] was outworking me and that he was ahead on the scorecards. My corner was like, 'Step on the gas; he's ahead on the scorecards,' so I knew I needed a knockdown. I needed to come back. So I just dug deep at that point and stepped on the gas and started taking over the fight from there," said Alvarado, whose steady pressure and grinding wore down Prescott in the late stages.
Alvarado's manager/trainer, Henry Delgado, was fidgeting in the corner by this stage. "I was waiting for Prescott to wilt and he went longer than I thought he would. What threw everything off was the cut. The cut, more than anybody knows, affected the game plan and [Alvarado] was just somewhere where he's never been before and it took him a little while longer to figure out. But I knew he was going to dig it out because that's one thing that he has over anybody else- you can't out-will him. I don't care who it is; you're not going to out-will him and that fight showed it."
In a desperate race to the finish line, Prescott simply could not hold off the furious rally of the heavy-handed Alvarado. In the final few rounds, the punishment he absorbed left him a weary and more stationary target than he had been while racking up the early rounds. They say pressure busts pipes; here it busted Prescott.

"I hurt him many times, like the seventh, eighth round," recalled Alvarado, who halted Prescott after sending him down early in the 10th. "I almost had him out on his feet that eighth round and he was ready to go. He was getting weaker. I felt his stamina going down and I was only getting stronger. So I stepped on the gas in the 10th round, I said, 'I have to do this.' Something inside me just said, 'Let's go; let's get this guy out of here,' and that's what happened. I stepped on the gas and did what I had to do."
Yeah, Alvarado had everyone sweating it out late.
"How 'bout sweating it out in round one?" joked Carl Moretti, V.P. of Boxing Operations for Top Rank. "Why wait till seven rounds when you can just sweat it out right off the top?"
It was that kind of night. It wasn't just that Alvarado won but the manner in which he did it. There was a palpable buzz inside the arena rarely felt on undercards of major pay-per-view shows. "I was excited," said Alvarado. "It was a deep feeling; it was emotional. Man, it was a good fight. To come back on a good show like that it was something that I needed. It was a good experience."
One that will make him a better fighter going into the future.
"It sure will and it has so far; you can see it in my training. I can feel it mentally; it made me that much stronger mentally, physically and I'm learning more about myself. So it was a good experience. I'm happy with myself," said Alvarado. Should he handle Herrera, he could be on his way to bigger and better things. "I guess you'd like to see him in a higher profile fight with a bigger name in a division that lends itself to bigger names," said Moretti, who has had discussions with the premium cable networks regarding Alvarado, who's not a guy he has to give a hard sell to. "No question. It's very easy as long as the dates are there to sell a Mike Alvarado fight."
Alvarado is currently ranked third by the WBO, ninth by the IBF and 11th by the WBA. He's now 31 years old, has 32 bouts under his belt and has been properly marinated.

"He's past ready," said Delgado. "He's a man now and just the strength is there. He's at his peak right now."

Alvarado, who in the past has been beset by legal issues outside the ring, stunting his development as a prizefighter, knows his time is coming when he'll face down the likes of Lamont Peterson, Zab Judah, Danny Garcia, Marcos Maidana, Amir Khan and Lucas Matthysse at 140.

"They know it's coming now. Once they see where I'm at right now, mentally, my boxing," he says. "Once they get another look at me, my performance, it's going to be that much better. I set the standards a little higher now after the Prescott fight, so I believe it put me on that next level. So it's time; it's time for that title shot."

JUNE BLOOM

As of right now, Showtime's doubleheader scheduled for May 26th (Peter Quillin vs. Winky Wright and Antonio Tarver vs. Lateef Kayode) does not have a home. Gary Shaw secured the Morongo Casino (I guess Chumash was booked) but Showtime wants bigger and more prominent venues for their "Championship Boxing" telecasts.

Richard Schaefer, CEO of Golden Boy Promotions (which promotes Quillin), said on Tuesday afternoon, "I'm talking to Showtime to potentially move it to June 2nd." His plan is for this card to be staged at the Home Depot Center in Carson, California, which was supposed to host the rematch between WBC lightweight titlist Antonio DeMarco and Jorge Linares on July 7th before a little "accident" involving Linares took place in Mexico.

"I still like the Home Depot Center and I think if you bring an exciting card, maybe put a couple of good Hispanics on as well, that there hasn't been an exciting card there for awhile, I wouldn't mind going there. So I'm going to have some conversations with Dan Beckerman (CFO of AEG, which runs that property) on that and see if we can do this. Especially now since July 7th isn't going to happen. I'd still like to bring a fight card to the Home Depot Center. So this is something which I am discussing."

By Wednesday, the deal was completed and it was moved off Memorial Day weekend and onto the first Saturday of June. And Schaefer tells Lem Satterfield that this Showtime telecast will be a quadruple- yes, a quadruple-header: http://ringtv.craveonline.com/blog/172287-lems-latest-

(Just my two cents but those two other bouts better feature Mexican/Latin boxers. Shows out here generally struggle without them.)

As for Golden Boy's June 30th show, which they are planning at the Verizon Center in Washington DC, Schaefer stated that, "The idea is to have Gary Russell Jr. and Fernando Guerrero on and we're looking at a couple of other names, so we want to be back. We want to go back there."

As for the possibility of slotting heavyweight Seth Mitchell, who hails from that region, Schaefer says that he is a possibility to be on that Showtime telecast. Mitchell faces Chazz Witherspoon later this month on HBO. I'm told that Paul Williams could also be on this card.

FLURRIES

It was announced on Wednesday that Richard Schaefer has inked a contract extension with Golden Boy Promotions (and no, it doesn't mean he gets a fight with Floyd Mayweather down the line). While Oscar De La Hoya is its logo and figurehead, it's Schaefer who really runs this company on a day-to-day basis...Schaefer told me on Tuesday that on July 7th, "I think Showtime's going to go dark."...On April 28th from the Fairplex in Pomona, California, WBA light flyweight champion Roman Gonzalez will take on Ramon Garcia on a Top Rank show televised on Azteca America (so good luck with that)...The Miguel Cotto-Floyd Mayweather fight on May 5th will be available in movie theaters. For more info log on to: www.FathomEvents.com...Saw a really good scrap in Japan between welters Akinori Watanabe and Koshi Saito; it's one of the better fights I've seen thus far in 2012...K.G. to center and the expanded role of Avery Bradley has brought the Celtics to life...I have to say, "Scandal" on ABC is looking very good early on...Note to whoever gets that Arkansas football job: Make sure you have another secret, alternate cell phone

...

I can be reached at k9kim@yahoo.com and I tweet at www.twitter.com/stevemaxboxing. We also have a Facebook fan page at www.facebook.com/MaxBoxing.