Memo to Roy Jones Jr.: Retire Before You Get Killed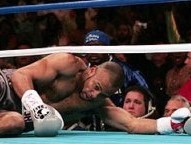 --


Roy Jones Jr. is one of the greatest fighters who ever lived.

He began his career in 1989. That's 26 years ago for those with math issues. He scored 17 straight knockouts before winning the IBF middleweight championship from future Hall of Famer Bernard Hopkins.

In 1994, Jones Jr. gave James Toney a boxing lesson over 12 rounds to win the super middleweight belt. Two years later, he captured Mike McCallium's light heavyweight title.

Not a bad career at this point. Four years, three world titles, 33 wins, 30 knockouts, and nothing remotely close to a loss.

Jones Jr. finally lost a fight by disqualification to Montell Griffin in 1997. He wasn't happy about that. Six months later, he starched Griffin in the opening round.

For the next half dozen years, Jones Jr. successfully defended his light heavyweight crown 12 times. He was quicker and more powerful than anyone he faced. At times, he looked bored. A new challenge beckoned, so he moved up to the heavyweight division to face champion John Ruiz.

Ruiz was no great fighter. His favorite move was to clinch, but his style had produced a record of 38 wins and four losses. His claim to fame was a three-fight series with former heavyweight champion Evander Holyfield.

Jones Jr. dominated Ruiz to win the heavyweight title. His record stood at 48 victories in 49 fights. He was universally recognized as the best fighter on the planet. He could box if he wanted.--slug if he needed to.

Retirement was mentioned. Jones Jr. was 34-years-old at the time.

He had loads of money--at least then. But I don't want to get ahead of myself.

How to walk away from something you've done all your life?

Turn away from the passion that has defined you?.

Jones Jr. fought on, and lost again. It was sudden and shocking. His opponent was Antonio Tarver. He had edged Tarver months before in a lackluster 12 rounder. Tarver said he would knock him out in the rematch.

In round two, he did just that.

The retirement talk intensified. Jones Jr. ignored it and returned to the ring four months later.

He was promptly knocked out again.

The slippage was there for everyone to see. He wasn't avoiding punches like he once did. His chin, always a question mark, was mortal.

Jones Jr. fought Tarver again and lost. The former great boxer then won three fights in a row, including a decision over money starved former welterweight champion Felix Trinidad.

Jones Jr. could relate. There were rumors of money issues of his own…bad investments. The boxing community groaned. The story wasn't original. He dropped a decision to Joe Calzaghe, and a year later, suffered three losses in a row, including getting stopped twice.

The knockouts were brutal. Jones Jr. was left senseless on the canvas. His eyes searched for meaning, but instead were vacant and glassy. Why continue?

Lack of money, of course.

Seven months later he was back in the ring. He won his next 8 fights against second-rate opponents.

It was a testament to his natural ability that, even way past his prime, at the age of 46, Jones Jr. could still beat younger fighters. But how would he do if he stepped up in competition?

Fast forward to a few nights ago.

Jones Jr. squared off against former light heavyweight champion Enzo Maccarinelli who himself had been put to sleep three times in his last five bouts.

The 35-year-old Maccarinelli punched Jones Jr. all over the ring. An uppercut sent him to his knees. A right hand knocked him out for the fifth time in 62 professional fights. His brains had been scrambled again. Jones Jr. stayed on the floor for 10 minutes. His legs tapped the canvas as if he was in pain.

He likely wasn't, but most boxing fans were. The knockout was so brutal that Maccarinelli, a veteran of 48 matches, dropped to one knee in the neutral corner after Jones collapsed.

This was not the way it was supposed to end for a once-great fighter, but sadly it often does. More than it should. Boxing is a like a drug. It's hard to kick.

The hope is that Jones Jr. will finally see the light and walk away from the sport.

If he doesn't, nobody will be surprised.

Sadly, that would make this true story even more tragic.