Mayweather-Maidana Rematched but Garcia-Herrera No Rematch!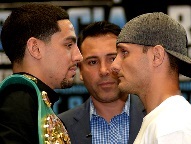 (Photo © David Doonan - Hoganphotos/Golden Boy Promotions)


Both welterweight Floyd "Money" Mayweather, 46-0 (26), of Las Vegas, NV, and light welterweight Danny "Swift" Garcia, 28-0 (16), hold WBC/WBA titles. Both are coming off unimpressive bouts that the fans are demanding rematches!

Mayweather won a majority decision over Marcos Maidana, 35-4 (31), of Argentina, in Las Vegas in May and is giving him a rematch in September in Las Vegas, NV. This writer had the fight even at 114-114 as did one of the judges. I never saw Mayweather get hit so much.

On the other hand Garcia in Puerto Rico defeated Mauricio Herrera, 20-4 (7), of Colombia, winning a majority decision. This writer had Herrera in front 116-112.

No one I talked to in Philadelphia or any other place felt Garcia won. Herrera was too fast for him. So when Herrera knew he wasn't getting a rematch he took a fight for the interim WBA title against Johan "El Terrible" Perez, 19-1-1 (13), out of Venezuela, ranked No. 1 who beat Paul Spadafora, 48-1-1, for the vacant title. They fight July 12th in Las Vegas.

Garcia chose a non-contender named "Lightning" Rod Salka, 19-3 (3), who won his last fight defeating Alexei Collado, 18-0, of Dominican Republic, in April. Salka only weighed 132 ½. In the fight before that he lost to Ricardo Alvarez, 22-2-3, of Mexico, weighing a career high 138 ¾. In his last 6 fights 4 have been at the lightweight limit. The way boxing goes since Salka signed to fight Garcia August 9th in Brooklyn, NY, the WBC/WBA will have to rank him.

"I beat him (Salka) in the amateurs but I didn't knock him out," said Garcia. Fighting a natural lightweight with only 3 knockouts should be a safe fight for Garcia. "Danny got a bad image after that (Herrera) fight," said Angel Garcia. Danny said "I beat him but I didn't look that good." That's why Herrera deserved a rematch. He is No. 5 fighting No. 1 in Perez in the WBA while Garcia the champion is fighting a non-contender? Being that Garcia is the WBA Super champion there is another WBA champion in Jesse Vargas.
---
Please send all questions and comments to Ken Hissner at: Kenhissner@gmail.com
---