Mayweather-Maidana: A Maelstrom of Moments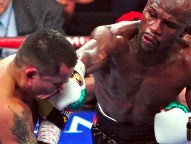 (Photo © German Villasenor)


"
Marvelous technology is at our disposal but instead of reaching for new heights, we try to see how far down we can go...how deep into the muck we can immerse ourselves!"
"Now I will believe that there are unicorns..."

As a promotion, "The Moment" had many of them. Some newsworthy, some not so much. How authentic or newsworthy its all been is a matter of question. That this is was all done with the goal of getting the word out that WBC welterweight titleholder Floyd Mayweather Jr. and WBA welterweight titlist Marcos Maidana were fighting last Saturday is rather obvious. The fight itself had its moments as well, capping off a strange whirlwind promotional tour with Mayweather's hard fought 12-round majority decision over Argentina's Marcos Maidana in their unification bout at the MGM Grand in Las Vegas, Nevada. But the overall begs questions about good taste, what really serves as news and how much do we as media allow a subject to manipulate the media by manufacturing events to sell a fight.

"
The Moment" started last September when Amir Khan passed on fighting Devon Alexander in late 2013 for the IBF welterweight title. Khan hinted later that he was asked to stand down from the fight in favor of a bigger fight versus Mayweather. It was one of many badly-kept secrets in boxing.
But once word leaked from Khan's side that he had signed his contract for the fight and Maidana beat the hell out of Adrien Broner last December, everything changed. After a staging a public poll that seemed more designed to humiliate Khan than to actually give fans a choice between Khan and Maidana as opponents, the latter was eventually selected. But not before an endless stream of coverage of "The Poll" was churned out, free labor for Mayweather to churn out such publicity from the boxing media in general. I guess it's news when a fighter is thinking of fighting one guy who has never fought at 147 pounds but has been knocked out at lower weights twice and another guy with three losses on his ledger. In the end, we got a fight that, judging by the amount of storylines in this promotion, apparently needed more push than Mayweather ever considered.
The fight odds reflected what the public guessed: thought to be a brawler, Maidana was the easier guy to beat in comparison to Khan. Though he has been stopped before, Khan is a speedy boxer with height and for the most part, a solid technique that could trouble an aging fighter such as Mayweather. Mayweather was listed at 11:1 by some bookmakers but interestingly enough, the public, sensing an inevitable and possible boring night for the princely sum of $75, seemed cold on the fight.
Coming down the stretch into fight week, Mayweather displayed both his genius and shameless promotional ability. Latching onto the Donald Sterling story, Mayweather announced that he would be interested in buying a controlling interest in the L.A. Clippers. We all knew he doesn't have that kind of money on his own. And more importantly, we know Mayweather's background isn't going to get him an invite into the NBA owners' club.
But that didn't stop the boxing and mainstream media from running with the quote - because it sells. It gets hits and drives traffic, thus is a "story." But it isn't. It's bullsh*t and we should know better.
Then came the ugliest move I've seen in some time. On his Facebook account, Mayweather posted what apparently was a sonogram of twins his ex-fiance allegedly aborted without his prior knowledge. Mayweather claimed this was the reason for the break-up.
Facebook is a social media site in which people essentially post their business. As much or more than any fighter out there, Mayweather is a creature of social media - equally of social habit - strategically using it to promoter himself for free to the masses. But this move...this was something else. It feels ugly recalling it. It was embarrassing for all involved. Talk about being just like school in the summertime [Editor's note: If you're not down with Rudy from "Fat Albert and the Cosby Kids"...well, you're just not down; are you?].
Then came the issue of Maidana's custom gloves. Mayweather's side vetoed gloves that Maidana had custom-made for the fight through Everlast. This same model, the MX, was apparently used by Mayweather-promoted Ashley Theophane in his fourth TKO win on the undercard. Maidana instead used the Everlast Powerlock glove approved by the commission.
What is interesting to note is the Facebook transgression was spun by the media as to Mayweather being distracted while on the Showtime broadcast, it appeared as if the glove issue was not even addressed. Maybe I missed it but to not even mention the gloves all through such a rough fight seemed odd, especially while sugar-coating a man outing his ex for plastic surgery he paid for and an alleged abortion as being "possibly distracted."
And that is the delicate balance that today's media, living and working in the 24-hour news maelstrom, has to find. What is genuinely a story as opposed to what qualifies as a story created to sell pay-per-views?
The Moment
Hey, I have no problem saying I was dead wrong. I did not expect Maidana to treat Mayweather the way he did Adrien Broner - with no respect. Maidana was a tempest, crashing into Mayweather against the ropes again and again. I loved that he punched with Floyd, jabbing or shooting the right or a combo to the head and body as most times, Floyd landed a flush shot. Trainer Robert Garcia deserves high praise for building on what Maidana already does well: installing a measure of control, a double jab, and logical game-planning. I had it 6-5-1 for Mayweather but it could have gone either way. I would love to see a rematch.
Mayweather deserves praise here. This was a tough fight and at age 37, as he appears to be hitting his peak fighting the likes of Maidana is what we expect of our champions. Floyd's legs look old to me but his mind is as sharp as ever in there. I was shocked to see him panic a bit over the accidental headbutt that opened a cut over his eye but after the sixth round of a tight, tough fight, Mayweather showed why he is 46-0. He boxed when necessary, shooting the jab to the belly and head of Maidana, escaped out of the corners when he had to and fought tough when there was no other choice. I don't believe for a second that Mayweather wanted to fight this way. Maidana made him do so and Mayweather found a way to get the job done. He put body shots in the bank and Maidana ran out of the ability to change up his attack as a result. Maidana's will never wilted but his offense fell to the wayside a bit in the final quarter.
Khan-Collazo
The welterweight division has a serious match-up problem named Amir Khan. I thought Khan looked very good with the exception of excessive holding. It's illegal and his future opponents need to seriously address it with the assigned ref beforehand. Khan fought with a controlled aggression at a nicely measured pace. His speedy combinations set up each of his three knockdowns of Luis Collazo, who just had no answers on this night. This past year of inactivity was great for Khan in terms of his confidence and conditioning. I would love to see him face Keith Thurman or the winner of Shawn Porter vs. Kell Brook next. Depending on how Golden Boy Promotions' internal issues work out, I wouldn't be surprised to see Mayweather fight Khan late in the year while Saul Alvarez takes the open September pay-per-view slot.
The Next Round
Here's the latest episode of "The Next Round" hosted by me and Steve Kim:
Please visit our Facebook fan page at
www.facebook.com/MaxBoxing
, where you can discuss our content with Maxboxing readers as well as chime in via our fully interactive article comments sections.