Martyniouk back in the ring for the first time in 2014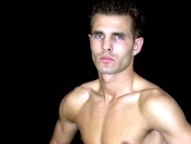 --


Though victorious in 13 of his 14 professional fights, Stan "The Man" Martyniouk's boxing career can be summarized in one word--frustration.

Martyniouk was last seen in the squared circle handling tough David Rodelo over eight competitive rounds. The victory was important to Martyniouk and his trainer, Virgil Hunter.

They both figured the Sacramento native, who was in born in Talinn, Estonia, twenty-nine years ago, would be back in the ring within months.

Instead, Martyniouk will be making his 2014 debut against undefeated Ivan Nejaro August 9 at the Glendale Civic Auditorium in Glendale, California. Prior to the victory over Rodelo, Martyniouk engaged in only two fights in four years.

Why the recent inactivity?

"We tried to get to fights but it didn't happen," Martyniouk told this writer on the phone last week. "When I was being promoted in Sacramento we couldn't get opponents to fight me. It was very frustrating.

"We tried real hard," he added.

This problem seems to be more prevalent in Northern California. Unless a boxer is promoted by someone like Golden Boy, the matchmaking can leave a lot to be desired. The smaller promotional companies don't have the time, or money, to build a fighters career.

A boxer can slip through the cracks.

Martyniouk started boxing at age fourteen. He engaged in 85 fights during his eight-year journey, eventually winning a bronze medal at the 2007 National Golden Glove Championships.

He turned professional in 2008 and promptly reeled off ten consecutive victories, before being upset by Khadaphi Proctor.

After a number of starts and stops in his career, including parting ways with trainer Joe Goossen, Martyniouk started working with Virgil Hunter two years ago.

Under Hunter's tutelage, Martyniouk has won his last three fights. Along the way, he's hired nutritionist Victor Conte, strength and conditioning coach Mike Bazzel, and noted manager Cameron Dunkin.

The addition of the respected Dunkin all but guarantees that Martyniouk (13-1, 2 KO) should get more fights.

For the manager, signing Martyniouk was an easy decision.

"I was called by Victor Conte to work with Stan," said Dunkin via email. "I told Victor I would speak with Stan and let him know. I really liked Stan after we spoke. Victor told me he thinks Stan can be a really good fighter. I agreed with him and signed Stan."

Martyniouk seemed upbeat preparing for his next fight.

"I always stay positive," said Martyniouk. "Things happen for a reason. I try to push myself even harder. I know I have some talent. I just have to stick with it.

"Even though I've been inactive in the ring—I've been active in the gym, sparring some of the best fighters in the world."

No kidding. Martyniouk spent months working with champions Amir Khan, Andre Berto, Shawn Porter and Abner Mares as they all prepared for bouts.

The workouts were intense, but what about rust when he returns to the ring in a few weeks?

"I really doubt I'll be rusty," Martyniouk said. "It's not like I took a bunch of time and didn't do anything. I've been training and sparring. I pretty much never stopped training. I think I'll be very sharp and fast.

"I think you'll see the very best of me August ninth."

What does he know about his upcoming opponent?

"He calls himself 'Bam Bam,' like Brandon Rios," Martyniouk said. "He tries to mimic Rios' style a little bit. I know he's short (5'5"). He likes to come forward. I don't think he's been in with anyone with my skill."

Martyniouk will have a decided height and reach advantage over the 21-year-old Nejaro.

"I think I'll be his toughest opponent to date."