Martinez vs. Cotto: For Legacy and Beyond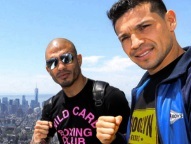 (Photo © Ed Mulholland, Top Rank)


Saturday night, Argentina's answer to "The Natural," middleweight champion Sergio "Maravilla" Martinez takes on former three-division world champion Miguel Cotto at Madison Square Garden live on HBO Pay-Per-View on the eve of the International Boxing Hall of Fame weekend and the Puerto Rican Day Parade. Seemingly, Cotto has owned this venue dating back to 2005. He's fought there eight times, winning all but one outing. This is Martinez's first appearance at the Garden proper, having fought Matthew Macklin at the Theater in March of 2012. The Garden will likely be packed with Puerto Rican partisans both from the Island and New York City, sure to be a hostile environment and everything the champion likes heading into a fight.
"
When there is a hostile environment, it gives me more adrenaline and so I am sharper," the champion told Maxboxing.com via phone. "I like hostile environments."

The last hostile environment Martinez competed in was the Thomas and Mack Center on September 15, 2012 against Julio Cesar Chavez Jr. The young and undefeated fighter, promoted by Top Rank Promotions, is the son of a living legend. While Sergio's Argentine contingent was out in force, there's no competing with Mexicans whereas the Son of Chavez and was concerned. When Martinez was dropped late in the 12th by Chavez, the roof went into space. It was in that moment that Martinez's "I like hostile environments" statement was shown in full bloom. All night he had gone after Chavez, boxing and fighting him with equal aplomb. That relentlessness is what got Martinez in trouble in that final round. But rather than retreat, Martinez got up off the floor as he had against Paul Williams early on, Richard Williams later and Martin Murray and he fought hard to close each fight.
Martinez agreed with the notion that Chavez has not been the same since their fight, passing on fights and seemingly lacking a hunger to get in the ring with two so-so performances since Martinez took his "0."
"

He lacks professionalism. I agree he hasn't been the same since the loss," said Martinez.
In his 14
th
fight, Martinez was stopped by Antonio Margarito. Martinez deemed the fight the best thing that happened to him because it taught him about professionalism, how to be prepared and whether or not he was really cut out for the job.
"

[Chavez] needs to be more responsible, be more professional. He has to want the glory. He can't just have it handed to him but I don't feel he has it. Since Margarito, I've shown I have the desire," said Martinez.
While beating Chavez and escaping that late rally to recapture his WBC belt was arguably Martinez's finest moment, it was in this very moment "Maravilla" found humanity. He injured his knee, now said to be fully surgically repaired, if not replaced.
"

I had the best medics working on me," said Martinez, who did his rehab in Spain with physical therapist Dr.
Raquel
Bordons, who also was the physician for the former King of Spain, Juan Carlos I. "The rehab combined with the fact that I've been building a leg up in the gym, I feel 100 percent."
There are two questions that matter in this fight with Cotto. The first: How will Cotto, who is already at just below the contracted catchweight of 159 pounds, perform at middleweight? He has never fought above 154 and is not exactly a power-puncher at junior middleweight. Cotto added veteran trainer Freddie Roach to his team before his last fight and with the help of conditioning coach Gavin MacMillan, looked very sharp in his last outing, a three-round drubbing of Delvin Rodriguez last October.
"

I hope Cotto gets better with Freddie Roach but I'm still going to knock him out in the ninth round," said Martinez, who predicted he'd knock out Paul Williams in two rounds moments before heading into their rematch. He did so in grand, one-punch fashion. Martinez expects the same this time. Incidentally, Williams also insisted on a catchweight as well as being treated like the champion - as Cotto has - being announced last and walking into the ring last as well. Normally, those rites are reserved for the champion but since Cotto is the co-promoter and draw, Martinez allowed those concessions. On Saturday, no compromises will be made.
"

I'm faster, bigger, stronger and a better overall boxer than Miguel Cotto," said Martinez.
The other question revolves around Martinez's right knee. Against Martin Murray last April, Martinez looked slower than usual, having to cut down training time to let his leg heal. Never one to over-train, sparring just three weeks of camp, Martinez looked like he had lost a step. Apparently, he had not let his leg fully heal. Murray dropped Martinez late by keeping pressure behind a steady jab and long overhand right hand all night. Martinez rose and recovered to rally and close the show. But the general consensus was that Martinez was only given the decision due to the fact the fight was in Argentina. How his leg holds up is everything for a southpaw mover who needs not only speed but the ability to explode all night in order for his game to work.
"

I'm in tip-top condition right now, better than I imagined. I'm in better shape than before the Chavez fight," Martinez assured this writer.
Saturday night can end the career of either man, who have each fought his way down a long and glorious road but somewhat lack that signature win over a truly great fighter. A win could perhaps bring one more lucrative payday, one more chapter to be written. A loss and the story might just come to an end. For now, Martinez is focused on the moment at hand.
"

I haven't thought about a fight with Floyd Mayweather in a long time. I have an important fight in front of me and that's Miguel Cotto," said Martinez of a potential lucrative pay-per-view showdown with the best boxer on the planet, Floyd Mayweather Jr.
As for when he might retire, Martinez clarified, "I have to comply with the two fights left with [his contract with] HBO. And after that, I will evaluate my future."
The Argentinean natural burst onto the American boxing landscape for an early career loss to Antonio Margarito only to reemerge years later to become the true middleweight champion of the world. He's come a long way - but not all the way. Standing at the doorway of greatness is a guy who will own the crowd, the sway of the judges and perhaps even the ringside television analysts. But once the bell rings, none of that matters. Not the concessions given, not the veteran name trainer in Roach, not the promoters or the judges. What will matter is how these two ultimately match up. The taller Martinez (5'10") will be fighting a smaller man for the first time in years in Cotto (5'7"). The longer 73" reach of Martinez to Cotto's 6'7" and how he uses it. The body punching pressure of Cotto versus the hit-and-move style of Martinez. Who can take whose power? And just how old are those nearly 40-year-old legs of Martinez? The hype has gotten hard-hitting and the insults have flown. Now it's time to find out what's real and what isn't.
"

I am very professional. I have no ill will now towards Cotto. But once we get in the ring, that all goes out the window," said Martinez.
Prediction: