Manager Vadim Kornilov: "I think Ruslan Provodnikov can knock out Brandon Rios"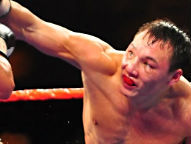 --


In the sport of boxing, getting to the top of any division is not easy. You need the right combination of managerial skill, solid connections, luck and, of course, you have to keep winning. 2012 saw junior welterweight Ruslan Provodnikov raise his profile by preparing

Manny Pacquiao

for Timothy Bradley. Provodnikov was mentioned on HBO's "24/7" as the chief sparring partner who made waves by giving as good as he got against the Filipino superstar. Things went so well for Provodnikov; he even landed trainer Freddie Roach in his corner. Though he has been on hiatus since fighting only twice last year, Provodnikov is set for a big 2013. What that year depends on is all going as planned.
Ranked number two by the WBO and the bearer of the regional WBO Inter-Continental title at 140 pounds, Provodnikov was ordered to face Brandon Rios for the organization's vacant world title at its annual convention last fall. The thought was that Juan Manuel Marquez, who held an interim version of the belt, would vacate to fight Manny Pacquiao at 147 pounds.

However, WBO president Francisco "Paco" Valcarcel told

Boxingscene.com

back in October that they named Marquez a "super champion" with an option of an immediate title shot at 140, win or lose, vs. Pacquiao. The fight would also come complete with an 80/20 split in Marquez's favor due to his elite status in the sport.
Despite the decree, Rios vs. Provodnikov still has not been made. In the wake of Marquez knocking out Pacquiao in December, Top Rank, who promotes Rios and was hoping to match him with Pacquiao, is now reportedly looking to make Rios vs. Mike Alvarado II in March. The fight would be a rematch of their October "Fight of the Year" candidate. Rios won via TKO in the seventh.
What's more, Boxingscene.com reported that unnamed sources in Mexico have said the fight will be for the vacant WBO title.
"It's not yet conformed that the fight is going to be for the WBO belt," Provodnikov's manager, Vadim Kornilov, told Maxboxing.com earlier this week, "but just recently, news came out that Top Rank was trying to do the fight for the WBO vacant belt. And as far as I know, the belt is not completely vacated. I know Ruslan is in line. First, they are talking about vacating the belt and I understand Marquez has not yet vacated the belt. That does not mean that Ruslan should be losing the opportunity to continue to be rated at number two. The Alvarado-Rios fight, I was at the fight and I enjoyed the fight. I don't think the fans want to see the fight again. I think Top Rank wants to see the fight more than the fans because I think the fans would enjoy seeing Ruslan fight Rios before Alvarado, which I think would be another candidate for 'Fight of the Year' for next year."
Whether or not fans are clamoring for Rios vs. Provodnikov over a rematch of the war that was Rios-Alvarado is debatable. However, it should be noted Rios-Provodnikov was ordered by the WBO and Alvarado had a chance to win the first fight with Rios, a WBO eliminator for its Latino belt at 140. He failed to do so. Currently in the WBO 140-pound rankings, Rios is ranked at one; Provodnikov is ranked at two and Alvarado is three. While Rios-Alvarado II is the money fight, Provodnikov played by the rules, earned his ranking and is now next in line for his shot.
So would he take step-aside money for Rios-Alvarado II?
"To be honest with you, I don't consider [stepping aside] as an option. I don't even want to discuss it as an option," said Kornilov. "We were at the [WBO] convention in Florida back in October. Paco invited Ruslan. He wanted to see him. It was a great convention. We got a lot of exposure. Ruslan was nominated for 'Regional Titleholder of the Year' by the WBO."
It should also be noted Kornilov is not some angry manager screaming about injustice here. He is simply looking out for his client and rationally explained Provodnikov's situation as he understood it.
"Everyone with the WBO confirmed Ruslan is in line for the title. He is rated number two. We talked to Top Rank at that time about Ruslan fighting Alvarado and at the convention it was announced that Ruslan may be ordered with Rios because everybody at the convention said, 'How could it be Alvarado when Rios just knocked him out? He's out,'" explained Kornilov. "Now there are articles online saying otherwise. But those articles are not quoting anybody. So to be honest with you, I don't think it is going to happen. I am not going to [step aside] because I think the WBO will go ahead and support what they said [regarding a Provodnikov title shot]."
Provodnikov, the number two-ranked fighter other top fighters might be reluctant to face, and Kornilov are in a precarious spot. The two men face a dangerous question: While waiting for a title shot, what do you do in the meantime? If you fight, you risk losing. That loss takes away your ranking and any leverage you've built. At the same time, sitting on the shelf is never good for a professional prizefighter.
Kornilov sees the situation as similar to many fighters in Provodnikov's position. But while some see nothing but frustration in getting their fighter to a title shot, Kornilov sees an opportunity for the power brokers in boxing to present positive change.
"The title is important. We are open to fighting anybody regardless of a title or not," said Kornilov. "We want to make sure that Ruslan gets his chance as he deserves. As you know, in boxing today, there have been situations where the fights that everybody wants to see don't happen because the promoters can't make an agreement. The lead-up to that, most of them are financial. But on the other hand, I think the promoters have to find a way of working together. At the end of it all, when these fights [are mandated by sanctioning bodies] to happen and it's a fight everyone wants to see, everyone will make more money. Because what we want to try and do together, all of the promoters, managers and fighters together, we want to bring the game of boxing up and make it more of something people want to see instead of bringing it down where people talk about it having political issues and how the promoters just take advantage of situations. If all of us work together, it brings the sport up in people's eyes instead of bringing it down. If they did that, I think it's going to be something that when people come to a fight, they will want to watch it more."
For now, Provodnikov returns to the Wild Card Boxing Gym in January to stay fine-tuned. He recently went through camp preparing Vyacheslav Senchenko for his bout with Ricky Hatton. Kornilov said he is open to a possible fight with Amir Khan or a defense of Ruslan's regional title. Whatever fight is made, what is of utmost importance to Kornilov is maintaining Provodnikov's status and ranking within the WBO.
At press time, the WBO had yet to respond to a request for clarification of its 140-pound title picture and Rios-Alvarado II looks to be moving deeper into March. Where this leaves Provodnikov's world title shot remains to be seen. For Kornilov, Rios vs. Provodnikov represents not only an opportunity for his fighter but for fans of the sport.
"I don't think people want to see the same fights over and over again. People want to see something new," said Kornilov. "I think Ruslan can knock Rios out the way Rios knocked out Alvarado."
You can email Gabriel at maxgmontoya@gmail.com, follow him on Twitter at www.twitter.com/gabriel_montoya and catch him every Monday on "The Next Round" with Steve Kim. You can also tune in to hear him and co-host David Duenez live on the BlogTalk radio show

Leave-It-In-The-Ring.com

, Thursdays at 5-8 p.m., PST.
Please visit our Facebook fan page at www.facebook.com/MaxBoxing, where you can discuss our content with Maxboxing readers as well as chime in via our fully interactive article comments sections.