Khytrov comes from way back to stop Brinson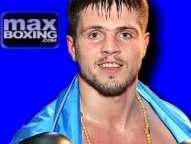 --


Middleweight prospect Ievgen Khytrov (11-0, 10 KOs) rallied to stop upset-minded Nick Brinson (17-4-2, 7 KOs) in the final round last night at Bally's in Atlantic City, New Jersey.

Brinson, 29, a loser in two of his last three bouts had something to prove. He reunited with his former trainer and got himself in tip-top condition.

Khytrov, 26, the 2011 World Amateur Champion and 2012 Olympian, was last seen going the distance for the first time in his professional career. He was expected to win.Brinson remarked before the bout that Khytrov's aggressive style was "tailor made" for him.

He looked like a prophet in the opening rounds. Brinson used jabs, movement, and crisp combinations to keep Khytrov off balance. Khytrov tried to walk Brinson down, but the fleet-footed fighter from Albany, NY, continued to sting him with punches.

Round three was close. Both fighters landed sharp right hooks. Brinson was playing a game of, "Now you see me, now you don't."

Khytrov applied more pressure in round four. He went to the body and finally stuck out his jab.

Brinson broke from a clinch and fired a four-punch salvo. Krytrov blocked most of the blows, but wasn't letting his hands go on a consistent basis.

Krytrov, a native of the Ukraine, who now resides in Brooklyn, N.Y., cracked Brinson with a good shot to the ribs in round five. He likely sensed he was behind, but there was no panic. He finally caught Brinson with his money punch, a right hand.

Seconds later, another connected.

Brinson flashed quick hands. Krytrov looked to continue his rally in round six, but it was Brinson who started the round well. Near the two minute mark, Krytrov caught Brinson along the ropes with a heavy right hand to the jaw. Brinson wobbled away, but didn't go down.

Krytrov crunched Brinson with shots to the body and head.

In round seven, Krytrov hurt Brinson badly with a wicked shot to the chin. Brinson escaped and held on. He was in full survival mode. His legs were betraying him, but he still fought back.

Krytrov wasted no time going after Brinson in the eighth and final round. A three-punch combo staggered his gutsy opponent. Krytrov paused, likely arm-weary.

Brinson punched back, but Krytrov found his second wind and hurt Brinson again with a left hook and right hand.

A barrage of punches forced Brinson to take a knee. He said after the fight that he had done it deliberately, but referee Earl Brown, seeing an exhausted Brinson on the canvas, waved off the contest with 29 seconds left in the fight.

At the time of the stoppage, Brinson was ahead on two of the three judges' scorecards. (judge Tony Perez had Brinson winning the fight by a ridiculous 70-62 score) Krytrov moves on, while Brinson is left to wonder "What if?"