"J-Rock" Williams, Khursidze and Harrison score wins Saturday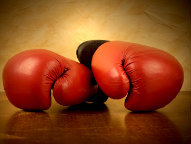 --


At the Sands Casino in Bethlehem, PA, Saturday night on Showtimes Special Edition with Sands Corona, King Promotions and GH-3 doing the promotion it was a good night for boxing.

Super welterweight Julian "J-Rock" Williams, 23-0-1 (14) of Philadelphia, scored a seventh round stoppage at 2:24 of the round over Italy's Marcello Matano, 16-2 (5), of Veneto, IT, IBF Inter Continental champion. This fight will move Williams into the number one spot which was vacant and a shot at Jermall Charlo's IBF title. "If it happens fine but if something else comes up in the meantime I will take it," said Williams.

In the opening round Matano was too busy for Williams. In the second round Williams got untracked using an effective jab setting up the right hand which is how he finished the round. In the third round Williams continued to stalk Matano pin pointing his punches. Matano ended the round scoring with a flurry. In the fourth round Matano scored well having Williams against the ropes. In the middle of the ring Williams scored well with right uppercuts and had Matano hurt. Just prior to the bell Williams rocked Matano with a right uppercut only to have Matano finish with a flurry.

In the fifth round Matano did well with flurries as Williams set everything up with his jab and straight right to the chin. Close round. In the sixth round Matano continued to use his speed with combinations that didn't hurt Williams but certainly got his attention. Williams hurt Matano with a hard right uppercut to the chin before the bell. In the seventh round Williams landed a left hook to the chin that started the downfall for Matano who showed all heart up until the end as Williams turned on the pressure having Matano out on his feet before referee Gary Rosato called a halt with Matano taking too much punishment against the ropes. Give Matano credit for taking the fight on one week's notice and coming in from Italy. All three judges Steve Weisfeld, Waleska Roldan and Ron McNair had it 60-54 while DHB had it 58-56 for Williams. Gary Rosato was the ref.

Super middleweight Antoine Douglas, 19-1-1 (13), of DC, suffered his first loss to Avtandil Khurtsidze, 32-2-2 (21), of Georgia and Brooklyn, NY, with Khurtsidze winning the WBO International title in what was one of the best fights this writer has seen in years at 0:33 of the tenth and final round. Khurtsidze scored two knockdowns in this fight.

Khurtsidze came out low and landing punches like a buzzsaw. Douglas much taller did well in the middle of the ring but not enough to win the round. In the second round Douglas suffered a cut over his right eye as Khursidze kept the pressure on him. In the third round Khurtsidze dropped Douglas halfway through the ropes with a left hook for a knockdown. In the fourth round Douglas had his way with flurries of punches. Keeping it in the middle of the ring he scored well. In the fifth round the fans were on their feet with both boxers slugging it out in close quarters in a close round with Khurtsidze finishing strong.

In the sixth round Khursidze came back strong pressuring Douglas who used his hand speed well. In the seventh round Khurtsidze dropped Douglas with a left hook. He would later have Douglas out on his feet as Douglas started moving around the ring away from Khurtsidze. In the eighth round the inside fighting is furious with Khurtsidze getting the better of it.

In the ninth round Khurtsidze landed eight punches without a return. Later in the round it was seven punches without return. It was a big round for Khurtsidze. In the tenth and final round Khurtsidze pounded Douglas against the ropes having him out on his feet as referee Benjy Esteves, Jr. wisely stepped in to call a halt with Douglas defenseless against the ropes. He stayed on the stool for some time after that.

Khurtsidze looked like a modern day Henry Armstrong while Douglas showed heart and fast hands and will be back with a great future. "I showed the world what I can do," said Khurtsidze. While Douglas sitting on a stool said "back to the drawing board."

Judge Steve Weisfeld had it 88-81, Tom Schreck 85-84 and Ron McNair 87-82 while DHB had it 88-81 all for Khurtsidze.

Super welterweight Tony Harrison, 23-1 (19), of Detroit, MI, scored a pair of knockdowns in stopping Dominican southpaw Fernando "The Warrior" Guerrero, 28-4 (20), of Salisbury, MD, at 1:54 of the sixth round. He scored a pair of knockdowns. Both boxers entered the ring in very fancy wardrobes with Guerrero in a fur coat and Harrison with "Help Flint" on his gold trunks. In the opening round it was a "feeling out round" until Harrison caught Guerrero with a right to the chin knocking him back against the ropes which could have been scored a knockdown by referee Rosato. In the second round Harrison continued to stalk Guerrero who was showing little offense. Just prior to the bell with Guerrero low in a crouch he was pushed down by Harrison but ruled a knockdown. In the third round Guerrero came out of his shell landing several straight lefts to the midsection and chin of Harrison. Harrison scored well enough to take the round. Guerrero had a bloody nose.

In the fifth round Harrison was pin pointing his punches but just prior to the bell Guerrero buckled the knees of Harrison with a straight left to the chin. In the sixth round Harrison dropped Guerrero twice with right hands to the chin. Referee Rosato wisely halted the fight with Guerrero still sitting on the canvas. Middleweight Ievgen "Ukranian Lion" Khytrov, 13-0 (11), of Ukraine and Brooklyn, NY defeated Kenneth "Bullet Hands" McNeil, 9-2 (6), of Birmingham, AL, over 10 rounds in retaining his NABF title.

In the opening round Khytrov chased but couldn't get in a good punch until after two minutes of the round when he nailed McNeil with a good right hand. In the second round it was all Khytrov working the body and head and you could tell McNeil felt Khytrov's power. In the third round Khytrov was cut over the left eye which looked like a head butt but not called though he easily won the round. Joey Eye had his hands full working on the eye but keeping him in the fight. In the fourth round Khytrov came out more aggressive trying for a knockout. In the fifth round with blood coming down the side of his face Khytrov got caught with a good left hook to the chin.

In the fifth round McNeil was having a good round but Khytrov rocked him near the end of the round with an overhand right. In the sixth round McNeil continues to work on the cut while inside though taking some good body shots from Khytrov. In the seventh round Khytrov rocked McNeil with a right to the chin but McNeil came back with a solid combination. In the eighth round it was give and take with Khytrov landing more power punches while McNeil showed a good chin and countered well. In the ninth round like the previous round it was close with Khytrov hurting McNeil but McNeil fought back well. In the tenth and final round McNeil landed a low blow dropping Khytrov causing referee Rosato to give him several minutes to recover. Khytrov stormed after him and dropped McNeil with a left hook to the chin. Again McNeil landed a low blow dropping Khytrov but referee Rosato for some reason didn't take away a point. Judges Weisfeld had it 99-90, Somma and Schreck 97-92. DHB 99-91.

Heavyweight Joey "the Tank" Dawejko, 16-4-3 (9) of Philadelphia seemed to do enough for the win battling to a disputed split decision draw with Ytalo Perea, 6-2-2 (4), of Ecuador, and now out of Howard Beach, NY, a 2012 Olympian.

Perea rushed out missing with an overhand right. Dawejko came back with five straight punches. Perea came back but lost the round. In the second round both fighters rocked one another with Dawejko almost dropping Perea just before the bell. In the third round it was all Dawejko while Perea was on the defense. In the fourth round both boxers had their moments but Dawejko using the jab to the midsection set up a left hook to the body and an overhand right to the head. Perea had been warned by referee Esteves, Jr. several times for fouling.

In the fifth round it was all Dawejko though he can't seem to hurt Perea. In the sixth round Dawejko was warned for a low border line punch. He came back to land several power punches. Perea landed four straight punches. At the bell it was Dawejko landing a hard left to the chin of Perea. In the seventh round it was close with Perea landing the more accurate punches. In the eighth and final round Perea was looking for the knockout and out landed Dawejko for the most part with both rocking one another and fought to the bell both looking exhausted. Perea was pushing off Dawejko throughout the fight without a warning. Former champion Buddy McGirt worked Dawejko's corner.

Judges Waleska Roldan had it 78-74 as did DHB for Dawejko. Mike Somma 77-75 for Perea and Tom Schreck 76-76 in a split draw.

Super middleweight southpaw Terrance Williams, 4-1 (1), York, PA, lost for the first time to southpaw Anthony Miller, 3-1 (3), of Wilmington, DE, who scored a knockdown in the first. The Williams corner through in the towel at the end of the first round.

In the opening round Miller landed the more accurate punches and dropped Williams just prior to the end of the round with a combination to the chin. Williams corner stopped the fight after the first round.



"I didn't know I had him that hurt with the knockdown and expected him to come out for the second round. I'm in good condition," said Miller.

Light heavyweight Amir "Sharp Shooter" Shabazz, 3-0 (1), of Philadelphia, PA, scored a pair of knockdowns stopping Hakeem "The Body Snatcher" Atkinson, 2-2 (1), of Georgia, at 2:01 of the first round.

In the opening round Shabazz dropped Atkinson twice with left hooks causing referee Esteves, Jr. to wisely call a halt.

In the opening bout super welterweight Chordale "The Gift" Booker, 1-0 (1), of Brooklyn, NY, stopped Antonio "Caveman" Allen, 0-1(0), of Philadelphia at 1:56 of the second round. Referee Eric Dali.

Both fighters are southpaws and the taller of the two Allen carried his right hand very low and in the first round Booker rocked him on at least 3 occasions. In the second round Booker picked up where he left off pounding on Allen when referee Eric Dali wisely stopped the fight with Allen against the ropes in a neutral corner taking too much punishment.

"He was taller and I knew to either get close or far out but not in between. He kept his right hand down so I knew I could come over it," said Booker.

Please send all questions and comments to Ken Hissner at: Kenhissner@gmail.com