Integrated Sports to the Rescue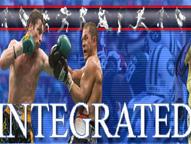 Intergrated Sports


This weekend's bout between Tomasz Adamek and Michael Grant from the Prudential Center in Newark, New Jersey will not be broadcast by any of the major networks in the United States. Neither will the battle between junior flyweights Ivan Calderon and Giovanni Segura, which takes place from Puerto Rico. Then on September 11th, Erik Morales faces Willie Limond from Mexico, another fight card that will not be telecast by the usual outlets in the States.

But there is a way for the hardest of hardcore denizens to watch these fights- to order the small pay-per-view broadcasts which are produced and distributed by Integrated Sports. And yes, they know that you guys are out there.

"There's certainly fight fanatics out there who buy our shows and feel we put out good shows and I certainly would love it to be more," said Doug Jacobs, the president of Integrated Sports Media, with a slight chuckle, this past Monday afternoon on Olvera St. in Los Angeles, where a press conference announcing Morales' bout was staged. "I'm a big believer in that there's a difference between what people will watch and what they'll pay for. So you can take something that, again, it may get a great audience on a 'Friday Night Fights'; say it's a big name but it's not compelling enough to make people buy it. You still need that catch.

"Whether it's something like this, an Erik Morales, who still has a passionate Mexican fan-base surrounding Independence Day. Maybe Willie Limond isn't well-known to the average boxing fan; we feel the Mexicans will support it," continued Jacobs. "Tomasz Adamek, OK, you can make your arguments whether Michael Grant is a worthy opponent or not but there's certainly the Polish base that's going to support him. So you still need that hook. You can't just put on two guys who are maybe well-known but there's no hook."

Jacobs knows that they are marketing to a niche audience. Unlike a promotion that is being pushed by HBO Pay-Per-View, they are not distributing cards that will do a half-million purchases and beyond. The key for Integrated Sports is to manage their expectations.

"A lot of this is about cost control and certainly what I think has made this distribution model possible, to a certain degree, is the internet, in the sense that you can cost-effectively get your base out there to the fans you can reach. Like, Maxboxing is great; you guys always run our press releases and cover the stuff and I know that a venue like yours, you're reaching the people we need to reach. I'm not buying an ad on 'USA Today' [on] a Friday like an HBO fight. So without getting into details, I have a good idea of what revenues are going to be and having the expenses to match what's realistic."

Jacobs knows that he will never reach the casual fan. And what these pay-per-view cards provide die-hard fans is a choice to watch a fight that otherwise might not exist. Larry Merchant once said that basically these smaller pay-per-view shows were akin to putting in extra bleacher seats as an extension to the venue.

Jacobs was doing Stevie Collins fights from Europe back in the mid-to-late '90s.

"Going way back, I was involved in closed-circuit with Lou Falcigno from Momentum Enterprises. He was called the 'King of Closed-Circuit'; he ran all the big theaters, things like that back in the '70s and '80s with Hagler, Leonard, and all the Tyson-Spinks fights and so forth," recalled Jacobs, as he talked about his beginnings in the business. "When HBO Pay-Per-View started with Foreman-Holyfield, that then kinda shifted to the sports bars. So I was involved with selling to the sports bars in the area and Lou himself started doing his own pay-per-views. He did 'Boom Boom' Mancini-Greg Haugen and Bobby Czyz-Donny Lalonde. So I worked with him on those shows.

"And, at that time, I had the idea to really seek; was there another sport out there that would work on closed-circuit pay-per-view?" Jacobs asked, rhetorically. "And, at the time, I did a lot of soccer. There was no Fox Soccer Channel, no Goal-TV; ESPN wasn't doing soccer. We were the first ones to bring over international soccer. It's a similar niche as boxing; it's ethnic based, lots of things taking place overseas that were on TV over here. So I did that for years; I was doing U.S. National team games, U.S. World Cup qualifiers.

"Then when that turned over and the big guys, Fox Soccer Channel, Goal-TV and ESPN started out-bidding me for soccer and it became more mass. I went back to boxing and, at that time, unfortunately, as a boxing fan, same thing, the networks weren't doing it anymore and I felt boxing to a certain degree had become what soccer was. A lot of things were taking place that people wanted to see; maybe it wasn't a mass audience, a million people; it didn't make sense for ABC to do it. But if you're doing an event that is for 20,000 people to watch and a promoter is walking away with $75,000, $100,000, no one's writing a check for that anymore. So there's no middle-class, I guess. There's the ESPN class and there's HBO and Showtime. There's no middle class and we try to fill that."

What these pay-per-view events represent for promoters is an extra revenue stream. As much as Jacobs looks for events to distribute, promotional companies often pitch him their events. He says, "It works both ways. I go out there and seek business and if I see that a fight is taking place that I think would do good business, obviously, I have relationships now with promoters around the world, whether it's Sauerland in Europe or Frank Warren in the U.K. or the guys down in Mexico, Puerto Rico and the United States. A lot of people seek me out and I seek them out and there's no cookie-cutter deal. Every deal is different because of the television production involved and rights in different countries and with getting into the details.

"The Adamek fight is certainly economically feasible because of the large crowd that is going to be at the Prudential Center and, obviously, Polish television is a lot of money. So production, in essence, is being done anyways."

Integrated Sports, in addition to boxing, does a host of soccer and MMA events throughout the year. Their boxing events- of which they do about eight to ten a year- are usually priced at around $29.95. And unlike in the past, they have the ability to participate in more promotions with the new technology.

"Absolutely, with Dish Network and DirecTV, really there were events I was doing ten years ago I couldn't get on cable because they did not have the channel capacity at the time," explained Jacobs. "And people don't remember; the pay-per-view channel would carry movies. So there was a question, 'Well, do we show the premiere of 'Batman' or a boxing event?' And they have to deal with their movie studios and stuff. So we couldn't do it. Now, the movie industry, they've gone to 'video on-demand' and the linear pay-per-view channel, now In-Demand, has three of them and it has events 24-7. So that has helped a lot.

"Also, with the time frame, it really used to be, 'Hey, if you don't get it to us three months in advance, we can't take it,'" said Jacobs. "Now, it's to our advantage to get the schedule early but 30 days is now possible."

PIRATES

This industry will always battle piracy. And like everything else, it's the same- but different.

"Unfortunately, piracy has always been around in the different venues. The 'black box' situation with stuff going digital doesn't basically exist anymore. That stuff has gone away. Now, it's the internet; in the old days it was the 'black box' and all the sports bars," Jacobs recalled. "Obviously, there is still little issues of that. But that's been cut back a lot. Now it's the internet streams and I'm all for what the UFC is doing. They're really cracking down and they're suing. They're basically subpoenaed names of people from individuals via U-Stream and Justin TV.

"Look, obviously it hurts me but it also hurts the fighters."

CSAC

I don't think it came as much of a surprise that Antonio Margarito's bid for re-licensing in the state of California was summarily rejected (As one boxing insider told me, those scorecards were filled out before the fight even began). But whatever decision they came upon, that's their prerogative.

But what I found head-scratching was the whole issue of whether Margarito had a license to spar?

Huh?

If you believe he doesn't deserve to regain his license, that's fine, but on this flimsy basis?

I've talked to a few prominent managers who tell me that not only have they never filled out such a license, they didn't even know that the regulation existed. And in all my hours, days, and years in the gym, I have never, ever seen anyone asked to show a license to spar. Nor have I ever seen an inspector from the state of California come to a gym (which they did back in the days when the commission was made up by more than just political appointees) and ask boxers to show them.

Now, what do you do about the issue of amateurs sparring with professional fighters (Something that is a rite of passage in the sport and has gone on for decades upon decades)? Or fighters who have been retired (and are thinking about making a comeback and their boxing licenses have expired) who decide to get back into the gym and start moving around? And as one manager said to me, "You think when I bring a boxer in from Cleveland to spar with one of my guys in Southern California, do you think I'm going to go to Los Angeles and get him some sparring license?"

Bottom line, if this is rule-breaking, than hundreds upon hundreds of violations are being committed daily in "The Golden State."

Now, regarding Margarito, if the CSAC knew he was sparring in Oxnard in preparation for his bout with Robert Garcia- and with all the media attention that received, there's no way they couldn't have known- it was their job to send an inspector out there and put an end to it. From what I know, nobody on Team Margarito so much as got a letter.

If they wanted to make an example of Margarito, they certainly did that (and many believe it is deserved). However, did they open up a Pandora's Box that can be- or not- enforced?

LICENSED FLURRIES

Vitali Klitschko faces Shannon Briggs next. He's not exactly taking on "Murderer's Row," is he? But y' know what? That fight will draw big over there...Did anyone see the most recent edition of "Real Sports" on HBO? They had a segment on the White House gate crashers. I'm just wondering; could they sneak into a USC football practice? That might be more difficult nowadays...I asked Jim Lampley on "The Main Event" if he was really that surprised that a boxer whose main sponsor was "Condom Depot" would fight in such a safety-first, protective manner. Lampley, after chuckling, replied, "Yeah, well he did fight in a prophylactic manner."...Also joining me this week was IBF light heavyweight titlist Tavoris Cloud...I can be reached at k9kim@yahoo.com and I tweet at www.twitter.com/stevemaxboxing. We also have a Facebook fan page (now with over 2,000 friends!) at www.facebook.com/MaxBoxing.