Herrera and Lundy are hungry for victory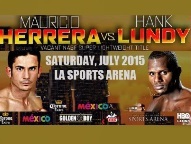 --


All fighters hate to lose, but bad decisions can alter careers.

Maurcio Herrera and Hank Lundy both came up empty in their last bouts. Herrera, 35, is becoming something of a "Heartbreak Kid" when it comes to questionable decisions.

Last December, Herrera (21-5, 7 KOs) squared off against rising prospect Jose Benavidez.

Top Rank, the company that promotes Benavidez, is grooming the youngster for stardom. Herrera didn't get the memo.

In the course of the 12-round fight, Herrera was the busier boxer. He threw, and landed, more punches.

A decision in his favor seemed like a forgone conclusion.

Herrera had a sense of déjà vu as he waited for the decision.

A year ago, Herrera faced then WBC, WBA, and The Ring junior welterweight champion Danny Garcia in the defending titleholders' homeland of Puerto Rico. Herrera used movement, and his best weapon--his jab, to frustrate Garcia. He also connected with a variety of punches from different angles.

Herrera lost both fights on the judges' scorecards. Fans booed. Writers (including this one) screamed that he was robbed.

Even Lundy, who faces Herrera on July 11 at the LA Sports Arena in Los Angeles, Calif., and who's also been on the wrong side of a debatable decision, feels that Herrera was wronged.

"I'm tell you like this, with Herrera, I'm not playing with him," Herrera told Minnie Larry of www.eightcountnews.com. "When he fought Danny Garcia, which I feel as though he won, I'm not gonna hold no punches. I'm looking at Herrera as a world champion."

The 31-year-old Lundy lost a 12-round split decision to Thomas Dulorme eight months ago. Lundy (25-4-1, 12 KOs) was the stronger fighter in the end, but the decision still went to Dulorme.

The defeat still bothers Lundy.

"You know, I go back and I analyze all of my fights," said Lundy. "I'ma put it like this; if I had started earlier I would've knocked him out by the fifth round. I feel though, one of the judges had him winning seven rounds. Now, c'mon. You go back and analyze the tape, This man didn't win seven rounds."

Herrera, though aggravated by his controversial losses, has moved on.

"I haven't gotten the decisions and that's just the way it is," Herrera told Kelsey McCarson of www.thesweetscience.com. "It's frustrating but it's what fuels me for July 11th. All I can do is use it as fuel."

Lundy has defeated the likes of Dannie Williams and David Diaz, but was also knocked out by John Molina. The brash Lundy feels that he needs to do something dramatic on July 11.

"I wanna go out there and destroy him (Herrera)." said Lundy.

Herrera has pretty much heard it all. He got into the game late, and rose through the ranks by fighting. Nothing has been given to him.

In 2011, Herrera defeated the "Siberian Rocky," Ruslan Provodnikov.

He beat Mike Dallas Jr., but lost decisions to Mike Alvarado and Karim Mayfield.

Both fighters know that a victory is paramount.

"A win here continues to get me up there to show who I am," said Herrera to Miguel Maravilla of www.fightnews.com. "That I keep fighting tough fights and not cherry picking. I am always fighting the best. I look at this is my third title defense."

"I want to show the world that 'Hammerin' Hank' should've been number one in the world, pound–for--pound," Lundy said. "I'm one of the top guys at one-hundred-forty pounds and one-thirty-five.

This should be a good one.