Hard-punching Parker destroys Martz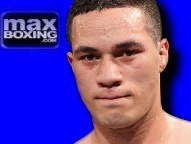 --


Rising New Zealand heavyweight Joseph Parker remained undefeated by stopping towering Daniel Martz in the opening stanza Saturday night at the Cloudlands Arena in Hamilton, New Zealand.
Martz (14-3-1, 11 KOs) glared at Parker during the pre-fight instructions.
Standing a good three inches taller than the 6-foot-4 inch Parker, Martz was banking on his size making a difference.
Maybe in basketball, but not boxing.
Parker (17-0, 15 KOs) studied his opponent for the first minute of the fight. He popped numerous jabs and waited for his moment to unload. Martz, who had traveled all the way from West Virginia to face the powerful Parker, moved around the ring, but didn't punch.

Parker softened Martz up by going to the body. The giant didn't like it. Parker shifted his attack to the head at the half way point of the round.
A stinging combination landed.
Martz was making a fatal mistake. He was keeping his head up--basically serving his cranium on a platter. Parker, 23, landed some more thudding shots to the ribs. Martz tried to move away, but Parker strafed him with a two hooks. Seconds later, a clubbing overhand right landed on the ear of the big man. He hung in the air for a second, then collapsed face first to the mat. Martz pulled himself up at nine, but referee Marlon Wright immediately waved off the contest.
The time was 1:57 seconds.
Parker will be back in action January 23 against Jason Bergman.