GGG's knockout streak reaches 20, stops Monroe Jr. in six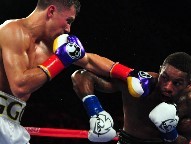 Photo © German Villasenor, MaxBoxing


WBA middleweight champion Gennady Golovkin says he wants to fight the big boys.

In the interim, Golovkin (33-0, 30 KOs) stopped gutsy challenger Willie Monroe Jr. (19-2, 6 KOs) in round six at the Forum in Inglewood, California Saturday night.

In round one, Monroe Jr., a shifty southpaw, found success with his right jab. Golovkin stayed busy by connecting with lead right hands to head and body. He also stung Monroe Jr.with a left hook.

Golovkin landed a straight right to the body in the round two. With Monroe Jr. wary of his right, Golovkin fired a perfect left hook that sent Monroe Jr. crumbling to the canvas. The 28-year got up but looked shaken. Golovkin chased after his stumbling opponent. A combination of punches put Monroe Jr. down for the second time. He beat the count by a hair and fought back -- by landing a crisp uppercut.

In round three, Golovkin stalked and cut off the ring. Monroe Jr. connected with some good body punches that seemed to bother Golovkin. He also found Golovkin's chin with a straight left hand. Golovkin landed a few right hands, but Monroe Jr. had done pretty well by standing his ground and fighting.

Monroe Jr. met Golovkin in the center of the ring in round four. He connected with a sharp combination. Golovkin asked for more. Monroe Jr. obliged by firing punches that snapped Golovkin's head back. Golovkin landed a number of hard blows that backed Monroe Jr. up.

Golovkin staggered Monroe Jr. with a left hook to the head in round five. The New York resident battled back, but none of his blows bothered Golovkin. The defending champion from Kazakhstan land ed two thudding right hands, but Monroe Jr., who entered the fight with Golovkin as a virtual unknown, was showing some real intestinal fortitude.

In round six, a more intense Golovkin landed two uppercuts and a right hand that wobbled Monroe Jr. A follow-up left hook to the ear floored Monroe Jr. for the third time in the bout.

The son of former middleweight challenger Willie "The Worm" Monroe pulled himself up again, but indicated to referee Jack Reiss that he wasn't interested in continuing.

The time was 45 seconds into round six.

"I feel great," said Golovkin in the ring. "My performance was for you. This was a very good drama show. I'm the real champion. I want a big fight."