Geale From Down Under - Always up for a Fight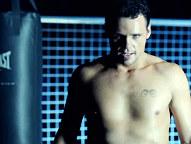 -


According to reports in the Australian newspaper, the Daily Telegraph, Aussie hero Daniel Geale is currently embroiled in a tug-of-war with heavyweight legend Evander Holyfield over the use of the sobriquet, the Real Deal. It is likely the issue will end up in court Geale is best advised to devote all his energies to his upcoming clash with middleweight crusher Gennady Golovkin at Madison Square Garden.

After a moderately successful amateur career highlighted by winning gold as a welterweight at the 2002 British Commonwealth games in Manchester England, Geale made his professional debut in October 2004.

After fighting solely in his native Australia, Geale ventured to Germany to defeat Sebastian Sylvester for the IBF middleweight title in May 2011. Taking a liking to Germany, he returned 16 months later and added the WBA belt to his collection by defeating the respected Felix Sturm by split decision over 12 rounds. One win in Germany is admirable. Two wins, the second against German legend Sturm verges on the astounding.

But such are the politics that bedevil boxing; the Australian didn't get to enjoy his status as unified title holder for long. Opting to defend against fellow countryman, Antony Mundine, who had squeaked a victory over him back in 2009, the WBA stripped him for side-stepping mandatory challenger, Gennady Golovkin.

In his next fight, Geale lost his IBF belt to British middleweight, Darren Barker in August 2013. Prior to this surprise loss, Geale had the distinction of having defeated every man he had faced in the ring, having previously avenged his sole loss to Mundine.

At 5'10" with a 71" wingspan and a record of 30 wins from 32 fights including 16 stoppages, the 33-year-old Geale is a good boxer adept at moving in to throw his shots before sliding out of range. As noted by upcoming opponent, Golovkin, he also throws a lot of punches. The Kazakh fighter noted wryly that he may not throw as many punches, but hits a damn sight harder.

Though ostensibly a boxer who prides himself on not getting hit often, Geale is not averse to rumbling in the trenches when the mood strikes him. They breed 'em tough in Australia and Daniel Geale is no exception. He got the better of several exchanges with Sturm, and his defense against Barker at Atlantic City featured several blistering exchanges in a barnstormer of a fight. Geale dropped Barker with a vicious body shot in the sixth. The Briton was doubled over on the canvas and suckin' wind in pain. There seemed no way he was going to get up, but he drew inspiration from the memory of his younger brother, an unfortunate victim of a fatal car crash. Barker told British boxing journalist Gareth A Davies, "I saw Gary as clear as day, it was vivid, so vivid. He was there. I know it sounds like a movie script, but I saw my brother. He told me to get up."

In his last fight in February, a grudge match against countryman Garth Wood, Geale forced his opponent to quit in six rounds. He has a lot left in the tank and is keen for another middleweight title belt.

In losing his title, Geale was unlucky to come up against an inspired Barker. He faces what promises to be the toughest fight of his career against the relentless, powerful GGG. He will need an awful lot of inspiration to survive the test.

Ollie Odebunmi's boyhood hero was Smokin' Joe Frazier. His book, The Last Great Heavyweights-From Ali and Frazier to Lewis and Tyson is available on Amazon Kindle, Barnes and Noble Nook, Apple ibooks and Kobo books.