Garcia remains undefeated by stopping Malignaggi in round nine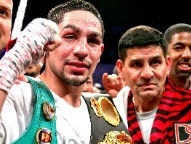 --


Light welterweight champion Danny Garcia, fighting as a welterweight for the first time in his career, stopped game Paulie Malignaggi in round nine at the Barclays Center in Brooklyn, New York Saturday night.

In round one it was obvious that Garcia (31-0, 18 KOs) was the stronger fighter. He kept Malignaggi (33-7, 7 KOs) on the end of his jab--and also landed two pretty good right hands.

Malignaggi did some good work in round two. He connected with a few light, but scoring blows. Garcia momentarily forgot about his jab. He observed Malignaggi, but didn't punch much.

Garcia was back in control in round three. He popped his jab and walked Malignaggi down. A left hook opened up cut over the right eye of the former two-time champion.

Malignaggi feinted and moved, but wasn't able to land anything significant. Garcia, 27, connected with a couple of right hands in round four that got Malignaggi's attention.

By the end of the stanza, blood was leaking from the right eye of Malignaggi.

Garcia began targeting Malignaggi's body in round five. Malignaggi tried to stay away by using lateral movement, but his punches lacked steam. Garcia walked him down in the next stanza. A short hook opened up a cut on the right cheekbone of Malignaggi.

Malignaggi connected with a right hand in round seven, but Garcia continued to apply consistent pressure. It wasn't very intense, the pressure, but it was too much for the 34-year-old Malignaggi to handle.

Garcia landed two left hooks in round eight. Malignaggi fought back, but he's never been much of a puncher. His game has always been about being the quicker and more intelligent fighter. On this night, he was hanging in on guts alone.

It was obvious the end was near when the ringside physician checked Malignaggi's cuts before round nine commenced. He allowed the fight to continue, but after Garcia landed a combination, referee Arthur Mercante Jr. jumped in and stopped the fight.

"I've seen enough." said Mercante.

The time was 2:22 of round nine.

"I was trying to catch him with body shots," said the victorious Garcia in the ring. "Paulie is a tough guy. I felt very strong."




---