Fury upsets Klitschko in epic snooze fest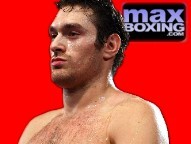 --


Heavy underdog Tyson Fury (25-0, 18 KOs) captured the IBF, WBA, WBO, and Ring magazine titles by capturing a stunning unanimous decision over listless former champion Wladimir Klitschko (64-4, 53 KOs) at the Espirit Arena in Dusseldorf, Germany Saturday night.
Scores were 115-112 (twice) and 116-111. Maxboxing and Doghouseboxing tabbed Fury the winner by a 117-110 tally.
Fury didn't do much offensively in the opening rounds, but his movement kept Klitschko confused and off-balance. In Rounds two and three, he connected with a few long lefts--while Klitschko watched. The former champion, making what he had hoped would be the 19th successful defense of his titles, lacked fire. He seemed confused and had no answer on how to counter Fury's speed.
The 27-year-old Fury grew more confident as the fight
progressed--while Klitschko remained overly cautious. Klitschko finally connected with a right hook
in Round
five. Fury smiled and asked for more.
Fury's use of the ring and feints was still creating doubt in Klitschko's mind. The defending champion was like a car that
wouldn't start. Fury connected with a few punches to the ribs. Klitschko, 39, didn't even attempt to throw a counter.

Fury put his hands behind his back and mocked Klitschko in
Round
six. He continued to catch Klitschko with annoying punches. Klitschko did a little better in
Rounds
seven and eight, but he was still holding on the inside instead of punching. Old habits die hard.
With three rounds to go, Klitschko was implored by trainer Jonathon Banks to throw more punches. Fury outboxed him in round 12--though Klitschko finally did let fly with some punches. Fury skipped away with a smirk on his face.
Nobody was overcome
with emotion when the fight ended.
Klitschko's loss showed why so many boxing people were reluctant to rank him with the all-time greats in the divisions. His dominance of the heavyweights for the last 10 years or so deserves respect, but it also needs to be put in it's proper perspective.