Forbes Fights On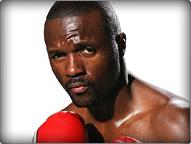 --


On Saturday night
from the BB&T Center in Sunrise, Florida, a nationally televised card on Fox Sports Net/Deportes takes place featuring veteran Steve Forbes facing Johan Perez. Yeah, it's the year 2013 and Forbes, who long ago was a finals contestant on "The Contender" is still at it. If you find that hard to believe, well, you're not alone.

"Honestly, no, probably not," said Forbes, when asked if he thought he still be in this racket for this long. "If I were to think years back, no. Absolutely not."
So the question is, why is he still boxing?
"Well, y' know what? I love this sport and the last couple of years have been tough but a lot of people don't know. I've been through a horrible divorce. I fought with a lot of broken heart. Now, my heart is strong. I feel good and I love this sport and being in here and boxing with these young guys kinda showed me I can still do this. I want to prove that come

Saturday night

," said Forbes from the Wild Card Boxing Club. He trained at the famed gym for this upcoming bout with trainer Eric Brown, who still thinks Forbes has a bit left in his gas tank, "Sure, his biggest thing is being motivated and fighting at the right weight but there's a lot of skill in there. There's a lot of fight left, so it's up to him."

But coming into this contest, Forbes is on a three-fight losing skid (dropping fights versus Jo Jo Dan, Karim Mayfield and, most recently, Jessie Vargas) and has lost eight of his past 11. But the majority of those blemishes came above the junior welterweight class, where this fight with Perez is being contested. Forbes says his move up in weight was a mistake.
"I've never been a big puncher. I was more of a technician and having a disadvantage like that against the big guys really hurts you, especially when you're not a one-punch knockout guy," explained Forbes, who once held a title at 130 pounds. "But everything happens the way it's supposed to and it made me understand, y' know, these guys are really way too big. I've risked it way too many times to be fighting at that heavier weight."
In Perez, he's facing a guy who was stopped in seven in his last bout in July by Pablo Cesar Cano. The Venezuelan is an aggressive fighter who will not be hard to find in there. Brown says, "He's a decent boxer but he's never fought the caliber of the fighter that Steve's fought. I mean, he's going to be a tough, aggressive kid early on. I expect him to come to box but I think Stevie's going to have enough experience and savvy to break him down and take the bout in the late rounds."
Brown is right in that regard. You look at Forbes résumé and you see names like Alejandro Gonzalez, Cornelius Bundrage, Carlos Hernandez, Demetrius Hopkins, Francisco Bojado and, most notably, Oscar De la Hoya. But there's a fine line between experience and corrosion in this sport and his recent results suggest he's much closer to the latter than the former. Forbes is now 35 years of age; that alone suggests he's nearing the end of his run.
So why go on? Well, it's this simple: most boxers have given up so much throughout their lives in the name of the sport, it's simply too difficult to just walk away. It may be all they know and all they really want to know.
Forbes explains, "When you've been in something pretty much your whole life, more than anything else, it is the whole unknown factor that keeps you involved in the game and I'm a realist too. If I couldn't get in there and compete with these guys, I mean, it starts in the gym. If I couldn't do it in there, I'd be like, 'Ya know what? Nah.' But there's something about the attraction of boxing and I'm basically a fighting fan. I love this sport; I love boxing. So it's true; the unknown is a little bit scary."
When you see Forbes spar in the gym, he's still a guy who can handle himself with anybody. "Without a doubt," said Brown. "He's a veteran. He's been there; he's seen it all, a former world champion. There's not too much in the game he hasn't seen already and at this point, it's just about bringing out what he already knows and bringing it back to the surface and going out there and showing people what he's about."
But there's a huge difference sparring with headgear and 16-ounce gloves and facing live bullets in a real fight. Forbes says that for the first time in years, he is fighting with a clear head. Remember how he and his ex-wife were such a big part of the storyline in the second season of "The Contender"? Yeah, obviously that didn't work out.
What did Teddy Pendergrass call it? A "Love TKO."
"The easy part is signing the paper; everything that gets you is the aftermath of it," Forbes says of the trauma of going through a divorce. "Everything that happens, all the changes, the difference in attitude with your significant other. It's like you don't even know that person and then you're battling; you got kids involved. So yeah, it definitely takes its toll." His ex-wife has custody of their two children in Michigan - Forbes ruefully mentions that he just had to marry a lawyer - and he has moved full-time to the Los Angeles area. But he admits this upcoming fight will determine his future in the sport. "Absolutely, because I've worked extremely hard; I've had a good training camp with Eric Brown and, yeah, this fight dictates the rest of my life/career, whether it's boxing or something else. So I'm really excited about it."
However, Forbes had thought about the next stage of his life outside the ring.
"Actually, I love films, so I got a lot of friends in film. So behind the scenes in films, some directing. I actually did a little part in a movie and I'm just trying to learn a little bit more about the aspects of putting together a film," says Forbes, who would also be a natural trainer. Not only does he have great knowledge of the game, he's an intelligent individual with the ability to communicate. "As a matter of fact," he said, "when I'm not training, I train a lot with the entertainment [world] and I would love to train some young fighters. I'd love doing that. I'd have a ball doing that."
For now, Forbes wants to box. Jim Bouton wrote in his iconic book, Ball Four, that, for many years, while he thought he gripped the baseball, he realized all along, it really gripped him. Forbes has come to a similar realization. There's a certain pull to this game that those who have never done it will never quite understand or comprehend.
"It's like being in an ocean and the current kind of takes you but you don't fight against it. You just glide with it and go with it and you feel you'll be safe. As long as you feel like as long as you have strong swimming skills, you'll be alright. But no, it does pull you," said Forbes, adding, "I like to shoulder roll. Sometimes you gotta shoulder roll with life and figure it out.'"
"One other thing I wanted to mention, I remember watching fights like Sugar Ray Leonard-Thomas Hearns I and Aaron Pryor-Alexis Arguello I on replays on ABC and CBS respectively a few weeks after they took place as a kid (yeah, growing up in Valencia, California, we didn't have HBO). But I was just wondering why today's big fights aren't at least shown on replay on these networks. I understand that the distributors (namely HBO and Showtime) want to retain the rights to these events and premiere them on replay the following week.
But would it be so bad if those fights were eventually shown again on CBS or NBC (or ESPN, which has entered into a marketing deal with HBO Pay-Per-View) a few weeks after they air them? Again, we're talking about boxing being showcased on the biggest possible platforms. The bottom line is that being on pay-per-view means you're playing to a relatively small, niche audience. Just the same, HBO and Showtime play to a relatively small scope of people.
It says here that part of the reason why fights like Leonard-Hearns and Pryor-Arguello are so iconic is whether they watched them live or not, a much bigger spectrum of the general public eventually had a chance to view them."
And there's the answer I received from a member of the boxing industry:
"Remember the

HBO

slogan, 'Only on HBO?' That is the reason they stopped allowing us to schedule a second 'delay' window on network television. They don't want their programming shown anywhere else.
"Now that they have begun to distribute their shows on ESPN, perhaps there has been a rethinking of that policy. Who knows?"
OK, there ya go. But in recent years, I saw a lot of the past Golden Boy fights originally broadcast on HBO replayed on Telefutura and Fox Sports Net/Deportes. I think a lot of this has to do with owning the international rights (which some promoters do not have for whatever reason) but I'm told every deal differs.
So Chad Dawson is going back to Eddie Mustafa Muhammad as his trainer? This guy sure changes his cornermen a lot; doesn't he?...What do you think of Keith Thurman taking on Jan Zaveck on HBO? Thumbs up or thumbs down?...Yeah, I thought Notre Dame could hang in there with 'Bama. I was dead wrong. And it took me all of two drives to figure that out...Nick Saban is a modern college football coaching legend. They might have to build another statue for him in Tuscaloosa...Folks, put a fork in the Lakers...I can be reached at k9kim@yahoo.com and I tweet at www.twitter.com/stevemaxboxing. We also have a Facebook fan page at www.facebook.com/MaxBoxing, where you can discuss our content with Maxboxing readers as well as chime in via our fully interactive article comments sections.