For the love of boxing: Chuck Williams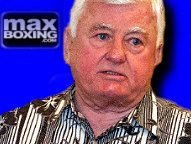 Chuck Williams


There are many characters floating around the boxing world.

It doesn't take a Sherlock Holmes to spot the good ones. One such as Chuck Williams.

When I first spotted him a few years ago in Las Vegas, his stocky build and commanding presence reminded me of the late great actor James Cagney.

Even the way he told a story brought the pugnacious Cagney to mind.

Oh yeah, and he's Irish.

For most of his 81 years, Williams has dedicated himself to boxing, whether in the amateur ranks, as a judge, or referee, or working with the professionals in one way or another.

Williams learned how to defend himself when he was 10 years old.

"In 1944, I had my first fight—at an orphanage in Staten Island, New York," Williams told this writer on the phone a few weeks ago. "It was all about survival. I had like three hundred fights. But fortunately I had a priest in Hell's Kitchen, Father Connelly, who was in charge of the orphanage. He taught me how to hit and not get hit.

"I was just a runty little kid. I wouldn't ever give up. "

While in the U.S. Navy when he was 17, Williams became a boxing trainer.

"Many trainers are like jockeys," said Williams. "They're about as good as the horse they ride on. I always had an ability to see things in the ring."

Williams had a successful career in the corporate world before he returned to boxing in the 1970s. He began officiating amateur matches.

"I met this guy by the name of Elmo Adolph from New Orleans," Williams said. "He was my mentor. He was considered one of the best referee's in the world. It was a privilege to know and learn from him."

After working four National Championships and Golden Gloves, Williams moved up the ranks.

"From there I started doing professional judging and officiating," said Williams. "My very first was an IBF fight in the Philippines. Later, I attended an IBF convention in Norfolk. At a NABF convention in New Orleans - I saw this short, chubby guy surrounded by many people.

"Someone told me it was WBC President Jose Sulaiman. I introduced myself to Jose and the rest was history. I judged a number of WBC fights. Now I'm a supervisor for the WBC."

What does a supervisor for the WBC do?

"We're involved with the weigh-ins," Williams said. "We supervise the drug testing. There are a lot of insurance forms that have to be filled out. The WBC insures every fighter."

Williams has had many memorable boxing experiences. He met Muhammad Ali in the 1970s. At a convention a few years later, he found himself next to "The Greatest" as they both left the building.

"I was at this particular event," said Williams. "Howard Cosell was the emcee. I jokingly made a comment about the lack of women in attendance.

Ali looked at me and said, "There's only one…Howard."

Williams cherishes his friendship with the late great former champion Alexis Arguello.

"He was an absolute gentleman," Williams said.

Former world champion Zab Judah and Williams are very close friends.

But it wasn't always that way.

"I was refereeing a National Golden Glove tournament in an Olympic year," said Williams." "I was told this kid from Brooklyn named Judah was a really talented fighter. So during his fight, which I refereed, Judah forced me to take away a point in the last round.

"I gave him three warnings and didn't take away a point. I didn't do it until the fourth warning," he said." I told Zab this later on when I got to know him. I told him I hadn't done that I wouldn't have been being fair to his opponent. That's not who I am."

Williams figured that Judah wouldn't accept the Bronze medal.

He was the right.

"So, I jammed (the medal) over his head. As he's going down the stairs to see the doctor, he takes off the medal and throws it on the ground. Five minutes later his father Yoel sent him back with the medal."

A few months later, Williams ran into Judah quite by accident.

"I'm in a candy store in Brooklyn," he said. "Who walks in but Yoel and Zab. This was only a few months after the event. Zab is like seventeen years old. He walks up to me and says, "What are you doing here?

"I walked right up to him and looked him right in the eyes and said, "'Listen young man. Is that any way to talk to somebody? What's wrong with you?' "Yoel starts to laugh. Zab was a cocky young guy. He's matured a lot. He's a father now. I told him, "Zab, I didn't take a point from you, you earned it."

He understood after that. Now every time he sees me he gives me a hug. He's like family."

Williams respects any fighter who laces on the gloves.

Above everything else, he prides himself on his honesty and integrity.

"I was a judge at the Lennox Lewis versus François Botha fight in England," said Williams. "I've been accused of getting to close to fighters. That doesn't matter. A fighter wins or loses. Honesty is like pregnancy. You're never part pregnant and you're never part honest.

"You either are, or you're not. So, I'm standing off to the side during the press conference. Lennox sees me and puts his arms out to hug me. I put up my hand and say, "I'm judging your fight," Lennox stops. He got the message.

"Anyway," I said to Lewis. "If you hug me, I'll have to go over and hug Botha."


---