Dirrell returns with easy victory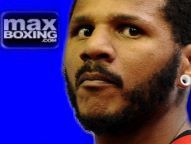 H1_Anthony_Dirrell_Max_Boxing-2.jpg


Former WBC super-middleweight champion Anthony Dirrell (28-1-1, 22 KOs) pitched a 10-round shutout over veteran Marco Antonio Rubio (59-8, 51 KOs) at the American Bank Centre, in Corpus Christi, Tx. Sunday afternoon.

All three judges had Dirrell winning by a 100-90 tally.

The quicker Dirrell got off to a fast start in the opening stanza. He jabbed and landed a variety of strong punches to the body and head. Near the end of the round, Dirrell seemed to stun Rubio
with three clubbing rights.

In rounds two and three, Dirrell continued to get off first. Rubio seemed unable to pull the trigger. Dirrell worked over Rubio's midsection. A few seconds later, he moved his attack to the head. Rubio absorbed the blows with a look of contempt on his face. Was he hoping that Dirrell would get tired of hitting him?

The 35-year-old Rubio started to punch back in rounds four and five. A left uppercut landed. Dirrell shrugged as if to say, 'Wow, you're fighting back.' Rubio surprised Dirrell with a long left hook and right hand. Dirrell returned fire immediately.

When Dirrell kept the fight in the center of the ring, he could do whatever he pleased. Rubio's only chance was when the Dirrell took a breather. The former champion consistently strafed Rubio with hard punches.

Dirrell, 30, connected with two wicked uppercuts in round eight. Rubio, showing a chin of cement, occasionally punched back. The beat down continued in the final two rounds. The courageous Rubio wouldn't quit. Dirrell landed a strong left hook in the 10th and final round. Rubio missed a big right and paid for it.

"I deserve another shot at a world title," Dirrell said in the ring after the fight. "Rubio is a tough fighter, but I was able to control the fight with my speed and skills. I felt really good in there."

- TO WRITE FOR DOGHOUSE BOXING: E-mail John now at: marlow_58@hotmail.com
John J. Raspanti responds to all his emails. Please send all questions and comments to John at: marlow_58@hotmail.com