Bute returns after long layoff to stop Di Luisa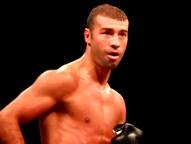 --


After disposing of little-known Italian Andrea Di Luisa in the fourth round last Saturday night at the Bell Centre in Montreal, CN., former IBF super middleweight champion Lucian Bute shouted, "I'm back."

But is he?

Bute, 35, hasn't been the same fighter since being steamrolled by Carl Froch in May 2012. Froch not only beat the tar out of the transplanted Romanian, he took away his mojo.

Immediately after the match, Bute talked rematch, but his words rung hollow, especially considering the kind of one-sided beat down that Froch had administered.

Six months later, Bute defeated Denis Grachev, but his performance was underwhelming.

Something was missing.

Injuries forced him to the sidelines the following year.

In early 2014, Bute met former light heavyweight champion Jean Pascal in Montreal. Interest peaked as the fight featured two of the most popular boxers in Canada.

Pascal dominated most of the bout. Bute fought tentatively, like a guy who wasn't sure of his chosen profession. He seemed wary of his chin, and didn't let his hands go until the last round, when it looked like he had Pascal in some trouble. It was too little, too late,as Pascal won the fight by unanimous decision.

Soon after his disappointing loss, Bute left trainer Freddie Roach and joined up with Howard and Otis Grant. He trained hard and was in great shape when he returned to action last Saturday night, but being inactive for 19-months does cause rust.

In the opening stanza, Bute, a southpaw, popped Di Luisa repeatedly with his long right hand. Di Luisa was able to touch him with some shots, but Bute (32-2, 25 KOs) absorbed them.

In each succeeding round, Bute began to throw more punches. Many of them landed. In round four, Bute opened up with a combination of power shots. Di Luisa (17-3, 13 KOs) tried to fight back, but three consecutive sweeping left hooks sent him to the canvas.

Di Luisa beat the count, but within seconds more punches rained down on the 33-year-old, convincing his corner to throw in the towel.

The time was 1:53 of round four.

Bute wants another shot at a world title.

He might get his wish against the winner of the September 12 clash between Badou Jack and George Groves.


---