Azad Championship Report: Guerrero outlasts Aydin, captures WBC welterweight belt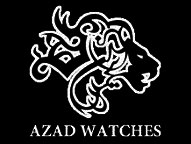 Azad Championship Report

By John J. Raspanti at ringside

Robert "The Ghost" Guerrero, fighting at welterweight for the first time in his career, outfought previously undefeated Selcuk Aydin to capture the vacant WBC interim welterweight title by a unanimous 12-round decision at the HP Pavilion in San Jose, Ca.

Guerrero (30-1, 18 KOs) set the pace immediately by landing the first punch of the fight. His activity stayed consistent. Guerrero, fighting out the southpaw stance, kept Aydin honest with his snappy jab, and jolting left that had Aydin (23-1, 17 KOs) looking confused.

In rounds two and three the quicker Guerrero kept peppering Aydin with lead right hands. The Turkish fighter stated going to the body. He landed a hard left to the chest of Guerrero. His output was picking up, but Guerrero was still the busier fighter. Guerrero continued to box very effectively in round three. His wide left to the body had Aydin covering up. Guerrero kept sticking and moving, but it was apparent he couldn't hurt the stronger Aydin.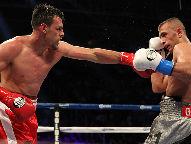 (Photo © Tom Hogan - Hoganphotos /Golden Boy Promotions)

Aydin grew more intense in rounds four and five. Holding his hands high, the man nicknamed "The Mini Tyson" landed a number of heavy right hands. Guerrero immediately fought back. A straight left by snapped Aydin's head back. A follow-up combination also landed. Guerrero went back to jabbing in round six. Aydin landed a right hand flush on Guerrero's jaw. Guerrero took the punch well and countered back. Aydin's momentum was building. He landed two more rights that quieted Guerrero's supporters.

"The Ghost" reminded Aydin who the boss was in round seven. When he boxed, all Aydin could do was follow and throw one punch. Guerrero stopped Aydin in his tracks with a clean combination.

Aydin gathered himself in round eight and went after Guerrero. He jolted the hometown hero with a strong uppercut. His left thudded off Guerrero's midsection. Guerrero looked tired as his opponent raked him more body shots.

Guerrero regained control in round eight. A beautiful combination knocked Aydin back a step. An Aydin uppercut found Guerrerro's chin. Guerrero fired back with another combination that the crowd roaring at the bell.

In rounds nine and ten, Guerrero continued to utilize his superior boxing skills. Aydin, 29, pushed forward. His right hand again found the chin of Guerrero.

Guerrero, 30, dug deep in the championship rounds. He traded with Aydin and moved away. Aydin landed another right hand, but Guerrero took it without a blip. Both fighters were exhausted in the final round. The arc was complete as Guerrero ended the fight as he had started it, by landing a left on the side of Aydin's head.

All three judges had Guerrero winning by scores of 116-112 twice, and 117-111.

According to CompuBox, Guerrero threw 972 punches (254 landed) to 528 for Aydin.

The new champion was ecstatic in the ring. "This belt is for my little boy Robert Jr,"Guerrero said. "He always asked me when I was going to win the green belt, this is for him. All of the support from my local fans and family made me feel great. I'm back, I'm the welterweight champ."

The subdued Aydin was respectful of the new champion.

"Robert is a very experienced fighter and he taught me a little bit about boxing," said Aydin. "I really couldn't do what I wanted. I only fought with my desire. Robert enjoy it [the interim title]. Perhaps we'll see each other again, I don't know."

George Groves, fighting in the United States for the very first time and Francisco Sierra 24-5-1, 22 KOs) engaged in six rounds of exciting warfare. The faster Groves (15-0, 11 KOs) couldn't miss with his right hand. His head movement baffled Sierra who nevertheless came to fight. Groves was cut over the left eye in round three. Sierra eyed the blood and tried to change the momentum of the fight. Groves ended matters in round six with a perfect three punch combination. The final punch, a pulverizing left hook knocked Sierra down. Sierra was up at seven but obviously hurt. Groves landed three consecutive rights that prompted referee Ray Ballowiz to stop the contest. Time was 2:15.

Shawn Porter (20-0, 14 KOs) used his speed and youth to win a ten-round decision over gutsy Alfonso Gomez (24-6, 12 Kos). Porter, 22, was able to land the sharper punches through most of the ten rounds. Gomez, 30, landed a number of overhand rights, but was unable to hurt Porter.

Porter captured the NABO welterweight title with the victory.

Scores were 96-94, 97-93, and 98-92 all in favor Porter.

Paul Mendez (8-2, 2 KOs) won a unanimous six-round decision over Leshon Simms (5-10, 3 KOs). Mendez controlled the action from the opening bell. All three judges scored the fight 59-55.

Hugo Centeno (15-0, 8 KOs) easily defeated Ayi Bruce (22-8, 8 KOs) over eight uneventful rounds.

Scores were 79-73, 80-72 80-72.

Tino Avila (8-0, 2 KOs) chased down Raymond Chacon (4-4) to win a unanimous four-round decision. Avila was the more effective fighter in every round.

Scores were 39-37 twice, and 40-36.

In the opening bout on the card, Gerald Washington made a successful debut by stopped Blue Delong (0-4) at 2:36 of the opening round.

Follow and visit John on Twitter: twitter.com/#!/johnboxing1

-- Questions/comments johnboxing1@hotmail.com