Azad Championship Report - Game of Thrones at the Mandalay Bay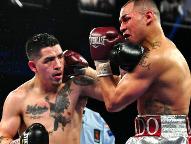 (Photo © German Villasenor)


In the aftermath of Mike Alvarado's close, hard-fought victory over

Brandon Rios

at the Mandalay Bay on Saturday night, neither combatant would be able to make it to the post-fight press conference. Both were sent to the hospital to undergo observation and tests. Yeah, it was that kind of night. And a rematch that had such high expectations coming into it not only delivered but perhaps surpassed them. You could say it was the best sequel since "The Empire Strikes Back."
And when it was all said and done, it was Alvarado who evened up this now historic series at one apiece, taking control in the late rounds by moving deftly around the ring and using his boxing skills to take a unanimous verdict (by the scores of 115-113, twice, and 114-114) in a bout as violent and brutal as it was closely contested.
Some boxers were just made for each other. Whether it was Sugar Ray Robinson and Jake LaMotta to Muhammad Ali and Joe Frazier to Marco Antonio Barrera and Erik Morales to Micky Ward and Arturo Gatti, now the same distinction can be offered of Alvarado and Rios, whose styles and personalities just mesh so well together. They could fight a hundred times and you'd get a hundred memorable fights.

This fight picked up where they left off last October at the Home Depot Center, where Rios scored a seventh round stoppage of Alvarado. Early on, Rios seemed to be the stronger, sturdier fighter, whose punches moved Alvarado. In the second round, Rios wobbled him with a jab of all things. It looked like Alvarado was a damaged fighter who may have been feeling the physical and psychological effects of their first encounter. But in the third frame, "Mile High" regained his mojo and turned things around with a blistering right hand that wobbled Rios - who has been hurt to the body in the past - and it was startling to see a guy whose chin and face seem to be coated in Kevlar get buzzed so noticeably by a punch upstairs.
From there they went hammer-and-tong with the momentum seemingly shifting by the minute. This was a beautiful brutality (you could say it was brutal-ful) taking place with neither man willing to cede control of the fight. There were rounds where Rios kept grinding away on the inside on Alvarado, only to let the Denver native steal those rounds in the late seconds with a barrage of punches that caught the judges' eyes, bringing the announced crowd of 5,814 to its feet. But unlike their last meeting, when Rios was able to chip away at Alvarado, this time around, Alvarado had enough in the tank to utilize his legs and work away at Rios from a distance as he circled the perimeter of the ring in the championship rounds. On the official scorecards, Alvarado swept innings nine through 12 on one judges' card and three out of four on the other two. Quite frankly, he had the stronger finishing kick despite Rios getting "The Memo" prior to this contest.

Alvarado's manager, Henry Delgado, noted, "The difference in this fight, training in Colorado, [Alvarado] ran up and down a mountain, an eight-mile journey because we needed better legs to get punches off in the late rounds."
After the decision was announced, Rios, who seemed to be in disbelief over the decision, got up on one of the corners and put up three fingers, signifying he wanted a rubbermatch. He Kanye West'd Alvarado's interview to tell him, "I gave you a rematch; I deserve a third fight," to which the victor replied, "Yeah, OK, third fight."
There will be a third go-round but it'll have to wait, according to promoter Bob Arum, who announced to the ringside media, "Listen, I'm dedicated to one thing and that's my commitment to HBO, to give them good competitive fights that the fight fans want to see. Not appearance fights. Now, are these guys going to fight again? Of course they will. Are they going to fight again the next fight [against] each other? Probably not. I mean, I'd like to see either one of them against [Ruslan] Provodnikov, who's Artie Pelullo's fighter. I'd like to see maybe [Juan Manuel] Marquez [against one of them]. I mean, win, lose, these fights, they'll fight each other again but it doesn't necessarily have to be next."
This is probably a good idea, to keep them from killing each other in there. The bottom line is that a truly great rivalry isn't dependent on both participants being undefeated or even having lost a fight or two coming in. It's about a special chemistry they share in the ring and the magic they create together. Rios and Alvarado (or Alvarado and Rios) go together like Goose and soda.
I jokingly asked HBO Sports president Ken Hershman when we'd see a "Legendary Nights" on this pairing. He counterpunched, "Let them fight a third time." As for when we might see it, Arum stated, "My thought is that I have no thought. The thought is really that I sorta feel that I'd like to see these guys against other people and then we can do a rematch. Certainly, the rematch will be even bigger than the second fight, the rubbermatch. But again, I really don't like doing immediate rematches. I did it here because these guys are crazy and that's what they wanted to do and HBO pressed me into doing the fight. But you see [Manny] Pacquiao and Marquez, I never had them in immediate rematches."
It's clear that while Golden Boy will have its talented stable of clients at junior welterweight participate in a tournament on the other side of the street at Showtime (with the likes of Lamont Peterson, Lucas Matthysse, Danny Garcia and Amir Khan), Arum has outlined his own plan with his set of fighters between 140-147, who will all duke it out exclusively on HBO. Yes, there's a "Cold War" in Winterfell. That's the state of business right now, where there is certainly great competition between the two factions. But you have to wonder if after a period of time, it transitions into separation and exclusion. For the time being, boxing fans (those of course, who didn't cancel their HBO subscriptions for an Oscar De la Hoya retweet) are going to get a strong slate of match-ups on both networks in the upcoming months.
As for these fighters actually ever crossing the street to face each other in cross-promotions, well, let's just say the Starks and Lannisters get along better than Top Rank and Golden Boy. But this has been an important recent stretch for HBO and its beleaguered boxing franchise which saw the loss of Floyd Mayweather. This, of course, caused them to jettison Golden Boy from their airwaves thus seeing the likes of Adrien Broner (perhaps the network's best character this side of Tyrion Lannister) move to Showtime. But in the span of three weeks, HBO, once the undisputed king of premium cable networks in the boxing world, has had two memorable fights in Tim Bradley-Ruslan Provodnikov and Rios-Alvarado II that will be very difficult to top in 2013.
It turns out that the death of HBO's boxing program was greatly exaggerated.
And now, HBO is in a full-fledged alliance with Arum, whose company has been made persona non grata at Showtime over the past year. HBO needs Top Rank as its main content provider and needs a platform as lucrative as HBO. You hope for its sake that nobody ends up like poor Ned Starks.
But for now, they are in the honeymoon phase of this post-Golden Boy/Al Haymon union.
"HBO's new policy is no more bullsh*t Al Haymon appearance fights," said Arum, who was in rare form, riding the high of the night's action."[Andre] Berto with tomato cans, Keith Thurman with tomato cans. Competitive fights, that's what the fans want."
Tim Bradley was in Las Vegas this past weekend to take in all the action. Like everyone else, he was in awe over what he witnessed.
"That was an unbelievable fight. I think both fighters need to be commended for their great performances they put on for us, the media, boxing," he said at the post-fight presser."Two weeks ago, me and Provodnikov put on a great performance and I think this one by far topped my performance against Provodnikov. I mean, it was a bloody war out there. Both fighters put their life on the line out here for all the fans and all the media out here, Top Rank, HBO. It doesn't get any better than this. Unbelievable fight and would I love to see it again?
"Yes and no. The yes is because it's a great fight and no, because, man, these guys threw some big, big punches in there. But as a fight fan, unbelievable fight and much respect to both opponents that fought here tonight. There's no loser here."
The "Desert Storm" was in good spirits throughout the weekend and it's clear that the negative perception fans had of him has - at least for the time being - gone away in the wake of his barnburner with Provodnikov on March 16th. Every time you saw him at the Mandalay Bay, he was surrounded by fans asking for autographs and pictures. For a guy who has taken so much heat (most of it gratuitous) for the past nine months, this had to be a good feeling, if not complete vindication.
Yeah, he was expected to win versus Nobuhiro Ishida but geez, that was quite the overhand right from Gennady Golovkin that KO'd the normally durable Japanese fighter, wasn't it?...It's interesting despite what Bradley said, I asked the preference for the best fight so far of 2013 on Twitter and the majority said Bradley vs. Provodnikov...Terence Crawford is a talented young boxer but I think he'll be much more crowd pleasing at 135 against guys his own size. Arum mentioned a "Winner takes all" fight with him and Adrien Broner but c'mon, that's not going to happen with the current state of the business...Ran into Delgado later in the night. He made it clear; he feels Alvarado should be fighting in Denver in his upcoming fights and there is a business to be had there. He also admitted that stealing rounds was part of the game plan for this rematch. Sugar Ray Leonard would've been proud..."Game of Thrones" is back on HBO. Need I say more?...I can be reached at k9kim@yahoo.com and I tweet at www.twitter.com/stevemaxboxing. We also have a Facebook fan page at www.facebook.com/MaxBoxing, where you can discuss our content with Maxboxing readers as well as chime in via our fully interactive article comments sections.