Atlas Back in the Pristine World of Pro Boxing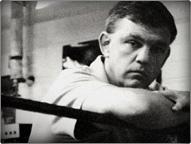 --


After a few weeks in London, where he covered the Olympic boxing tournament for CNBC, Teddy Atlas is back at his day job calling the fights alongside Joe Tessitore for ESPN2. Tonight he's in Miami, Oklahoma at the Buffalo Run Casino where Donovan George faces late replacement Dionisio Miranda on the season finale of "Friday Night Fights."
Atlas is just glad to be back to the corruption-free world of professional boxing.
"Yeah, that's a little strange that you feel that you're coming back to a safer, cleaner, healthier environment coming back to pro boxing, which is as corrupt as it is," he said, chuckling at the thought. "But after leaving what I left, I almost feel that. I've never seen anything...I mean, I've been around this business 40 years and I've seen a lot of difficult things and a lot of wrong things in the boxing business - and a lot of great things too - but I've never seen anything as bad as I saw in this AIBA-run international boxing tournament in the Olympics. I've never seen anything that had the look of improprieties, the smell of improprieties."

What Atlas is referring to are not just the dubious decisions (of which some were overturned after appeals were filed) or the questionable officiating in many of the fights but the reports of certain countries (namely Azerbaijan) making large donations to AIBA. And perhaps most damning, that AIBA had formed its own promotional entity and was signing fighters to contracts.
It would be enough to make Jose Sulaiman blush.
"Let me get right to the point; the feel of corruption, I'm not saying I can prove anything, I think that's for other people to do but the information is out there. The documentation of facts is out there. There's an old saying: if it walks like a duck, walks like a duck – y' know what? Usually it's a duck. And this completely fraudulent Olympic tournament, this absurd tournament...let's put it this way, had the look of a duck," said the always outspoken Atlas.
Atlas and his broadcast partner, Bob Papa, had no problems in loudly voicing their displeasure over what they were witnessing. Because of that, they were basically forced out from their ringside vantage point late into the tournament. Atlas states, "AIBA, amongst the many things that they do that are not within the line with what they purport themselves to be - which is an honorable people and straight-up people and decent people; they came up with allegations when we were being very critical - which I think they earned for us to be. And I thought we were doing our responsibility to the fans out there and to the fighters who need to be protected. Somewhere they did not like that criticism and they were looking to move us but they couldn't move us just for that reason. They later on came up with the fraudulent allegations that we were disrupting the fighters with our commentary in the ring.
"We were 40 feet from the ring; there was great fan support from all over the world, the Irish, the Mongolians, the Koreans, the Japanese, screaming at high decibels. That didn't disrupt the concentration of the fighters in the ring. But us, sitting 40 feet away doing commentary into a headset apparently, according to AIBA, disrupted the corners and the fighters. So they wanted to move us to the back of the arena, just obviously to show that they had the power to do that, to mute us, to try in some way to dissuade us from what we were doing, to intimidate us."
But the higher-ups at the networks offered the protection Atlas was looking for.

"First of all, NBC asked us, the president of NBC Olympics [Gary Zenkel] met with me and Bob and the producer and said they would not allow [AIBA] to do that. They would close the venue down, would blacken, darken the venue before they would do that and they asked us if we would finish the gold medal matches, because at that point, it was Friday. [If so] would we finish the gold medal matches on Saturday and Sunday in a sound booth in the IBC Center, which was about 10 miles away where the venue was and we said yes," explained Atlas of their last weekend at the Olympics. The network made it clear that they were free to say whatever they wanted, that no muzzle would be placed on them. "We said we would do it. The only thing I asked the president of NBC in return was, 'Listen, I know your predecessor, Dick Ebersol; he's a man I had a lot of admiration for and that's one of the reasons I decided to do this fourth Olympics. I would only ask you when this is over, when this travesty is finally put to rest and the last fighter has suffered from being robbed, unjustly dealt with in the ring by a referee or by five judges, whatever happens the rest of the tournament, that you would go to the IOC and before you do another Olympic broadcast with boxing, to ask them to fully investigate AIBA."
Atlas says he was promised that it would be looked into. He proclaims that, "I will never do this again unless AIBA is obliterated. Unless [AIBA President] Dr. [Ching-Kuo] Wu and all his cronies, all these people - and I've seen bad people and they're right up there, they match up with the worst with their callousness, with their arrogance, their lack of care for these athletes, the way they rip apart the hearts of these Olympic fighters that, in many cases, have put in most of their life into these dreams of being an Olympian and they just throw it away. They just rip it away from them.
"As long as those people are in charge, as long as AIBA is still running that part of boxing, I will never do another Games."
Teddy Atlas has made it very clear what he thinks of USA Boxing and its decision makers. He said on ESPN2 last week that a "wrecking ball" should be taken to the whole organization after what was a historically bad showing in London.
Atlas elaborated, "I think it's a collection of many things that have led to dropping to the point where we've dropped as a world power in the Olympics and internationally. I think there is a lot that has led to our dissipation as a team. Some of it is we don't have as many good trainers; we don't have as many good coaches. We don't have as many gyms; we don't have as many kids that are involved in boxing. We don't have as much participation as we used to have. We don't have the structure - we've never had it. We haven't given kids an incentive to parents to put their kids in a tough sport but they put 'em in football. That's a dangerous sport, much more dangerous than boxing. The facts prove it; the numbers prove it if you look into them. But it's a structured sport; they can get a scholarship to college and a lot of parents, for them, it'll be enough of an incentive to have their kids try it for a chance to better their lives that way. Boxing doesn't have that anymore. We should have scholarships to college; you'd bring more kids into the sport, more support from the parents.
Honestly, college boxing - which existed at one time - is now basically a thing of the past, relegated to a few schools at the club level. But for years, boxing in the States was fine with the NCAA overseeing it. Regardless, Atlas argues that USA Boxing now has to think outside the box.

"We don't have the right coaches in place at the right time; we don't have the right program in place. We don't have the right approach to that program, the right ideas," he continued. "We don't know what that program should be; we don't have seminars. We don't take advantage of the things all the other sports take advantage of. In high school and college football, they bring in other coaches from other programs that are successful to coach up the kids and give ideas to the coaches. We should bring the Cuban coaches in; we should bring other coaches from other countries. They hire out; we should bring them in and allow them to work in camps and seminars with our kids at the right, appropriate time."
Atlas also thinks the U.S. squad should be set sooner and competing in more international and dual meets in the lead-up to the Olympics. But he also believes there should be more emphasis on selecting a team that takes pride in representing the country, not just trying to attain a higher signing bonus before turning pro.
"How much do they really want to represent the United States as Olympians?" he asked. "Or are they just using it as a springboard for the pros? I got tired of hearing American kids say, 'Well, I was just happy to be there. That's all.' I don't want to hear that. I mean, look, I understand the dynamics of everything and I understand not every kid can show his emotions on his sleeve. But I saw so many European kids crying their eyes out as they lost and I only saw one American - Errol Spence - that's the only one who I saw drop any tears. Everyone's made up differently and express their emotions differently. I get it but he's the only one who showed that emotion like it really meant something and y' know what? I don't think it was a coincidence that he fought as hard as anybody and harder than most. Rau'shee Warren, there's a reason why he's part of a very select group. There's only been one other person that has been in three Olympics and never won a fight. He showed that it wasn't that important, like it didn't matter. There was no urgency.
"I want kids on that U.S. team that have an urgency."
Here's a couple of emails I got pertaining to the Olympics:
I'm a big fan of the Olympic games and I watched the London games just about every night and on the weekends (on the main channel). During the time I was watching NBC, I did not hear a single word about the boxing tournament, which is surprising because the tournament goes on for most of the games. Maybe I missed it, but I saw more of the hammer throw, long jump and shotput then I did about boxing. Medals are great, but I agree that it does very little to get your name out in the general public (Whether an Olympic background/experience is something good for an aspiring professional is a matter I am sure people can debate for hours).
This brings me to a question. Why would someone like Rau'Shee (sp?) Warren participate in three Olympic games? Even if he won a gold medal, I don't think promoters would be tripping over the possibility to sign a smaller American fighter.
As always, thanks for the good work,
Santosh N


Santosh, from what I'm told, the ratings on CNBC weren't very strong and in fact, boxing was the only sport to drop in the Nielsens since the 2008 Games (http://www.usnews.com/news/sports/articles/2012/08/12/olympic-viewing-boxings-decline). Again, in an era when the Olympics are programmed for the most casual of sports fan (i.e. housewives who don't care about the NFL, NBA, MLB, etc.), boxing has been relegated to third-tier status by the programmers.
So the bad news is that our men's team failed to medal. The good news is that not that many people were watching them not do so.
As for Warren, honestly, I'm not sure why he stuck around for three Olympics. I am told that Olympians do get a monthly stipend and so perhaps he felt staying as an amateur was more lucrative than turning professional.
Then I got this email form a "xnedu":
You brought back memories when you talked about the boxing meets on ABC's 'Wide World of Sports'. Loved that programme. Remember the fight between a Canadian dude and a Cuban boxer(I think)? The Cuban was punch-drunk from guzzling too many knuckle martinis. He ended up reeling around the ring, swinging like a faulty windmill and clocked the ref. As in knocked him the 4k out. Hilarious. Kim, if you didn't watch that particular fight that's really, really too bad.
I think I have seen that incident you spoke of. I remember when various bloopers shows and stuff like "Roggin's Heroes" were on; there was that clip of that poor ref taking one right on the kisser. Nowadays, AIBA would've ruled the referee the winner.
It looks like HBO is passing on a Lamont Peterson-Zab Judah fight...I'm told Erislandy Lara is pursuing a possible fight with WBA 154-pound beltholder Austin Trout before a bout versus Vanes Martirosyan. Top Rank won the purse bid for a Lara-Martirosyan fight and Lara has till August 24th to accept this assignment...Fox Deportes is showing Oscar De la Hoya's fight versus Ike Quartey and Saul Alvarez vs. Jose Cotto on Saturday (check your local listings)...I'm all in on "Hotel Hell" with Gordon Ramsay...Seriously, Andy Dalton to A.J. Green will be incredible for years to come in Cincy...So the O'Malleys are now part of the Padres ownership group? I don't know what to even think about that...Can "Matty Ice" Ryan take that next step as a quarterback for the Falcons?

...

I can be reached at k9kim@yahoo.com and I tweet at www.twitter.com/stevemaxboxing. We also have a Facebook fan page at www.facebook.com/MaxBoxing.