Artemio Reyes: "I won't leave it in the judges' hands"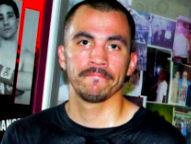 Artemio Reyes


Life hands us nothing but challenges most of the time. It is how we deal with them that defines our character. Friday night on Showtime's Shobox: The New Generation, a young man who has shown nothing but character out of the ring will get to show what he is made of inside the ring. Colton, CA resident Artemio "King" Reyes, 13-1 with 11 knockouts takes on 2008 Olympian Javier Molina, 9-0 with 4 knockouts in a bout that could catapult "King" to prospect to watch status and could show that hard work and perseverance are actually everything they are cracked up to be.

Born and raised in San Bernardino, CA, the 25 year old Reyes and his family moved to Rialto, CA before he finished high school. Soon after, he discovered boxing.
"I got into boxing at age eighteen. I was trying to stay away from the streets. Everyone was getting beat up or shot. So I started fighting, started getting better at it and started pursuing it," Reyes told Maxboxing.com this week.


Reyes explained that beyond getting him off the streets, learning to box was actually something he felt was a necessity to survive out there.

"I was always hanging out with what you'd call 'bad people' on the streets when I grew up in Rialto," said Reyes. "Basically I wanted to be able to defend myself in the event that I got jumped by more than one person. So that is the reason I got into it. Once I got into it, I found something I liked. Something positive. It kept me away from the bad vibe on the streets. It kept me away from it and we just kept working. I started getting better, started winning fights. I started going to tournaments and winning them."

Reyes had a short but successful amateur career, going to the Olympic Trials as well as winning several tournaments. In 2008, at age 21, he turned pro. This year marked another, sadder turning point in young Reyes' life.

"In 2008 [my father] was T-boned by a big rig. He's been in a coma since then," Reyes told me. "And after six months after being hospitalized, he was released into our custody. For now, we take care of him. We take of everything he needs even though he is asleep."

Soon after, the family moved to Colton, CA near a facility that can offer assistance whenever the family needs it. In July of 2008, Reyes would suffer another blow as he dropped a unanimous decision in his second fight to Mike Dallas, Jr. The loss taught Reyes about being a professional fighter and the kind of discipline that entails.

"I learned that I needed to prepare 100% for a fight," said Reyes. "No matter what. I took that fight on short notice. At the same time, I was under bad management. I'm not sure we should have taken that fight to begin with given he was way more experienced than I was. I had 30-35 fights as an amateur. He was an amateur standout. But we took the fight and gave him a good run for his money. I almost knocked him out. From there we learned to prepare. It made me a much stronger fighter from there and I have gone to win every fight since."

After the loss, Reyes re-doubled his efforts and now under new management and training, he hopes to bring himself and the Riverside, CA gym he trains out of, Capital Punishment Boxing Gym, into the light.

"I think I have been moved well especially with my trainer Ruben Castanon and moving to Capital Punishment Boxing Gym," said Reyes. "I think my game has improved tenfold. I'm a more well-rounded fighter. I'm slipping, I'm ducking, moving and body punching. Whereas before I always just looking for one hand which is my right hand. Now I have become an all-around fighter."

Reyes describes his style as boxer-puncher, adding "I like to bring the pressure to my opponent and wear them down body to head. A lot of fighters can't withstand pressure because they are not used to it."

I asked Reyes why he felt most fighters are not used to pressure.

"Is it because the amateur game is much different than the pro style?" I offered.

"Exactly," he replied. "In the amateurs you are able to throw a quick flurry and try to score points. In the pros, you can throw pity pats, but if the opponent throws harder shots they might get the round."

A big part of being a boxer is understanding who you are in reality. Too often, fighters believe their own hype, thinking that the first ten fights, which are usually there for you to win and acclimate to the pro ranks, equal a readiness that might be mirage. While Reyes knows who he is outside the ring, working hard in the gym and running his family's restaurant when he is not training, he impressed me by showing an understanding of his record and where he stands now as a pro.

"Are you really a big puncher or do you feel it's the opposition that has brought you to that point?" I asked.

"I would say a mixture of the two," Reyes answered. "I do have power but I try not to rely on it. If I don't knock the guy in the first or second round then I keep working. We train for the longevity of the fight."

Reyes credits his success thus far to the fact that he never fought like an amateur. A heavy handed right hander, Reyes always believed in his power, sometimes to his detriment.

"I never really had the amateur style. My previous trainer always told me 'You have to throw a lot of punches.' But that wasn't me," explained Reyes. "I always wanted to throw the hard shots. Maybe that is why I didn't go far in the National PALs. But it's ok. I got the experience where it matters most and I transitioned to the pro game which is all about inflicting damage on your opponent."

This fight against Molina, who is a slick, pure boxer who makes up for lack of power with a full toolbox of boxing skills is in some ways a bookend to the Dallas fight. At the time Reyes was not prepared for a slick mover. Twelve wins later, Reyes feels he is prepared for this moment.

"Different training camp, different manager, different trainer, different preparation for this fight," said Reyes when I asked him why it would be different this time. "Everything has been intense, been crazy. We have been working very, very hard to the point to where sometimes I can barely make it out of the gym I'm so sore. That's what we need to do. That's why I need to pay somebody to push me and that is why I am here at Capital Punishment."

Reyes sparred with Mauricio Herrera for much of camp in order to get a handle on the speed and angles he will be facing. He also used a young amateur standout named Josh Connelly to give him a speed look. When you watch Molina, he has everything you could want in a fighter. He seems to see everything, is well-conditioned and has all the punches. But at 21, he is still more boy than man physically and that could play to the older, more mature Reyes' favor.

"Mentally I am ready to go," said Reyes. "I would say I was a 21 year old boy who grew up overnight from my father's accident. So I would say I am more mature in a sense and I am ready to go."

In some ways this fight resembles the recent Jesse Vargas vs. Josesito Lopez fight; Vargas being the former amateur standout to Lopez' hard scrabble fighter who came up the hard way. Lopez faded late after taking control in the middle of the fight and lost a unanimous decision. Reyes said that while he agreed with the comparison, there will be a difference from that fight to this one.

"I would say it's a similar fight," said Reyes. "Jesse Vargas was highly touted and here we have Javier Molina who was a 2008 Olympian. You had Lopez coming out from the cracks and you have me coming out from the bottom as well. The difference is I am more active. My activity level is higher than Jose Lopez'. Because he was waiting, waiting, waiting. He let the fight slip from his hands. Whereas me? I won't leave it in the judges' hands."

Some fighters wait a lifetime to show who they are. Reyes had to learn that at an early age both in and out of the ring. Friday night, he gets his chance to show the rest of us.