Alvarez ices Kirkland in explosive battle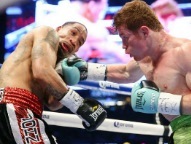 Photo © Ed Mulholland, Golden Boy via Getty Images


All it took was a little over eight minutes, but man was it fun getting there.

Saul "Canelo" Alvarez (45-1-1, 32 KOs) brutally knocked out James "The Mandingo Warrior" Kirkland (32-2, 28 KOs) in round three at the Minute Maid Stadium in Houston, TX Saturday night, but it wasn't as easy as it sounds.

As expected, Kirkland, a southpaw, took it to Alvarez seconds into the match. He pushed the redhead into the ropes and landed a couple of hard combinations. Alvarez, 24, looked momentarily stunned, but a minute later a big right hook staggered Kirkland. Alvarez seized the moment and let his hands go. Most of his punches landed. A sharp right to the chin sent Kirkland toppling to the canvas.

"The Mandingo Warrior" wasn't finished. He pulled himself up and battled back. Alvarez stopped Kirkland's momentum with a hard blow to the midsection. Kirkland, 31, wobbled back to the ropes. Alvarez stepped in a unleashed a full arsenal of shots. Many of them of landed. Kirkland looked almost out on his feet as the bell sounded ending the stanza.

Kirkland came out for round two looking surprisingly refreshed. His recuperative powers are uncanny. On the other hand, Alvarez looked gassed. He still managed to land another a hard combination to the head, but Kirkland absorbed the blows and fought back. He worked Alvarez over on the ropes.

A sneaky uppercut connected. Alvarez began to return fire during the last 15 seconds of the round.

Kirkland was back in Alvarez's grill in round three, but his punches weren't bothering the former champion. With a raucous crowd of around 40,000 cheering him on, Alvarez started punching back. As Kirkland marched towards him, a winging Alvarez uppercut floored him for the second time. Kirkland beat the count again, but the end was near.

With Kirkland languishing on the ropes, Alvarez feinted a right to the gut but instead aimed his punch at Kirkland's chin. The blow landed perfectly--spinning Kirkland like a top and depositing him on his back. The referee took one look at the prone Kirkland and waved off the contest.

The time was 2:19 of round three.

"I feel very good with all the people that are supporting me," said Alvarez in the ring. "This gives me great motivation. Kirkland is a good fighter."

"He came over the top and caught me with a shot," Kirkland said. "At the end of the day I'm a warrior."

The talk is Alvarez could face Miguel Cotto this fall.

Check back with www.doghouseboxing.com and www.maxboxing.com for more articles on this match.


---