A Warrior's heart with an old Man's Body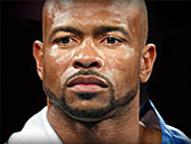 Jones Jr.

By "Big Dog" Benny Henderson Jr.

Anybody who follows any contact sport knows that it is a young man's game. Professional football players rarely play on when they reach their mid to late thirties. The average age of a pro player is the mid-twenties. As you get older your skills start to decline, the speed goes first, your legs get weary, your back gets tired, the gas tank does not hold as much as it did when you were young. But the heart, the heart still beats strong, and with its desire, sometimes desire never fades. And often we witness an older athlete in decline hit reality head on, in miserable fashion.

We have witnessed it time and time again, and once again, fight fans, particularly boxing fans, seen another age stricken warrior meet his fate, when former P4P king Roy Jones Jr. was dropped and stopped in devastating fashion of round four by Enzo Maccarinelli.

Roy Jones Jr. began his professional boxing career in 1989, the same year Harry Potter star, Daniel Radcliffe was born. Also born that year was Hayden Panettiere, the wife of former heavyweight champion, Wladimir Klitschko. The average price for a gallon of gas was just under a dollar. Roseanne, The Cosby Show and Cheers was America's favorite TV sitcoms. Bobby Brown, Paula Abdul and The New Kids on The Block were just some of the top names dominating the music charts. It was the year President Ronald Reagan left office and George Bush Sr. was elected. And those are facts.

What can you say about a young Roy Jones Jr? He was a beast wreaking havoc on the 160+ pound divisions. Jones had already racked up three world titles and banged out thirty-four consecutive victories before he tasted his first defeat in 1997 for hitting Montell Griffin while he was down. Jones Jr. has held titles in six different weight classes. His list of names he defeated is a list of who's who. He was a great in the ring, a showman, a savvy, slick fighter who dominated opponent after opponent.

The decline of Jones Jr. began in 2004, when a thirty-five year old Roy would lose three back to back bouts, two of those fights he was knocked out in brutal fashion.

Jones would seem to regroup and get back to his winning ways in the summer of 2006 with three consecutive wins, but, the V-train was derailed quickly and the aging fighter once again fell victim to the L-word. Again, a couple of those wins were via stunning knockouts.

From 2011 to August of this year Jones Jr. pounded out eight successive victories. But, the opposition he was facing was not the most credible in the division. He was winning, yes, but he was only a shell of a fighter he once was. Fighting over seas and here in the States for promoters I believed who were cashing in on his name. One so called boxing know it all who I shall refrain from mentioning was blaming the promoter of this last fight, and stated anybody who allowed Jones Jr. to fight again should be punished, even boasting about how he help set up his last fight against a light hitting journeyman. These cats were giving Jones Jr. false hope, and confidence that was bound to be tore down.

And it was. Against a former world cruiserweight champ Enzo Maccarinelli, who had some pop to his punches.

In the act of not taking anything away from Enzo, Jones is a grown man who decided to step up in there with him, but, even Enzo who is eleven years younger than Jones, would have to agree that Jones was nowhere close to his old self. What the fight fans witnessed was what we saw in Ali vs. Holmes, Tyson vs. Williams/McBride. An old fighter being sent into retirement in sad fashion.

Maccarinelli beat the snot out of Jones Jr. The fourth round we seen Jones face down and out. A legend, future hall of famer with nothing to prove, put to sleep by a much younger fighter. Jones Jr. is no longer slick, no longer has the edge when it comes to speed, craftiness or skill. His name precedes his level of skill now.

Gladly, I have read that Roy Jones Jr. announced his retirement after this loss, and rightfully so, and a few fights too late. I hate it when a fighter continues to put blemish after blemish on his record when he cannot hang the gloves up in a timely manner. By no means is Jones Jr. old, just too old for the sport.

Jones Jr. in my eyes will always be one of the greats in the ring, I hate that he had to end his career this way, but, I am glad to see him finally come to the realization that a warrior's heart can devastate an old man's body. Thank you for the great memories RJJ.


Email Benny at: bigdogmedia7@aol.com
Check out Facebook: www.facebook.com/benny hendersonjr
And Twitter: www.twitter.com/bennyhenderson