A Step Backward, a Step Forward for Garcia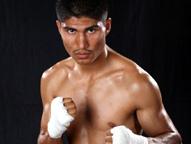 (Photo © Chris Farina / Top Rank)


The first two times we saw Miguel "Mikey" Garcia this year, he was showcased under the bright lights of HBO. Back in March, he stopped Matt Remillard in a battle of undefeated featherweights, wearing down the "Sharp Shooter" in ten. Then in June at the

Staples Center

in

Los Angeles

, Garcia

halted late replacement Rafael Guzman in four rounds. But as he faces Juan Carlos Martinez tonight at the Theater in

Madison Square Garden

, Garcia will essentially be "dark" as HBO will only air clips of his bout during a broadcast featuring Nonito Donaire-Omar Narvaez and the replay of the controversial bout between Bernard Hopkins and Chad Dawson.
Usually, when a fighter appears a few times on HBO, it's pretty much understood that - for better or worse- if he shines on this platform (as Garcia has), he becomes a regular player on this network. Going back to the untelevised portion of the show is thought of as a backward step.

For Garcia and his team, the big picture focus is the development of his career, which can only occur with consistent activity.
"I just wanted to fight. That's the main thing that we were looking for. Stay active; stay in the ring," he said earlier this week during his last days of training in

Oxnard, California

, before heading east. "I understand how the business works. It's part of the sport, so I got no problem with that. As long as I get the fight and we keep moving forward, I'm happy."
Since HBO had an agreement to re-air last week's pay-per-view main event, they basically couldn't allot the time for Garcia's fight to air on this broadcast. This also meant that Garcia would make significantly less than he had in his previous two bouts.
It was up to Garcia's manager, Cameron Dunkin, to clarify the circumstances. "It was hard because he had fought out here against Remillard in

Atlantic City

on HBO and then he turned around and got to fight back on HBO underneath [Julio Cesar] Chavez at Staples Center. I just explained to him that we got there for a moment. We had a shot where he would be shown on HBO and then it turned out that they were going to show clips of him. By the time I got done explaining to him, he was very, very happy- he was happy that they were actually showing clips of him and he wasn't completely in the dark, so this will be the third time in a row- I know that his whole fight won't be on HBO- but they're going to show clips of him and they're going to be speaking about his fight.
"I explained to him that not very many guys get to be talked about by the HBO announcers, fight after fight. So for a young guy without a title, that's pretty incredible."
The downside of becoming an HBO staple, especially for young fighters, is that if this is the only time you're going to ply your trade, you will most likely fight no more than twice a year from then on. At just age 23 and with 26 bouts under his belt, Garcia, for as promising as he might be, is still not a finished product.
"At the end of the day, the economics, which is largely the magnetic attraction to premium cable, allow for them to get paydays that don't exist other than being on these platforms," said Todd DuBoef, president of Top Rank, which has handled Garcia's career from its start in 2006. "So obviously, we had to take care of [Garcia's] needs there but in order to become a truly global and unique attraction, you have to be able to play on all platforms. And I think he's a young, really good prospect on his way to developing nicely. Anybody who thinks you just jump to the top- it doesn't work. There are steps that you take to get to the top and sometimes there's big steps and little steps and you just gotta find your way up there."
Unlike most companies, Top Rank doesn't believe you can develop a fighter or nurture an attraction solely on HBO. To them, getting to HBO or Showtime isn't the pinnacle but just part of the process in building a star. Recently, too many boxers sacrifice HBO slots for more regular work, which is a large reason why we have flawed fighters who still can't fill half a small ballroom by their tenth HBO appearance.
"I would say unfortunately there's too many people who are immediate gratification-orientated," opined DuBoef, "and it's almost like a cash-out. They don't understand the idea of building a business. I tell people this all the time. I say, 'I look at my business like I'm a venture capitalist. I'm going to invest in each of these little businesses," and that's going to be Nonito Donaire or Mikey Garcia, all the different fighters we have. Each one is a venture capital thing. You're going to see if it's Miguel Cotto, Manny Pacquiao. You're going to see how those things develop and hopefully, you're going to build businesses in each of these projects that you work on.
"Some work out great. Some don't work. Some are disasters. Some you just do OK but that's our model and in order to do it successfully, you have to be able to have a group and a community that understands that."
Of course, that's easier said than done, trying to get a boxer to understand why he's making significantly less than he did previously and why it's a necessity. "You just have to really explain to these guys that you can't get caught up in that by being their manager. You gotta be a rah-rah guy and 'Oh, you're being mistreated. Oh, you should get more. Oh, you're wonderful' [kind of guy]- that's lying to these guys and that's not fair," said Dunkin, who also handles the likes of Donaire, Kelly Pavlik and Tim Bradley. "You gotta tell them when they're in a tough fight. Tell them when you think they're going to lose, when it's not the right fight. You gotta be honest with them. You gotta tell them what the money is out there and when they ask questions about 'Why am I not getting paid?' You have to sit down with them and say, 'Where does the money come from?' and then you gotta say to them, 'Money comes from these sources...' And, you know, they're smart people. They understand. It's that nobody tells them anything and no one educates them and people just throw figures at them and, yeah, they get upset. They don't understand why are guys getting $400,000 and they're not.
"But once you explain it to them, they understand and they're usually OK with it."
Not much counseling was necessary for Garcia, who has always seemed mature beyond his years.
"Some fighters want to get all the television spots and wait for bigger purses or whatever," said the younger brother of Robert Garcia, a former junior lightweight titlist back in his days in the ring, who co-trains him with his father, Eduardo. "But I think you gotta stay in the ring, gotta stay active. Your time will come. Like me, I'm staying active. My fight was in March and they were telling me I could wait for a title opportunity, maybe in July, August, September. They weren't sure yet but I wouldn't know for sure. I just told them, 'I just want to fight, so give me something now.' The June fight came up and I took the fight. So it was a fight; it was on HBO and I took the fight. Now, this time around, they're telling me my fight won't be televised but as long as I'm fighting, I'm happy."
Sitting around for six, seven months and stagnating is no way to grow as a fighter. While Garcia's not exactly facing Salvador Sanchez this weekend, just the process of preparing for a real contest is beneficial.
Garcia says, "You always have to be in the gym. We're always in the gym and even if we do just three days out of the week or four days of light workouts, we're always active. We're always in the gym. I'll spar every once in awhile, just a couple of rounds, four rounds at a time, just to stay loose and not wait around in between fights. You gotta stay in the gym, stay loose, stay active, so that when your fight does come around, you're almost in shape. You don't have to start from scratch."
The breakthrough might come in 2012.
"I think so," said Dunkin. "I think he's going to win a belt and I just see nothing but so many high sides and positives for Mikey. And that's what I told him, 'Mikey, you didn't have a stellar amateur career. You had 53 fights. You didn't do anything. You've been groomed to be a pro and so we take our time, so that when you're there, you're mature. You're ready and you're ready to defend and make a great run. And that's another thing with these guys; you gotta explain to him that it's all about when you get here. It's about winning and winning at the high levels. It's not about getting there. It's not about being in a rush to get there. The money will be there when they get there and if they're ready to fight, they're mature and they've learned their trade and they're prepared to go through this hell. Then they'll make a lot of money."
Garcia says, "We feel that we've been moving well this year. We were brought up to fight on HBO twice already. We got to see a little bit of me on those nights and we hope that 2012 will be the year where I get a world title shot and bigger and better things for me."
Garcia's fight will be streamed live on

TopRank.tv

, along with the rest of the undercard beginning at 7:30 PM, ET...Another edition of "Sabados de Corona" presented by Golden Boy Promotions will take place on www.uverseonline.att.net/boxeo beginning at

9:30 PM

, ET...The HBO broadcast takes place tonight at

10:30 PM

, ET and the first edition of "24/7" for Pacquiao-Marquez III premieres this weekend...A name I'm hearing for Garry Russell Jr. for

Nov. 26th

on HBO is Teon Kennedy...As a Miami Hurricane fan, seeing

UCLA

getting blown out and then involved in a skirmish with

Arizona

reminded me of the LSU blowout loss and the FIU brawl, effectively sealing the fate of Larry Coker. Is Rick Neuheisel now on the chopping block?...If I'm the Raiders, if

Carson

Palmer can't go, I just go with the "Wildcat" all game with Darren McFadden...Do my 'Canes have any d-tackles left?! Where have you gone Denny Fortney?!...I can be reached at k9kim@yahoo.com and I tweet at www.twitter.com/stevemaxboxing. We also have a Facebook fan page at www.facebook.com/MaxBoxing.