A Conversation with Nacho Beristain: Part Three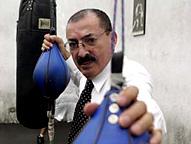 --


As the evening wound down at Café Slow Down, Ignacio "Nacho" Beristain pulled fewer and fewer punches. Some of those punches thrown are here. Others will have to go in the vault, saved for a rainy day or a book in the future.
Ironically and appropriate to last weekend's Floyd Mayweather-Victor Ortiz fight, the talk turned to Beristain's favorite fighter and his use of dirty tactics to win.
"Look, my favorite fighter in the world is called Bernard Hopkins because he is an extremely dirty fighter," smiled Beristain. "He hits you with the elbows. He hits you here in the thighs. He hits you over here...I laugh because a lot of people ask him, 'A photo, a photo!' He ignores them but to me, he tells me, 'Master!' and hugs me. I have several photos with him. He looks for me. In a press conference, they asked me, 'Muhammad Ali?' (meaning if Ali was his favorite fighter) I said 'No, Bernard Hopkins.' Why? Because I have been very attentive watching his fights and, man, all the dirty things he does! How he hits them! He dominates everything. He is standing on the front and with this hand, he… [Beristain rose to his feet excitedly to demonstrate how Hopkins moves his opponent and his own body to obscure the referee from his fouls to the hips and below the belt to the groin]. If the referee changes to this side, he grabs them from here and hits them. He is a sensational guy, his technique, his age, apart from being very smart. That 'güey' is my idol.


"In the Hall of Fame, I only bought two photos, one of a classic fight of another fighter I admired a lot, Sugar Ray Robinson," Beristain continued. "I bought a sensational photo of Jake LaMotta with Sugar Ray Robinson. Jake LaMotta is in one corner all torn to shreds and Sugar Ray Robinson in the corner with all a gentleman's aspect. And I bought one of Bernard Hopkins where he is hitting [Winky Wright]. Juan Manuel [Marquez] would tell me, 'What an ugly fight!' and I told him, 'But just observe all the things Hopkins is doing!' I told Hopkins that night, 'Hey, I saw how you were hitting him.' Hopkins laughed and told me, 'Master, I learned that in jail.' Hopkins was laughing one day because I told him that the day he dies, they shouldn't bury or cremate him; they should perform taxidermy with him."
Beristain further explained that sometimes a foul is necessary, particularly when you are being fouled yourself. Once a dirty fighter opens the door, you can take it and accept the consequences or you can give him a taste of his own medicine.
"I find [Hopkins] to be a marvel because I have won world titles with a foul blow," smiled Beristain. "In Japan, we [Nacho with Daniel Zaragoza] won a world title to a 19-years-old kid who was throwing [Zaragoza] headbutt after headbutt. I told Zaragoza, 'That is a lack of respect to a fighter like you who is older. With what hand do you hit harder?'
"With the left hand," answered Zaragoza.
"You will jab him and imagine he has his liver here and hit him with a hook to his balls," instructed Beristain. "[Zaragoza] told me, 'No, I won't do that.' I replied, 'Of course you will do it. If not, you'll be left alone here because I will leave,' and that way, he stopped him and knocked him out and we won the world championship. That is why I admire Hopkins because he is an artist; he knows. He is an artist doing those dirty tricks."
The conversation moved to fighters of today and how they compare to the fighters of old. In particular, the crew of Scott Hale, Ray Flores, me and Lucy Haro, our interpreter asked Nacho what he thought of Saul Alvarez, the junior middleweight who at 21 years of age is already being touted as a superstar. At present, the young fighter is the WBC titleholder and has two defenses under his belt. We asked specifically if Beristain felt "Canelo" was brought up to soon to a belt.



"No, he has already a lot of fights," answered Beristain of the 38-0-1 (28) fighter. "What happens is they put him against a lot of punching bags, bad fighters and old. [In Mexico], they call him 'The Murderer of the Elderly.' You know what I think, that if "El Perrito" [Alfredo Angulo] fights him, I think [Angulo] knocks him out in four or five rounds. I like how [Alvarez] boxes. What I don't like is the quality of the boxers they put him against."
"Who is better?" I asked. "Saul Alvarez or Julio Cesar Chavez Jr.?"
"I think both are bad, bad," said Beristain. "'Canelo' has fought a lot of fighters that are good-for-nothing."
Last March on Mexican television, there was a mock court held called "El Tribunal del Boxeo," with Beristain as the prosecutor. Oscar De La Hoya and Saul Alvarez were witnesses and even the great Julio Cesar Chavez Sr. called into the program to put in his two cents on the accused WBC President-for-Life Jose Sulaiman.
"I hit [Sulaiman] and Oscar De La Hoya hard [verbally]," laughed Beristain. "I gave Oscar some hard blows. He just laughed. Now they want to do it again because it had tremendous ratings."
The program attempted to determine if Alvarez deserved a shot at the vacant WBC title he would eventually win in a catchweight fight against English welterweight Matthew Hatton. Beristain tore into Sulaiman as did his fighter Juan Manuel Marquez. It was good entertainment but the show also had much truth to it. We asked Beristain about the show and his thoughts on whether or not Sulaiman was helping to protect Alvarez while guiding him to a belt.
"Yes, too much," said Beristain. "On that TV show, [TV commentator and one of the show's judges] Dr. Morales told [Sulaiman] I was the prosecutor and he told him, 'You are 'Canelo's' godfather.' I said, 'Yes, he is his godfather.' [Morales] said, 'And aren't you going to give him his allowance?' I told [Morales], '[Sulaiman] already gave it to [Alvarez]. He almost put the belt on his waist.' I killed [Sulaiman] with that. People were happy. They started calling the show saying, 'Congratulations to the prosecutor because he's telling Sulaiman the truth.' [Sulaiman] is a delinquent and I am the first person that tells him."
In Thomas Hauser's book on the fight game, The Black Lights: Inside the World of Professional Boxing, he recalled a story told by Sulaiman about how he first came to the boxing world as a young boy, fighting in what were known as "hors d'oeuvres" bouts held before the real fights between young boys. The purses they won were the coins thrown to them by the crowd. From page 97 of The Black Lights, Inside the World of Professional Boxing:
"Jose Sulaiman was born in Tamaulipas, Mexico, on May 30, 1931. The son of a Lebanese immigrant, he grew up in San Luis Potosi, and was introduced to boxing in 1939. "I was eight years old," Sulaiman remembers. "A group of friends went to a boxing match, and I asked my father for money to buy a ticket. He refused. The thought of spending to watch two men punch each other in the head outraged him, so I went to the stadium and begged to get in. The gatekeeper told me I could go for free if I participated in the hors d'oeuvres.
"The hors d'oeuvres was a long-established custom in Mexico. Before each fight card, two children would square off and fight to excite the crowd. "My opponent was a Mexican Indian," Sulaiman continues, "much taller than I was, about ten years old. At first, he was very scared of me, but I didn't know how to fight and he won, although he never knocked me down." During the hors d'oeuvres, tradition dictated that the crowd throws coins into the ring. "After the fight," says Sulaiman, "while my opponent was waiting for the decision to be announced, I took off my gloves and picked up the coins. He won the fight, but I won most of the money. After that, I kept going back to the hors d'oeuvres. I kept losing fights, and I kept getting most of the coins."


I asked Beristain about that story, to which he replied, "No, no, [Sulaiman] made it all up. Sulaiman is a liar. Look, one day, I was at his house and he invited me and two journalists to have coffee. I got up and saw a baseball. I grabbed it and saw it had Ted Williams' autograph in it. I don't know much about baseball but one of the journalists told me - the journalist already passed away - Ted Williams was a baseball legend. We heard Sulaiman was coming, so I put the baseball back and sat down. The journalist told him, 'Mr. Sulaiman, it's a marvel that baseball you have in there.' Sulaiman replied, 'Yes, because it was the first one of two...I was a pitcher and it was one of the two times I pitched a perfect game. What a liar, old man. We saw the baseball and it said 'Ted Williams,' had his signature but my grandfather told me, 'Never argue with a millionaire because they buy everything with the money they have.'"
Beristain went on to say that because of Sulaiman's tremendous influence not just on boxing but on television, a fight between Juan Manuel Marquez and Marco Antonio Barrera almost did not happen.
"Well, if [the networks] don't listen to [Sulaiman], the guy punishes them," claimed Beristain. "He doesn't like Juan Manuel Marquez and when Oscar wanted to do the fight between Juan Manuel Marquez and Barrera, [Sulaiman] said no. We were listening to the conversation. [Sulaiman] told [Oscar], 'No, no, that fight cannot be made.' Oscar got mad and told him, 'Sir, then I won't fight for the welterweight title either. Thank you.' [Sulaiman] then said, 'No, no, no. Wait, Oscar, wait. Juan Manuel Marquez's fight is authorized.' That's why I believe that now that 'Perro' has signed with Oscar, Oscar will get him the championship fight but you (Beristain then turned to address Haro, an attorney working with Angulo) have to be very clever there and demand in writing whether he will give him the shot at the championship. It will be a difficult fight with [Vanes] Martirosyan."
Vanes Martirosyan, the fighter Beristain referred to, was set to fight Angulo in a box-off to determine the number one contender but instead Martirosyan turned down the fight, feeling that the money and the venue in Mexico heavily tilted the fight against him. He passed on the fight recently and now Angulo will face James Kirkland November 5 in Cancun on HBO instead. Beristain's next comment will probably be looked at with a sad eye by Martirosyan, a boxer with the kinds of skills that could trouble the slower but more powerful boxer/brawler Angulo.
"[Martirosyan] is too technical, very clever," said Beristain who believed that Angulo could win but would face some stylistic trouble in the match. "Sulaiman gave 'Perro' the chance with very bad intentions but if 'Perro' beats [Martirosyan], I don't know what Sulaiman will do but he won't give him the chance against 'Canelo.'"
I ventured that while there are too many belts, the amount of them does offer fighters opportunities to make more money, keeping just one champion from shutting out solid contenders. One belt might logjam the whole works.
"The prestige of boxing is reduced a bit but it gives a lot of fighters opportunity because some sanctioning bodies- like Sulaiman's WBC- has become a thief," said Beristain. "I will give you an example: They have two world champions at middleweight, the kid from Guadalajara [Alvarez] and Julio's son. And Perro, who has more physical strength and is an authentic fighter, they don't give him the opportunity. He has to look for an opportunity in a sanctioning body that opens its door to him."
Beristain also cited the recent stripping of former WBC middleweight champion- now simply the lineal champ- Sergio Martinez, who was first stripped by the WBO and then by the WBC for not facing his mandatory junior middleweight title challenger, Sebastian Zbik. At the time, Martinez's promoter, Lou DiBella, tried to put Martinez-Zbik on HBO, the network Martinez has now fought on for several years. The network deemed Zbik unworthy. When the WBC stripped Martinez, HBO bought Chavez Jr. vs. Zbik for the vacant WBC belt despite its previous ruling. There are those that feel that because Top Rank, Chavez Jr.'s promoter, had taken its superstar fighter Manny Pacquiao to Showtime for his last pay-per-view fight, HBO was in fact trying to make up with the promoter in order to lure the cash cow Filipino back to the network. It should be noted that while Chavez Jr. was made the number one contender by the WBC, he had yet to face a decent, much less top ten, middleweight.
"There is a boxer called Sergio Martinez, who is a sensational fighter, a great athlete and great boxer," said Beristain. "I believe he is the best Argentinean technical boxer I have ever seen and they took away his title in a stupid manner. Sulaiman says, 'You are so good that you will be the 'emeritus champion.' And he left the title he had won and they gave it to 'Julito.' That, sir, is exposing himself to another lawsuit like the one that German boxer won against him, Graciano Rocchigiani. [Rocchigiani] sued [Sulaiman] in New York, won the lawsuit and [the WBC] have to pay [Rocchigiani] [31] million dollars."
Beristain is referring to a former WBC light heavyweight champion who won a vacant version of the belt in 1988 against Michael Nunn. The WBC stripped him shortly thereafter for no reason other than their claim that it was an interim belt and that Roy Jones Jr. was the "real" champion at the time. When the WBC claimed that they would have to fold and file bankruptcy, Rocchigiani settled for $31 million. There is a theory that this is why there are so many WBC belts now. With so much debt to pay, more belts equal more sanctioning fees.
"[Sulaiman]'s making that business because it brings him a lot of money," said Beristain. "He's very clever. He's very smart.
I think it is wrong because it has proliferated a lot that the sanctioning bodies try to bring to their safe- the famous sanctioning fee."
Beristain also feels that this won't end when Sulaiman is no longer with us. After all, his son Mauricio is next in line to inherit that particular throne.

"His son is worse. Right now, he's worse," said Beristain.

"That's a family business."
I asked Beristain if he felt Martinez could sue the WBC or if he even would. "I do not think so because Martinez, every time there is a festival in Mexico, Sulaiman invites him and [Martinez] comes and eats with [Sulaiman]," answered Beristain. "He could sue but Martinez's manager, Sampson [

Lewkowicz

]

, seems to be afraid of [Sulaiman]."
While we were on the subject of Martinez, we asked Beristain what he thought of him, considering his earlier comment about him as a technician.
"Freddie Roach [trainer of Pacquiao, Chavez Jr. and middleweight contender Peter Quillin] recently told me that he felt Martinez was a good athlete but not a good boxer," said Beristain. I asked him, "Do you agree?"
"No way. Have [Roach] throw 'Julito' [Chavez Jr.] in with [Martinez]," he answered. "That man beats them both, Julio and the guy from Guadalajara [Alvarez] the same night. And while you're at it, throw Sulaiman in to him too and [Martinez] beats him too. He is very good, very good, very good. You know, he knocked Williams out with a lot of ease, with a counterpunch that I had not seen in years. He zeroed out a punch that came from this side (motioning from his own left side); [Williams] is a southpaw and saw the punch coming, switched to this side and at the same time through a hook and it was over. It is very difficult to coordinate those movements. The only person I have seen do it is Hopkins."
No one in the room seemed to disagree. If any of us did, we kept silent. After all, who would argue with a man Bernard Hopkins calls "Master"?
Luckily for us, we asked Beristain about James Kirkland and his thoughts on a possible match-up with Angulo in a future that is now certain.
"He's a brawler, throws a lot of punches, strong, but doesn't [pay attention to defense]," said Beristain. "If [Kirkland] fights 'Perro,' it will be a brawl. He's very strong but he can't take punches on his chin and 'Perro' can take punches on his chin. I think it would be a very tough fight, fast, fast. If 'Perro' surprises him, he will knock [Kirkland] out."
Then Beristain paused and added after some thought, "The only thing I don't like too much about Alfredo- and I will talk to him when I have a chance- is that he's exaggeratedly confident in his endurance. He comes and receives punches that he could duck but he doesn't."
As with everything with Beristain, if you ask him one thing, he will answer but has a few good stories leading to- and from- the answer. When we asked him simply how many champions he had, Beristain answered, "22. 20 men and two females. I do not like to train women. I don't like it because they are fierce but you are training and training and training and they are in great physical condition and then they have their period and everything is spoiled."
We all laughed and nodded that we understood and had never even thought about it. On the flipside of that, Beristain said he believed for all his fighters, both male and female, that abstinence was key.



For a fighter to have sex during training, "It is a stupidity," said Beristain.
Nacho told us that when he was inducted into the Hall of Fame last year, he felt he needed to do something special to feel worthy of the honor and he did just that. Right before the induction, Beristain added two more champions to his résumé.
"I was told in December 2010 that I was going to be inducted into the Hall of Fame and I kept thinking I have to do something," said Beristain. "I have to get into the Hall of Fame with something notable, something to justify that I am there. In January, we were told about the featherweight world championship fight, Jhonny Gonzalez vs. [Hozumi Hasegawa] that was the champion in Kobe [Japan]. Everybody told us not to go because of the radiation. I said, 'Let's go.' Kobe is in the South of Japan and [the nuclear disaster] happened in the North. We got there and we won the championship. We arrived in Mexico and I had to leave to Veracruz because the female fighter was fighting for the world championship seven days after. She won the championship. One championship was [won] on April 8 and the other on April 15. So I got into the Hall of Fame with two world champions and I was very pleased."
Then Nacho rolled into his champions specifically.
"I had Guty Espadas. His dad was very good and they were the first father and son pair to be world champions," said Beristain." The first fighter that retires undefeated in all his career with over 27 world championship fights, Ricardo Lopez, the first pair of brother world champions in two divisions, the Marquezes. In the Hall of Fame, they didn't say for the 20 world champions but because Ricardo Lopez is in the Guinness [Book of] World Records for the first father and son pair to be world champions, the two brothers. Juan Manuel Marquez won the world championship in February. 15 days later, his brother won the world championship. Vice versa, when Juan won the super featherweight title, his brother won the super bantamweight [title] with 20 days of difference. I think God overdid it with me. I don't tell Him anything anymore so He continues to give me champions."
At the mention of God, Beristain was reminded of a story.
"I will tell you an anecdote," Beristain began, "The worst bantamweight world champion I have had would tell me, 'Don't worry. I just spoke to God and He told me I will win in four rounds in Japan and in the fourth round…'" Beristain trailed off to indicate the fighter won by KO in the fourth. "In another fight, I tell him, 'Hey what happened? Did you talk already with whom you were going to talk [meaning God]?' He told me, 'No, no, I haven't been able to.' The next morning he said, 'Done. I already talked to Him. In the eighth round.'

And in the eighth...He was an Indian. In another fight he told me, 'Hijole, He told me that I will have a very tough, very tough fight but that I will win.' It was a terrible, terrible fight in Korea. He was going to win a split decision and he won a split decision. He left me with my mouth open. One day, I told him, 'Hey, have you already talked with [God]?' He told me, 'Not yet.' I said, 'When you talk to Him, tell Him about me, güey, so he help me!' He said, 'No, no because you are a son of a bitch and He will send me to hell! You reprimand me a lot and yell at me a lot.'"
At this, Beristain simply smiled knowingly as we all laughed. Beyond having boxing smarts, what I have noticed about trainers is that they all have the ability to tell the hell out of story. Beristain was no exception.



I asked who the fighter was to which he responded

with yet another story.
"Victor Rabanales," Beristain answered. "He was an Indian. In Japan, they made a TV special of him and they asked him on the interview, 'Are you a pure Indian?' See, there are people who are mixed. He said, 'No, I am pure Indian.' [The interviewers] were killing themselves laughing because they said, 'Hey, over there in your tribe. How many times can you get married?'


"Four," Rabanales replied.


"How is your wife called?"

"The first one is called Angela."


"And the second one?"


"Angela."


"And the third one?"


"Angela."


"And the fourth one?"


"Angela. It's Angela One, Angela Two, Angela Three and Angela Four, so I don't [confuse them]."

"He became the idol of the Japanese," said Beristain. "They made him dance one of his tribe's dances. They were fascinated. Japanese people admire Indians a lot."
The mention of Japan prompted one of us to mention that the mariachis in Japan were some of the best he had ever heard.



"Yes, and that's because you haven't heard the ones in Paris," said Beristain.

"The Mexican music, mariachis are [excellent]. I was very surprised in Paris because I found one of my nephews there in Paris. It was snowing and we were invited to a dinner. I said, 'No, I can't take out my fighter.' It turned out the owner of the restaurant we were invited to was my nephew and the girls that dance topless in the poles go there for dinner. The place is in Paris and is called, "Ay Caramba," very famous."
As the evening began to close, we asked Nacho about the future. Did he have a new prospective champion and how could he tell when he had one?



"It's a bit difficult," answered Beristain. "This kid, I am bringing him up with care because I estimate that next year, he will be solid to fight for a world championship. He's very good. You will see my welterweight soon, Alejandro Barrera. You will find him in the computer. 21 fights, 21 wins, 19 knockouts but he is not a puncher. He is rather like Juan [Manuel Marquez], connects one, two, three blows. He's a fine boxer. Just that he gets the chance because right now, he has a tourist visa and I don't like to bring boxers [to the U.S.] with tourist visas."
A trainer is like a gold miner, sifting the silt to find the treasure. It can take a lifetime. Some trainers are never blessed with a champion. Others find one and are brought many more because of him. Others like Beristain have dedicated their lives to creating them from the raw materials they find. One would think that cultivating 22 champions is the goal of a lifetime. For Beristain, it is not quite enough. I asked him in finality when he will be done with boxing.



"When I die," he answered with a smile and not a beat missed. "I set myself a goal to have 25 world champions. I am still missing three more and it is very difficult. After that, I could [retire]. I should have 25 already because the Olympic flyweight champion in 1968 could not be world champion because the manager he had was a fool and wanted to put him against the best [too soon, too fast]. Then I had like five fighters that were ranked but didn't get to win. I should have 30 world champions. Now I hope to win three more to complete 25- and goodbye."
With that we all rose, took some pictures with Nacho and walked out to the street. We were all in our own respective little worlds, processing what we had just experienced. It's not often you get to meet a legend and ask him whatever you want. It was a bit like watching a great movie or performance. Each of us was somehow changed and made better by the experience. It is one I will never forget and will forever be grateful to the boxing gods for.
You can email Gabriel at

maxgmontoya@gmail.com

, follow him on Twitter at

www.twitter.com/gabriel_montoya

and catch him on each Monday's episode of "The Next Round" with Steve Kim. You can also tune in to hear him and co-host David Duenez live on the BlogTalk radio show

Leave-It-In-The-Ring.com

, Thursdays at 5-8 PM PST. Gabriel is a full member of the Boxing Writers Association of America.