Zhong: "I will not be satisfied until I have the WBC world title"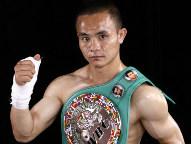 --


Professional boxing in China is still in its infancy, less than a decade since having been previously banned in 1947. The pioneer behind the current upturn in Chinese boxing is Liu Gang, the first Chinese fighter to legally compete back in the '90s. He was a super featherweight who, due to the ban in his homeland, was forced to fight exclusively in Australia where he posted a modest 1-5 (1) ledger. Since retiring, he's moved into the management side of the business and this weekend, his fighter, Xiong Zhao Zhong,19-4-1 (11), looks to make history by becoming his country's first world champion when he meets Javier Martinez Resendiz, 13-3-2 (6), of Mexico, for the vacant WBC strawweight title. If Zhong wins, it would be a major shot in the arm for Chinese boxing which, over recent years, has performed impressively on the amateur scene, winning various world and Olympic medals through the likes of Zhang Zhilei, Zhang Xiaoping and Zou Shiming, etc. One of the key areas China currently struggles with is its boxing infrastructure which Howard Graham (who aids Gang's boxing endeavours) explains with his local knowledge of the situation, "Funding boxing events and boxing stables has been very difficult in China. There is no pay TV, so events and stables are supported by individuals who support boxing and local sponsors. National sports TV wants to be paid to broadcast boxing events."

However, thankfully in their province, things are a little different. Graham continued, "Kunming TV has taken a daring, new and enlightened approach to television boxing. They provide funds for the boxing event and broadcast the event around China and other parts of the world. We hope this relationship continues to prove profitable and continues in the future, so we are able to continue to support boxers and boxing." Graham added that, as in many walks of life, the real trouble is money. "The biggest problem for boxing in China is lack of money. Lack of available money seems present in other countries and lack of serious professional trainers. We have the talent." It's hoped success could encourage the power brokers to invest more, inspiring future generations to take up boxing, so it may no longer be viewed as a peripheral sport. For his part, Zhong, who recently turned 30, is a humble man who comes from a poor background in

Miao/Hmong, near the Vietnamese boarder

. He is the first member of his family to not be a farmer and it is thought that his entire family's income probably isn't even $2,000 a year. Though he is now sponsored by a boxing fan and receives $250 a month to live on, it hasn't always been this way. Previously, while his accommodations were provided, food wasn't always and he was forced to live on 60 cents a day. In China, the culture dictates that as you grow up, you take care of your parents. However, for Zhong, this was tough. He received only minimal schooling; at less than five feet tall, he's not suitable for manual work. With no obvious skills, he took up boxing as a way to support his family. Time will tell how this plays out but it can only be good for boxing if China can establish itself as a serious fistic commodity.
Anson Wainwright -
On 24th
October, you meet Mexican Javier Martinez Resendiz for the vacant WBC strawweight championship. What are your thoughts and comments on that fight?
Xiong Zhao Zhong

- I am coming down in weight from 108 pounds to 105 pounds. I don't think that this is any advantage to me; these boxers are all very good at this level. I am very happy just to compete with them. My last fight with [Osvaldo] Razon was very difficult and I think Resendiz will be just as hard or tougher.
AW -
What do you think of Resendiz? What do you see as his strengths and his weaknesses?
XZZ - I don't know; I have not seen him box. But for me, it does not matter. Whatever he comes with, whatever he brings, I will be prepared.
AW -
How do you think boxing will change in China if you are able to win the world title? How big a moment for your country is this?
XZZ - A first world champion from China

will be very big. It will get a lot of interest from all over China. It may encourage some of the gold medal Olympic boxers to become professionals and will get kids from all over China

interested in boxing. I am told there are many people in China

with big plans to promote boxing. Maybe a first world Chinese champion will help.
AW -
Could you tell us about the situation as you understand it with you getting a title shot and [WBC number one contender] Denver
Cuello stepping aside?
XZZ - These are things that I cannot concern myself with. For the past six years, I have only concentrated on boxing. I have no girlfriends; I do not drink alcohol or smoke. I spend very little time with my family. I am totally concentrating on boxing and nothing else. Who boxes who cannot be a concern of mine. I don't have time and I don't know how to arrange such things. I am thinking only of training, getting stronger, getting faster, getting quicker and getting smarter. I am very happy to have this opportunity but, really, all these decisions are out of my hands. I really don't know what to say. [My management] tells me to box and I say, "When and where?"
AW -
Fighting for the title is obviously the biggest moment of your career but could you talk to us about your career up to this point?
XZZ - My career has had its ups and downs. With this next boxing contest, I will have had two chances at a world title. That alone makes me feel good but I will not be satisfied until I have the WBC world title.
AW -
China isn't known for its professional boxers. How did you turning
pro come about?
XZZ - I wanted to make some money for my family and myself. My family are all farmers and barely make a subsistence living. I found that I had some skill in boxing via some local competitions. I have no education; I have small stature. I thought I would give boxing a try. There were no alternatives. It was a hope, a dream. Poor in China is not like poor in Europe or the U.S.A. Poor in China means no food, no shelter and no help.
AW –
However, things are different in China as far as amateur boxing is concerned with stars like
Zhang Zhilei and Zou Shiming having won medals in Olympics and World Championships. Do you believe that professional boxing is close to taking off
as a major sport in China?
XZZ - I can only hope so. I hope my career and my lifestyle can show the best sides of boxing. There are many people like me who have no education and no other special abilities. We look for ways to improve our lives and the lives of our families. Boxing, so far, has made my life. I have seen places and met people I could not even dream of before boxing. I want boxing to be popular but it is not something I can worry about. I only try to work hard and live a clean life.
AW -
Without looking past Resendiz, is a fight with Zou something that would be possible if he elected to turn pro? Could you give us in Europe and America an idea if it happened just how big this fight would be in China?
XZZ - Win or lose in my upcoming contest, I really want to face Zou. This would be the biggest boxing event ever in China. I would really like to compete with Zou but there are many considerations that are out of my control. If I had a chance a Zou, I would be very pleased.
AW –
Three-and-a-half years ago, you fought for the WBC flyweight title when you met Daisuke Naito in
Japan. You dropped him in the sixth round but he ended up winning a unanimous decision. Can you tell us about the fight, how you look back on it and how it has helped you progress and get better?
XZZ - This was a great opportunity for me. I felt very good about the contest; I hurt him. He was two days in the hospital after the fight; I was fine. Once he got hurt and saw he could not hurt me, he got on his bicycle and I had a lot of trouble following him. Since then, I have worked on how to get inside. It is always difficult for me as all of my opponents are taller than I am. Naito was a great boxer; he showed all the boxing skills. I was not so well trained as he was but I was in great shape. I had a lot to learn.
AW -
What are your thoughts on the strawweight division and its current champions like the WBA's Kazuto Ioka, the IBF's Mario Rodriguez and the WBO's Moises Fuentes?
XZZ - Not going past this contest, I would love to compete against the other champions. I would also like to compete with the Chinese Olympic champions. But always, for me, my focus is on what is just ahead, the next contest. I cannot get too worked up about future opponents. My concentration is on this next contest. I leave it to Liu Gang to pick the best opponent for me.
AW -
You live in Kunming. Could you tell us about your life growing up? Were things tough for you as they are for many boxers?
XZZ - I grew up in a small village. Coming to Kunming for boxing was a new adventure. Life in my village was hard work and no money. Even though my village is only a few hundred miles from Kunming, my parents had never been to the capital city until I was able to send for my family to see me in a boxing match in Kunming. I cannot emphasize enough how different poverty is here in China from the U.S.A. and Europe. There is no safety net in China. No food means begging on the street. No shelter means sleeping on the street or in the woods. No medical means no medical. There is no government help. The only help there is is from family or by begging.
AW –
Finally, do you have a message for the boxing world ahead of your fight?
XZZ - Boxing has given me a way to change my life and my family's lives. I am small; I have no education and no special skills. Boxing is the only way up that I could try for myself. I have seen many parts of the world. Only through boxing have my family been able to leave their village and visit the capital city of Yunnan. It is a way that I can repay what I have received.
Please visit our Facebook fan page at www.facebook.com/MaxBoxing, where you can discuss our content with Maxboxing readers as well as chime in via our fully interactive article comments sections.