Vlasov: "Suarez really wants to destroy me"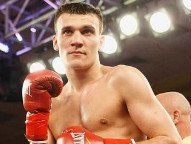 (Photo © Chris Burau, The Sports Lens Photography)


After closing out 2012 with a pair of solid wins over former world title challenger Khoren Gevor and perennial trial horse Geard Ajetovic (besting both by wide margins over 10 rounds), Russian super middleweight Maxim Vlasov decided to change a few things. First, he moved to America and then teamed up with award-winning manager Cameron Dunkin, basing himself in Oxnard with feted trainer Robert Garcia.

Tonight, the 6'3" beanpole returns to action, headlining a show at the County Fairgrounds, Ventura, CA, when he meets former welterweight title challenger Mark Suarez over eight rounds.

Growing up in Samara in the Southeast of Russia, Vlasov tried many sports but it wasn't until he witnessed his uncle boxing that he knew he wanted to follow in his footsteps. He profoundly says of his boxing ability, "My success is not a success of the talent which was found and polished. My success is result of years of dedicated training and work of my coach."

To date, Vlasov is 25-1 with 12 stoppage victories to his name, the sole loss to world-rated light heavyweight Isaac Chilemba on points despite dropping the rugged Malawian twice in the eighth frame. Currently, at 168 pounds, he's rated six by the WBC, eight by the IBF and 11 by the WBO 11.

Anson Wainwright - You return to action in your first fight of the year this Friday. What are your thoughts on that fight?

Maxim Vlasov - I'm extremely happy to get back in a professional ring. Especially uplifting to me is the fact this fight is taking place in the U.S.A. with a strong and unpredictable opponent like Mark Suarez. I really missed the atmosphere of excitement and connection which I can feel with an American audience. I hope to have more fights here. I'm absolutely ready and looking forward to this fight, same as my opponent. We are both highly motivated to win; it will be difficult and dangerous fight for both of us. I'm sure the public will enjoy the great experience.

AW - Why have you been out of the ring for six months?

MV - I've been restructuring all my professional boxing standings, dealing with my previous promoter – finally, I'm free - finding a great manager, a new place to live and train. Now I'm working with such great names of professional boxing as Cameron Dunkin and Robert Garcia. Now I'm ready to make a statement as a fighter, training together with Brandon Rios and Evgeny Gradovich!

AW - So you have a new team. Can you tell us about that and how things have been so far?

MV - It is not completely correct; my training team is the same. It just became stronger by adding the training techniques of Robert Garcia's Boxing Academy and knowledge and experience of my manager, Cameron Dunkin. I believe I am ready to climb to the top of world professional boxing.

AW - Late last year, you scored two wide 10-round decision victories over Khoren Gevor and Geard Ajetovic. Both fights were in Moscow. Could you tell us about each fight?

MV - Honestly both fights were not easy for me. Gevor is a very experienced fighter and when he felt that he can lose by knockout, he started to use clinches and other tricks to avoid it. As a result, the fight was not spectacular for the viewers. Ajetovic was fighting more open but still always was defensive using blocks and waiting for my missed step. Actually, it is his style. I was studying his previous fights and realized that a knockout [victory over Ajetovic] is almost impossible. Nobody managed to do that. However, in that fight, there were several dangerous situations for me as well. But I personally love spectacular fights with bold, dangerous combinations. That's why I
'
m looking forward to my upcoming fight
–
my opponent really wants to destroy me. That
'
s what makes me excited. That
'
s what I
'
m fighting for.

AW - You are ranked by the WBC, WBO and IBF, so are you closing on a world title fight?

MV - I
'
m proud to have such a high ratings and ready to challenge for a world title. In this matter, the work of my manager is extremely important. From my side - I
'
m training. I
'
m fighting. I
'
m ready.

AW - When you look at super middleweight division, what are your thoughts?

MV - When I'm looking at my division, my only dreams
are
to meet the best of the best fighters in the ring. Great talents! Andre Ward, Carl Froch, Robert Stieglitz, Sakio Bika. Ward would be first on my list. Smart, strong, unpredictable. I
'
ll be honest

;
I
'
m ready to give a good fight against him but not sure I can win the fight with him right now - but soon I will be ready. Froch is a strong opponent. He is tough and fast but his technical skills are quite predictable. I cannot tell much about Bika. I did not see his last few fights. In his fight against Jean-Paul Mendy, he looked strong and inconvenient for his opponent.

AW - You are from Samara, Russia. Could you tell us about your youth and how you first became interested in boxing?

MV - In my youth, I did not have any special talents and physically was quite small. But I always was in search for something special, something big. I hated to waste my life and my time by doing nothing. I was trying many things from chess to wrestling. My uncle was a boxer. Once I saw him in a tournament - it was a brightest memory of my childhood. He is the one who asked me, "Do you want to really learn boxing with a real trainer?" He introduced me to Victor Petrochenko, my trainer to this day. I was 13, not strong, not talented, but Victor is real professional and visionary. He is training the best boxers of Russia. Still, it took so many years of extremely hard work until we started to see any results. My success is not a success of the talent which was found and polished. My success is result of years of dedicated training and work of my coach.

AW - What was your amateur career like in Russia?

MV - My trainer's a real fan of professional boxing; from my first steps
to my
career as professional boxer was a goal. I see my time in amateur boxing only as preparation to professional career, a place where I got experience and tested my abilities. I have 40 fights as an amateur but really believe I was a professional boxer from a beginning.

AW - Away from boxing, what do you enjoy?

MV - Honestly, I don
't have much time besides training and boxing but every free minute I try to spend with my wife and son. My family life is very important to me. We love to travel outdoors, read good books, listen to nice music together. Out of the ring

,

I

'

m a family man.

AW - Do you have a message for the super middleweight division?

MV - I would like to address the champions of my divisions: Let

'

s meet in the ring! Let

'

s give the fans a real fight everyone would be eager to see!
Please visit our Facebook fan page at www.facebook.com/MaxBoxing, where you can discuss our content with Maxboxing readers as well as chime in via our fully interactive article comments sections.