Viktor Postol: "I am ready to fight and win against any 140-pound champ."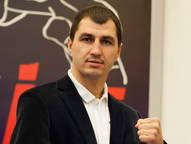 (Photo © Elite Boxing Promotions)


When Viktor Postol entered a newly opened boxing gym as a child, he knew it was for him. He stuck with it, enjoying a successful amateur career before embarking on the pro ranks in late 2007. Since then, the 29-year-old has moved seamlessly to 23-0 with 10 stoppages. He's already defeated tough Mexican Jose Lopez on points as well as American pair DeMarcus Corley and Hank Lundy. He was able to beat the cagey, awkward southpaw Corley with little problem last year before using his considerable tools to keep Lundy on the outside, outboxing the Philadelphia native. Postol, who was formerly in the military, holds an assortment of WBC trinkets including silver and International straps and is looking to improve his ranking. Currently, he's ranked number one in the WBC and 13 in the WBO before fighting for a world title at the earliest convenience.

Anson Wainwright - You beat Henry Lundy. Could you tell us about that fight?

Viktor Postol - Good opponent, hard boxer. To his advantages, I can admit that he was dangerous in his counterattacks when he is moving slowly in the ring and then bangs you with quick punches. His height was comfortable for me and I could keep him in preferable distance.


AW - Since then, you have stayed busy with an eight-round decision over Bahrom Payozov. It's still very early days but what are your plans for the rest of the year?

VP - As for this year's plans, I want to hold some [sanctioning body] rating bouts and then prepare myself to fight the champions. I want the company to organize me a title fight in the near future.

AW - When do you hope to be in action next and who are you targeting?

VP - It depends upon my team. They stay busy now searching for the next opponent whether it will be a ratings bout or a title defence.

AW - Last year, you also beat DeMarcus Corley, known as an awkward customer, in a wide decision.

VP - He is a very experienced and a staunch boxer, a former world champion. It was a good fight for me from the point of view of gaining experience. He was a good opponent; I can't say I suffered hard times with him. For me, it was not difficult to get used to his style. There are tough and regular opponents and for me, DeMarcus was not a special one.

AW - You also fought in several countries as well as your homeland, Ukraine, such as Georgia, Spain, Russia and Bosnia. You also made your American debut late last year. Could you tell us about that and also the experience you gained fighting in so many different countries?

VP - For me, I consider it to be a great experience to hold the fights abroad. Many fighters spend their bouts at home but the real experience you gain is when you fight away in front of another crowd.

AW - Tell us a little about your team?

VP - I train here in Kiev in the boxing gym not far from the centre of the city. One of the main role models in my career and in my life particularly is my head coach, Alexander Polishchuk, with whom I have been training since my childhood. He is like my father, whom I have a deep trust and who believes in me. Together, we are a team having common aims and desires to which we are striving toward now. We have a very united company who has the intention to move and promote good, talented boxers to the highest, top levels in world boxing.

AW - How did you first become interested boxing?

VP - Once a boxing gym appeared near our residence, I started to visit it with my neighbour. The first times, there were 200 young boys approximately who desired to take on boxing. That was my first step to the boxing gym. Then the majority of boys started to reduce and I was among those who stayed there. Then I entered the school of sports in Brovary City, Kievskiy Region, then I found my way to Elite Boxing Promotion where I fight.

AW - What was your amateur career like?

VP - As an amateur boxer, I had 250 fights, 220 of which were victorious. Seven-time regional champion. I am the winner of great number of local and national tournaments. Once I took a bronze in the national championships in the weight division of 64 kilograms (approximately 141 pounds). When I was a student, I was on the national military team of Ukraine and I was taken to participate in the World Cup, where I won one bout and then I lost in the second round.

AW - What do you think of the light welterweight division and the current champions WBC/WBA "super" champion Danny Garcia, WBA "regular" champion Khabib Allakverdiev, the IBF's Lamont Peterson the WBO's Mike Alvarado?

VP - All of them are really tough guys with big names in the boxing world. Each of them is considered to be an experienced, powerful, technical, mentally and physically trained boxer. I respect them all and think they all are worthy opponents.

AW - Away from boxing, what do you enjoy doing?

VP - Apart from boxing I like to spend my time with my wife. Fishing is my hobby. I prefer spending time with good people in good company.

AW - In closing, do you have a message for the light welterweight division?

VP - The division I am performing in is really great. Here, one can find a lot of great boxers and tough fighters who deserve to wear one the belts of the champions. As for me, I think it is possible to fight against each of the champions and I am ready to fight and win. They all are good fighters but reachable.

Thank you very much for the interview!
Please visit our Facebook fan page at www.facebook.com/MaxBoxing, where you can discuss our content with Maxboxing readers as well as chime in via our fully interactive article comments sections.