Tomlinson: "I want any 130-pound champion after Klassen"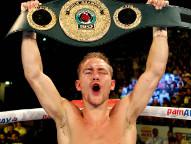 (Photo © Lincoln Baker)


With arguably the biggest fight of his career virtually right in front of him, Australia's own undefeated phenom and IBO 130-pound champion "Wild" Will Tomlinson, 20-0-1 (12), is looking forward to not only fighting veteran opponent, South Africa's Malcolm "Stone" Klassen, 27-5-2 (14), but defeating him in a convincing manner, proving to all that he is out to dominate the 130-pound division.
When asked about the preparation for this fight, Tomlinson responded, "I could not have had a better preparation than what I have had. My team, Fidel Tukel and Lincoln Hudson, have organised it to a tee. The sparring has been tremendous, sparing numerous former world champions regularly. I believe I am in the best condition of my career." Training out of UTC (Ultimate Fight Gym) in the Western Suburbs of Sydney, Tomlinson has been sparring and training with the likes of Gary St Clair, Vic Darchinyan and former Olympian Luke Boyd. "I have put the hard work in like never before and after all the comments Klassen has made about my experience level and that I have never faced a decent opponent, I guarantee he will regret his words. None may be his calibre, for he is a great former champion, but like my other opponents, I am sure he will be eating his words once he feels my power. I just hope he doesn't run like the rest of them."

When asked about the new WBC super featherweight champion, Japan's Takashi Miura, Tomlinson said, "Once I have defeated Klassen, hopefully with the help of my manager, Fidel Tukel and my international promoter, Gary Shaw, I will have the chance to take that WBC belt off Miura. That WBC super featherweight title belongs in Australia. Jeff Fenech deserved that victory when he drew with Azumah Nelson in their initial fight in 1991. My goal is to bring that title back for my mate, Jeff, and for Australia.
"That said, I want any 130-pound champion after this fight, [WBO titlist Roman] Martinez, [WBA titlist Takashi] Uchiyama, [IBF titlist Argenis] Mendez, any of them," he added. "I want to unify my IBO title and then move to the 135-pound division to then conquer that. There are huge fights out there, Adrien Broner, Yuriorkis Gamboa, Ricky Burns. These are all fighters that I know I can go toe-to-toe with and beat. Hopefully I will have the opportunity soon to prove it."
The undercard also features Australian "Contender" champion and current contender Garth "From the Hood" Wood, 11-3-1 (7), fighting South Africa's Virgil Kalakoda, 24-8-3 (16) in a fight for the vacant WBA Pan African middleweight title. After unsuccessfully chasing a rematch with Former 3 division champion Anthony Mundine (who he sensationally knocked out in their first fight in 2011), Wood has decided to chase WBA middleweight champion Gennady Golovkin, 26-0 (23). "Hopefully after I take care of my tough South African opponent, I will get the opportunity to fight Kazakhstan's king, Golovkin. For some reason, everyone seems to always underestimate me and takes the fight with me thinking I am too inexperienced but I always tend to crush those 'easy to beat' thoughts by the end of the fight," Wood said. "Hopefully, by fighting and defeating someone of Golovkin's caliber, I might have the opportunity to also fight other big names such as [World Middleweight Champion Sergio] Martinez, [IBF titlist Daniel] Geale or [Julio Cesar] Chavez Jr. in fights I am confident I can win."
Also on the card is WBC number three-rated 130-pounder Sipho "Tsunami" Taliwe, 20-2-1(14), of South Africa facing off against Australia's Matt Garlett, 10-1(6), for Taliwe's WBC International super featherweight title. Both fighters made their compulsory seven-day weigh-in limit with Taliwe weighing in at 60.10 kilograms (132.5 pounds) and Garlett weighing 62.10 kilograms (137 pounds). This show is promoted by Fidel Tukel and Empire Boxing Promotions. For international viewers, this fight will be available on live stream for free at the link below.
Please visit our Facebook fan page at www.facebook.com/MaxBoxing, where you can discuss our content with Maxboxing readers as well as chime in via our fully interactive article comments sections.