The Soapbox: Networks Enter the Cold War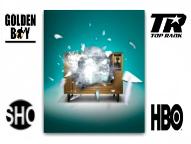 Pic created by icheehuahua, MaxBoxing


OK, if you're a rabid boxing fan (and if you're visiting this website, I'd say this qualifies you as such), unless you've been hiding under a rock, then you're well aware HBO made it quite clear at the beginning of this week that they would not be dealing with Golden Boy for the foreseeable future (maxboxing/a-golden-divorce-). This also means a vast stable of boxers who fight under the Golden Boy banner will not be appearing on the "Network of Champions" anytime soon.

A lot has been written on how this affects other promoters (such as Top Rank), fighters (like Adrien Broner) and advisers (namely, Al Haymon) but, in my opinion, not enough has been talked about perhaps the most important group of people - the fans.

The contingent that supports the business and whose interest keeps the sport alive. Here's what a pair of them had to say about this latest development. In this edition of "The Soapbox," we have two viewpoints, one that is very analytical and another that is more the layman's perspective.

First up is a familiar name to "The Soapbox," Brian Swider, a professor at Georgia Tech (best known for Bobby Cremins and some really good point guards)...

Big Losers:

GBP

. Fewer dates available mean lower licensing fees they can generate across the board. Furthermore, it also makes it much easier for TR to counter program their shows. In a simple game theory scenario, if you know all of you opponents' options and outcomes, you can make the more effective decisions. Expect this process to only escalate as networks no longer need to keep both GBP and TR happy to operate.
Pyrrhic victory:

HBO

. Gets rid of a big cancer but severely hurts themselves going forward when it comes to buying fights. Simply and crudely put, they bent themselves over future negotiating tables. While it was apparently important to [HBO Sports President] Ken [Hershman] to let the market know about their new policy, this was not a savvy play. Sure, in theory, HBO's announcement could cripple GBP at the negotiating table with SHO. SHO should recognize the advantage they have as the only premium network option for GBP. But in practice, SHO has not (and probably will not) do anything but pander to GBP and Big Al [Haymon].
Possible big winner: Showtime. If they are smart (which they have not shown in the past) they should still buy TR cards to both hurt HBO via driving up bidding on TR cards and increasing the number of possible suppliers. Just because HBO is artificially reducing supply does not mean SHO should follow suit. But as discussed above, this is not a likely outcome. A real business would now squeeze the life out of GBP. But what have we seen out of SHO in the last year to indicate they are in the business of playing hard ball?
Big winners: "Third Party" promoters. More dates, and hopefully less "guaranteed" return dates for fighters that don't deserve them, means promoters simply have to put together a good card and they have a greater shot at landing on HBO. Also, if they play nice, Main Events, DiBella, et al. can always keep their fighters busy by moonlighting on - or co-promoting - GBP or TR cards. The biggest challenge going forward for these "third-party" promoters is staying out of conflict between TR and GBP. They must avoid making deals that potentially get them banned from either SHO or HBO.
Rich get Richer: ESPN2. GBP now has a much more limited set of premium cable dates. In the past, when they had more, they used some of the lower level shows on premium cable (e.g., "ShoBox") to showcase prospects. Going forward, it will be imperative that GBP use all premium cable dates to showcase fully developed fighters in order to keep them active enough. They simply will not have enough dates to "waste" on developing or B-side fighters. Who gets those fights? ESPN2. Expect very good "FNF" cards to continue for the foreseeable future as that "just below elite" match-ups start to be unable to find dates on Showtime.
Brian W. Swider, Ph.D.


OK, and now stepping up to the plate is a longtime reader of Maxboxing and the President of the Glen Johnson Fan Club...

Hi Steve, it's been ages since I last emailed you, but having just read your article on the HBO/Golden Boy situation, I wanted to throw in my 2 cents! I'm sure, like a lot of people, I was surprised by HBO's announcement yesterday about breaking ties with GB/Haymon. I thought they were so enamored with Broner, that they would never make a move like that. But you know, I kind of like the brass they showed in making this call. Over the years, I've come to really loathe the Haymon influence on our sport. Don't get me wrong; he does great as a manager, getting great deals for his guys at top pay. But it has been longtime pay channel subscribers like myself who paid the freight for these sweet deals and for our bucks, we got mismatches most of the time. When it came to Haymon's stable, a lot of what HBO bought and aired was not exactly Pryor/Arguello! That Orange Bowl clash was my first HBO fight and I still measure everything they put on by that barometer. Of course not everything can be that great and historic, but there was a time when an

"

HBO World Championship Boxing

"

telecast would really get your juices going. Not so much anymore.
Having said all that, I find myself pulling for HBO to come out on top in all this. I see GB and Richard Schaefer as getting a little too smug and over confident. I never thought I'd see HBO as the "underdog", but I kind of do now. By dropping GB, they free up a lot of dollars and air time that could be used to find and put on other fights and build new stars, which the sport desperately needs. Ken Hershman was wonderful during his tenure at Showtime in finding little jewel fights and putting them on. Fights that were compelling to boxing fans, but which for one reason or another, were not deemed worthy by the then-800-pound gorilla, HBO. Maybe with this move, Hershman is going to have to go back to that way of thinking and come up with some new and exciting ideas to help the HBO boxing franchise be successful without any GB input. Remember, this is the same guy who came up with interesting stuff like the "Super Six" and the bantamweight tournament. Maybe I'm being too optimistic, but I'm intrigued to see where HBO goes from here and I'm glad I'm a subscriber. So Schaefer's concern for us notwithstanding, I think we subscribers are going to be fine in the long run.
The cold hard fact is that Top Rank and Golden Boy were not going to play nice with each other in the foreseeable future anyway. So this situation is just an extension of that unfortunate feud. Someday, that has to end, because boxing fans, who both companies need to, keep in mind, make all this possible for them, deserve to see the compelling match-ups that could be made if the two powerhouses would work together a bit. But for now, as you said in your article, it's like the NBA/ABA and never the two will meet. So let's sit back and see how this all unfolds. My guess is that this is going to be bad for GB and Haymon's stable in the long run, because there there are just not enough dates and money under the Showtime umbrella alone. Some Haymon fighters are not going to be seen, unless GB comes up with new outlets for boxing, which would be great for the sport. So I'm intrigued to see how it all goes and maybe this will end up being a positive situation for boxing fans in some way.
As always, a wonderful article from you! Thanks so much for always keeping us all so well informed and in such an entertaining manner.
Bill (Battleship) Pittman
Elkhart, Indiana


Gentlemen, thanks for your contributions. All I can say is this: yes, competition is great. If this forces Golden Boy/Showtime and Top Rank/HBO to really put their best feet forward on a consistent basis, then boxing fans win. And as I've pointed out before, if you look at the next few months, I really like the cards on both sides of the street. From Brandon Rios-Mike Alvarado II, Saul Alvarez-Austin Trout, Mikkel Kessler-Carl Froch II and Marcos Maidana-Josesito Lopez, among many other solid fights, both factions are serving up some strong stuff. However, there is a difference between competition and separation. And honestly, I wonder how long both sides can sustain this if they (specifically, Golden Boy and Top Rank) simply refuse to do business with each other.

In a perfect world, you get the best fights, not the best fights each network can get from a specific company. And yes, perhaps Golden Boy, with its deep stable between 140-147, can make a whole set of entertaining fights for a period of time. But at the end of the day, the fact we can never realistically hope for Brandon Rios to face Lucas Matthysse is depressing for boxing aficionados. And go back to the match-up that didn't happen between Abner Mares and Nonito Donaire. Now, Mares is facing Daniel Ponce de Leon and Donaire is taking on Guillermo Rigondeaux. Two very intriguing fights but let's be honest; they are consolation prizes for both the fighters and fans. And the announcement on Monday may have forever shut the window of opportunity for this to ever come to fruition.

In the past, while the "Cold War" was waged, the networks have at least stayed out of it (even though they had clear preferences). Now the division is more clear than ever. They are now directly involved in this whole quagmire (and I don't mean "Glen"). Top Rank product will not be on Showtime (and hasn't been in over a year) and HBO will not have anyone represented by Golden Boy on its airwaves.

But this isn't necessarily something exclusive to the United States or just Bob Arum and Richard Schaefer. In the U.K., you have the conflicts between Eddie Hearn (who controls SKY) and Frank Warren (and BoxNation). In Mexico, you have Azteca and Televisa (who have exclusive relationships with Top Rank and Golden Boy, respectively) and in the past, Germany was bogged down by the allegiances with ZDF (with Universum) and ARD (who was associated with Sauerland). It shows you how fragmented this sport is all around the world.

Right now, the fans win in the short-term. As both sides will be fighting tooth-and-nail for market share (and the dynamic that has really changed recently is that no longer is HBO the only 800-pound gorilla who can sit where they please) Showtime, under the leadership of Les Moonves and the direction of Stephen Espinoza, will no longer be bullied and squashed by HBO. You can expect a high level of fights - and a good dose of counterprogramming from both sides, where fingers will be pointed in each direction - and unfortunately, a lot of fights the fans can only fantasize about at the most.

Yes, HBO's edict made it official: the "Cold War" has gone nuclear.

And what do they say about nuclear war? It's M.A.D.

Mutually assured destruction.

Now, this is only boxing; I think that's a bit dramatic; but I do wonder if the sport can really grow with this type of schism in the long run. Professional football got better after the NFL and AFL merged. Basketball benefited from the ABA being merged into the NBA. I don't see anything like that taking place in boxing, which is the last vestige of the Wild, Wild West, where allegiances can change at any moment and so can alliances. Remember, it wasn't all that long ago when HBO was engaged in an exclusive output deal with Golden Boy and Top Rank was screaming bloody murder. And a couple of decades ago, HBO found itself in a situation where Don King took the services of all his clients - including "Iron" Mike Tyson - to Showtime, where they proceeded to have perhaps their most glorious era.

So the more things change, the more they stay the same.

And in this crazy racket, the more things stay the same, the more they change.