The Russians Are Coming: the Rise of Matt Korobov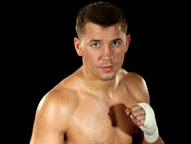 (Photo © Top Rank)


There's a considerable buzz around the boxing fraternity about a certain Russian middleweight. Just don't be fooled into thinking Gennady Golovkin is the only top draw fighter residing at 160 from the old Soviet Union. Standing in his vast shadow (and highly skilled with no shortage of power) is Matvey Korobov.

Similarly to Golovkin, when Korobov entered the pro ranks, he did so with impressive amateur credentials, most notably twice winning the World Championships in 2005 and 2007 before turning pro in late-2008. Reportedly, his final record was 311-10 after disappointingly failing to medal at the Olympics.

Formerly in the military, at the relatively advanced age of 25, Korobov elected to make the leap to the pros, moving from Russia to be with his family in Florida where they had lived for a decade. In doing so, he signed with renowned manager Cameron Dunkin, who in turn took him to Top Rank Promotions. Early on, Korobov appeared on the undercard of several big shows garnering plenty of attention. Initially, he made a statement of intent however that tapered off and he seemed to stagnate and not progress. Dunkin says, 'You know, when I saw him in Chicago at the World [Championship]s, I thought, 'He's an absolute star waiting to happen.' He had a very pro style; he comes forward and looks to engage. He was terrific." Dunkin then reasoned, "But the pros are very different from the amateurs. It takes time to get used to being a full-time pro boxer, plus he was new to America. It's very different from being back in Russia."

Rome wasn't built in a day. Dunkin agrees, "Exactly, going from one code to the other isn't as easy as some people will have you think. Just look at Andre Ward. He's probably our best amateur of the last 10 years and early on, he had his troubles." First of all, Korobov was with Dan Birmingham (feted for his work with Winky Wright, Jeff Lacy and now Keith Thurman) before heading to Las Vegas to team up with disciplinarian Kenny Adams (known for his work with Diego Corrales, Johnny Tapia and Kennedy McKinney). He's since been with former three-division world champion Mike McCallum before settling recently with Charles Mooney. In total, he's worked with five different trainers.
"It took time. Honestly, there were times we wondered if he'd ever make the transition," says Dunkin.


Last November, Korobov returned after an almost yearlong hiatus in El Paso before seeing action earlier this year in Tijuana. Those fights prepared and allowed him to sharpen his skills so when the call came to appear on the Mikey Garcia-JuanMa Lopez undercard against seasoned veteran Ossie Duran (who though having 10 losses, was always competitive and had never been stopped), what took place was astonishing. Korobov posted a career-best performance blitzing the usually durable Duran, dropping him twice before the fight was waved off at 51 seconds of the third round. "That was the Korobov I saw in the amateurs. It took time and patience but now he looks like a pro," says Dunkin.

Next for Korobov, now 20-0 (12), is a spot in support of Julio Cesar Chavez Jr.-Brian Vera tonight when he takes on "The Contender" (season two) winner Grady Brewer before all being well a November return. "We'll keep him moving but now he looks the part. What people don't know is this isn't an exact science. It takes time. Being a top amateur doesn't guarantee professional success. We had [Kelly] Pavlik, [Steve] Luevano. They were with us seven years before they fought for a title and look at them. They did well. It's not just about fighting for a title. If you're fighting for it, you may as well try to win it," Dunkin says rhetorically.

It's hard to argue when you've guided as many champions as Dunkin, who concludes, "I don't want to call him 'Golovkin Mark II,'" adding with a chuckle, "I will say this much: The Russians are coming."


Please visit our Facebook fan page at www.facebook.com/MaxBoxing, where you can discuss our content with Maxboxing readers as well as chime in via our fully interactive article comments sections.